BuCor turns over Pemberton to immigration
September 12, 2020 | 12:00am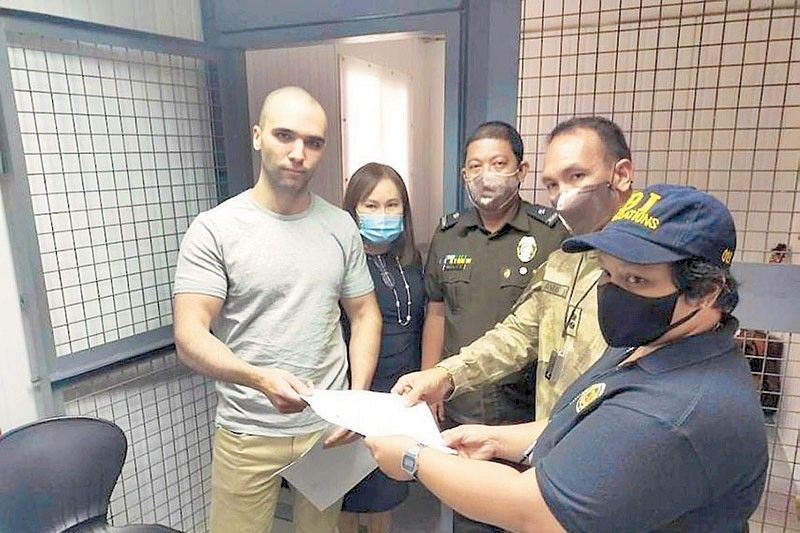 MANILA, Philippines — The Bureau of Corrections (BuCor) yesterday turned over pardoned homicide convict US Marine Lance Corporal Joseph Scott Pemberton to the Bureau of Immigration (BI), which will hold him in the same special detention facility at Camp Aguinaldo while awaiting deportation.
BuCor spokesman Gabriel Chaclag said he was released from BuCor custody at 11:50 a.m. He had served less than six years of his original 10-year sentence for killing 26-year-old Filipino transgender Jennifer Laude in 2014.
He remains confined at the JUSMAG (Joint US Military Assistance Group) extension facility at Camp Aguinaldo, Quezon City, where he has been staying since his conviction for homicide in 2015.
"BuCor staff assigned as custodial officers at the JUSMAG extension facility were now pulled out and reassigned to other facilities," Chaclag said in the statement.
"There are no more BuCor officers involved in the custody of Mr. Pemberton," he added.
Pemberton's lawyer Rowena Flores said the wait for the result of COVID-19 test on the American soldier was delaying his departure from the country.
"Just waiting for the swab test on Pemberton. Three to five days more before the result is released," she said.
But BI acting spokesman Melvin Mabulac clarified that swab test result is not a requirement for the processing of Pemberton's deportation. Mabulac stressed that a deportation order on Pemberton came out in September 2015 – almost simultaneously with his conviction.
He said the National Bureau of Investigation (NBI) has to issue a clearance that Pemberton has no other pending cases in the country.
He added that the camp of Pemberton should also present his flight itinerary and other travel documents, which are specifically required for any deportation proceedings.
"Only upon completion of such requirements will they take Pemberton to the airport for his scheduled flight, to ensure his departure from the country as part of the implementation of the deportation order," he explained.
Laude's mom pained
Pemberton's eventual freedom has caused so much pain to Laude's bereaved loved ones, as they had thought the President was their ally in their fight for justice, according lawyer Virgie Suarez.
Suarez said Laude's mother recalled in a statement that Duterte had provided them financial assistance and even assured them that Pemberton would remain behind bars as long as he is the president.
"I felt sad because when he became President he promised to help us in our fight, including giving us financial assistance, and that he was happy to have played a role in winning the case, and he would never let Pemberton go free," Laude's mother said in a statement in Filipino.
Roque himself had apparently admitted in an online news article that Duterte had extended financial support to the Laude family at least "thrice."
Mrs. Laude said that while they have already accepted the fate of Jennifer, they could not understand why Duterte had to pardon Pemberton and not just let him serve his sentence in full.
"It would have been fair enough if he had not given him absolute pardon – at least we would still have been in the fight. All we're asking for is 10 years for the life of my child," she said.
Guevarra: Move on
Amid the outrage over Pemberton's pardon, Justice Secretary Menardo Guevarra called on the public yesterday to just "move on," as he reiterated the President's constitutional prerogative to grant pardon.
"I cannot speculate on the President's motives. He has explained his reason for granting pardon to Mr. Pemberton. For me, that's the end of the story. Let's move on," Guevarra told reporters.
"I consider this matter closed. My sentiments are irrelevant. I defer to the personal judgment of the President on matters within his constitutional prerogative," he added.
Guevarra made the statement when asked to comment on presidential spokesman Harry Roque's saying that President Duterte may have made the move so that Filipinos would be prioritized in the global distribution of any US vaccine for COVID-19.
BuCor director general Gerald Bantag also slammed critics for questioning Pemberton's absolute pardon.
In an interview over dzRH, Bantag argued that Pemberton was not the only person granted absolute pardon by Duterte, with nearly 100 prisoners released Thursday from the national penitentiary, mostly on parole.
Duterte's decision to pardon Pemberton came after the Olongapo regional trial court ordered the early release of the American serviceman for good behavior under the good conduct time allowance law.
Before Pemberton was pardoned, the DOJ had stopped the BuCor from releasing him, pending the motion for reconsideration filed by the family of Laude against his early release. The DOJ had also announced it would file its own motion for reconsideration.
But with a presidential pardon, Guevarra said that all pending motions against Pemberton's release were deemed moot and academic.