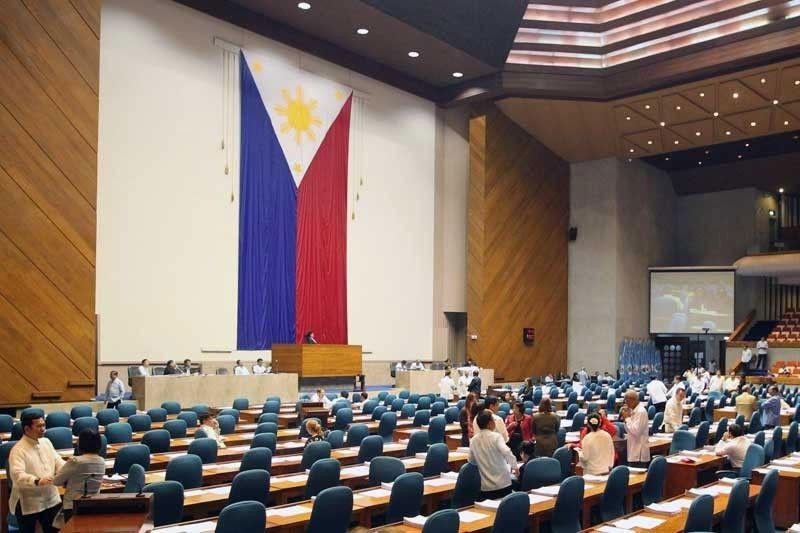 Anakalusugan party-list Rep. Michael Defensor, chairman of the House public accounts committee, said preliminary evidence gathered during the public hearings earlier this week suggested that billions of pesos in PhilHealth funds have been lost to corruption perpetrated by a cabal within the state insurance firm.
Ernie Penaredondo, file
Plunder raps eyed vs corrupt PhilHealth officials
Edu Punay
(The Philippine Star) - August 15, 2020 - 12:00am
MANILA, Philippines — The head of the House panel investigating corruption in the Philippine Health Insurance Corp. wants plunder charges filed against members of the so-called "mafia" in PhilHealth that includes officials involved in the alleged anomalies.
Anakalusugan party-list Rep. Michael Defensor, chairman of the House public accounts committee, said preliminary evidence gathered during the public hearings earlier this week suggested that billions of pesos in PhilHealth funds have been lost to corruption perpetrated by a cabal within the state insurance firm.
"This in fact is plunder. The billions of pesos lost amount to plunder," he stressed before the weekend.
"My recommendation is to file cases against these PhilHealth officials up to the regional level so we can find out which hospitals benefited and acted as cohorts in the scheme. Records of COA (Commission on Audit) are clear so this could easily be investigated," he explained.
During hearing of the panel, Defensor said the scheme includes the sudden increase in the number of claims of hospitals and clinics for various illnesses and medical procedures with PhilHealth.
He specifically cited the "all case rates" system that was established during the administration of former president Benigno Aquino III, which allowed overpayment to private hospitals that accumulated almost P154 billion since 2013.
"We know on the regional level, they have a benefits claim committee. And because of the case rate setup, they will just submit the (claims) to the finance department. When it comes to finance, there's no question anymore and they will just instantly pay and release the funds to hospitals," he explained.
Defensor further assailed why transactions related to benefit claims are faster in private hospitals than in government hospitals.
"Is it because of this scheme that's why whenever there's transaction between a regional office and a hospital, they could easily release the funds?" he asked.
PhilHealth suspended on Thursday the implementation of the controversial Interim Reimbursement Mechanism (RIM) amid congressional inquiry into alleged anomalies in the agency.
Lawmakers have started an investigation on the alleged irregularities in the IRM of PhilHealth, which was identified as the source of corruption.
IRM funds are given to hospitals to build sufficient liquidity for health crisis response, especially during the COVID-19 pandemic.
PhilHealth vowed to find ways to make the IRM more reponsive to the needs of healthcare facilities affected by the coronavirus disease.
Resigned PhilHealth anti-fraud legal officer Thorrsson Montes Keith accused PhilHealth president and CEO Ricardo Morales of being a "coddler or may have become the new leader of syndicate in PhilHealth" for allowing the implementation of IRM.
Resident auditors of PhilHealth have also linked one of its senior executives and a "former acting president and CEO" to the anomalous release of a "cash bonanza" from a P30-billion financial package for hospitals treating COVID patients.
PhilHealth yesterday cried foul over the pronouncement of the Presidential Anti-Corruption Commission (PACC) that corruption at the state insurer is "mula ulo hanggang paa (from head to toe)."
PhilHealth said the statement is considered as a "sweeping generalization" of the agency's officials and employees.
"(It's) unfair to the majority of its employees who continue to work hard in serving its members. PhilHealth vows full cooperation with the investigation and will not hesitate to punish anyone found guilty of wrongdoing," the agency's statement read.
According to the agency, it was still awaiting PACC's report on the list of employees involved in corruption.
PhilHealth has meanwhile assured the public of continuous payment of health insurance benefits especially at this time of pandemic and despite the controversy that it is going through.
"Our offices are ready to serve our clients nationwide," said PhilHealth president Morales to allay fears that benefits might get interrupted because of the corruption scandal.
He added that all Filipinos, who have become automatic members by virtue of the Universal Health Care law, would continue to enjoy PhilHealth coverage for needed treatments and procedures.
PhilHealth also guaranteed that they would remain open for transactions but will be implementing strict precautionary protocols to protect the health and safety of both visitors and employees against COVID-19.
Senators welcomed yesterday the move of the Department of Health (DOH) to suspend the IRM even as they called for an accounting of its disbursed funds and a better system to protect it from corrupt officials.
Senate Majority Leader Juan Miguel Zubiri described the suspension as "a good first step towards transparency" as this will allow COA and the Office of the Ombudsman to monitor and account for the earlier releases of the funds handled by PhilHealth.
He noted that officials admitted during Tuesday's Senate hearing on alleged anomalies at PhilHealth that only P1 billion out of the P14 billion released to hospitals and health care institutions (HCIs) have been liquidated.
Sen. Francis Pangilinan said the IRM suspension was a temporary yet critical measure in the fight against corruption "and, more importantly, in efforts to lead to a better COVID-19 response which the people deserve."
"It's a step that should have been done earlier. If COVID funds in the IRM are being pocketed, why should we continue it," Pangilinan said in a statement.
Examine payments
Meanwhile, Defensor revealed yesterday that the panel would also look into the P14 billion in advanced payments made by PhilHealth to hospitals for coronavirus cases despite the suspension of additional fund releases.
"We will examine those payments in detail for any sign of fraud and/or overpayment. We have already asked PhilHealth to submit all supporting documents," he confirmed.
He said his panel will begin with the P1 billion that PhilHealth claimed has already been liquidated or supported with documents by hospitals and other healthcare facilities that received advances.
"We hope to get by next week the supporting papers, which should indicate the amounts advanced, the recipient-hospitals, amounts liquidated, number and classification of new coronavirus disease cases, number and names of patients, medicines given, and the treatment patients received," he said.
PhilHealth has reported that it has allocated P30 billion for COVID-19 cases, of which P14 billion has been advanced to health facilities. Of the P14 billion, P1 billion has been liquidated.
Defensor said the reported suspension of additional releases apparently covers the remaining P16 billion.
He warned hospitals to be careful in liquidating and treating as payment the P14 billion PhilHealth has advanced to them.
The state-owned health insurance earlier set "case/package rates" for COVID-19 cases: P43,997 for mild pneumonia, P143,267 for moderate pneumonia, P333,519 for severe pneumonia, and P786,384 for critical pneumonia/coronavirus disease.
Defensor said based on the estimate of the Commission on Audit, there is at least a 20-percent "overpayment" in the case of package rates.
"Twenty percent of P14 billion is P2.8 billion. That is the potential loss from the amount PhilHealth advanced to hospitals. We will watch out for any sign of overpayment or excess payment or claims in the documents we have asked from PhilHealth," he said.
He added that health facilities should not make a reimbursement/payment claim for a "package rate" of almost P44,000 for mild pneumonia if it treated a patient only for cough, colds and fever.
ACT-CIS party-list Rep. Jocelyn Tulfo, a member of the committee on social services, also called for the hospital arrest of PhilHealth president Morales, who has gone on medical leave.
"I say he should be placed under hospital arrest. Frankly, I have no pity for him. Perhaps his situation now is what he deserves. If he succumbs before he could be held criminally liable for what has happened to PhilHealth, then he is getting the merciful way out," she added.
Tulfo also said that being the chairman of PhilHealth, Health Secretary Francisco Duque III should be included in the ongoing investigations on anomalies facing the agency's officials.
She said Duque should be summoned by the House panel investigating the alleged corruption in PhilHealth.
"The chairman of the PhilHealth board of directors is none other than Secretary Duque. Congress must find ways to get a statement on record from the PhilHealth chairman regarding the alleged anomalies," she said.
She believed that Duque should be answerable for the reported anomalies in PhilHealth.
"We want Health Secretary Duque to come before Congress to be held accountable and liable for the continuing disaster we have come to know by the name PhilHealth," she said.
"If he is incapable of making a simple statement regarding the status of the corporation he is in charge of, then clearly he is no longer fit to act as PhilHealth chairman during this time where a strong leadership is needed to ensure its financial viability," Tulfo added. — Sheila Crisostomo, Paolo Romero