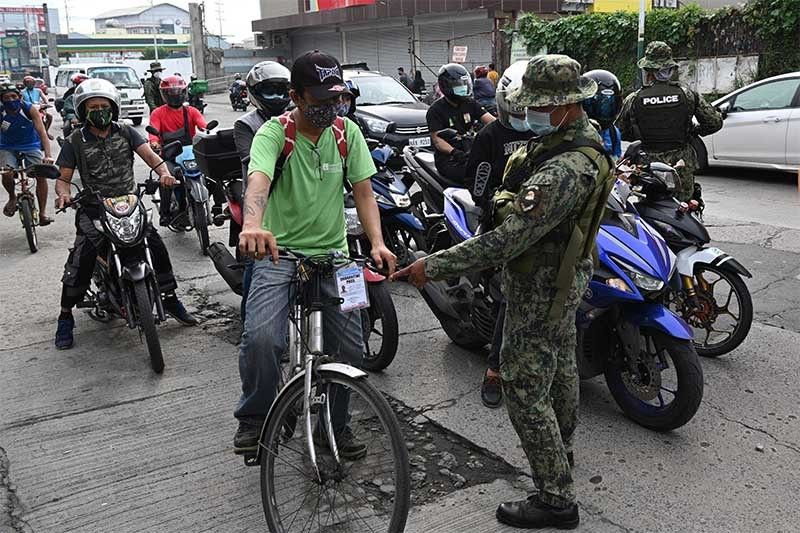 Armed police stop motorists at a checkpoint as they conduct identity checks during a new round of lockdown measures for the COVID-19 coronavirus outbreak, along a road in Manila on August 4, 2020.
AFP/Ted Aljibe
DOH cites varying 'settings' as Philippines records most COVID-19 cases in Southeast Asia
(Philstar.com) - August 7, 2020 - 12:30pm
MANILA, Philippines — Comparing the caseload of the Philippines with other Southeast Asian nations requires an understanding that countries have varying population and healthcare capacities, the Department of Health said Friday
Health Undersecretary Maria Rosario Vergeire said this after the Philippines eclipsed Indonesia as the country with the highest number of coronavirus disease (COVID-19) infections in the region.
"We have to be very cautious when we try to compare our numbers with other countries," Vergeire said.
The health official said countries have different "settings" and health systems.
"So when we try to benchmark with other countries, it is okay. But when we compare numbers, we need to consider also the capacity of each country, the population of each country," she added in a mix of English and Filipino.
The Philippines—home to 108 million people—reported Thursday 3,561 additional infections, bringing the country's total to 119,460.
This is higher than Indonesia's confirmed cases of 118,753. Indonesia has a population of at least 267.7 million.
The country recorded 2,150 deaths, while Indonesia logged 5,521 deaths—the highest in the region. But the Philippines has higher active cases of 50,473 than Indonesia's 37,587.
Singapore—a city state with at least 5.6 million population—meanwhile has 54,555 COVID-19 cases with only 27 deaths. Of the figure, 48,031 have fully recovered.
In terms of population ratio versus number of cases, the Philippines has 1,058 cases per million people, Indonesia has 427 cases per million and Singapore has 9,273 cases per million, according to Our World in Data.
The Philippines has been seeing a spike in COVID-19 cases following the easing of movement restrictions that came with the reopening of the economy in June.
"We are continuously strengthening our efforts in order for us to be able to manage properly and appropriately the cases that we have now," Vergeire said.
READ: With 119,460 infections, Philippines overtakes Indonesia for most COVID-19 cases in Southeast Asia
UN: Philippines' healthcare system 'concerning'
The United Nations said in a report released July 30 that while other Southeast Asian countries have good healthcare system, the situation in Myanmar and the Philippines is "particularly concerning."
According to the report, the Philippines only has two nurses and midwives per 10,000 individuals, which is the lowest in the region. This is even lower than the proportion in Lao PDR, Myanmar and Cambodia of 10 nurses and midwives per 10,000 people.
Singapore, meanwhile, has the highest with 72.
Filipino nurses and other health care professionals have been leaving the country for jobs abroad because of low wage and poor working condition at home.
It also noted that the Philippines only has 10 hospital beds per 10,000 people. Myanmar and Cambodia, have nine and eight beds per 10,000 individuals, respectively.
Medical workers warned over the weekend that the healthcare system could collapse as a result of increasing number of coronavirus patients. This prompted President Rodrigo Duterte to impose a two-week lockdown in Metro Manila, Bulacan, Rizal, Cavite and Laguna. — Gaea Katreena Cabico
As It Happens
LATEST UPDATE: September 26, 2020 - 4:13pm
Follow this page for updates on a mysterious pneumonia outbreak that has struck dozens of people in China.
September 26, 2020 - 4:13pm
The Philippines surpasses the 300,000-mark, with 2,747 new COVID-19 infections registered on Saturday.
88 individuals died and 787 recovered from the deadly virus.
September 25, 2020 - 4:10pm
The Department of Health reports 2,630 new cases of the coronavirus disease, bringing the national tally to 299.361.
69 have succumbed to the deadly virus while 494 have recovered.
September 25, 2020 - 7:14am
The novel coronavirus has killed at least 978,448 people since the outbreak emerged in China last December, according to a tally from official sources compiled by AFP at 1100 GMT on Thursday.
At least 31,975,020 cases of coronavirus have been registered. Of these, at least 21,891,500 are now considered recovered.
The tallies, using data collected by AFP from national authorities and information from the World Health Organization (WHO), probably reflect only a fraction of the actual number of infections. — AFP
September 24, 2020 - 5:47pm
Israel toughens its coronavirus measures as a second nationwide lockdown now nearing its second week failed to bring down the world's highest infection rate.
The new rules will close the vast majority of workplaces, shutter markets and further limit prayers and demonstrations.
"Over the past two days, we've heard from experts that if we don't take immediate and harsh measures, we'll reach an abyss," Prime Minister Benjamin Netanyahu says. — AFP
September 24, 2020 - 4:13pm
The Department of Health on Thursday reports 2,180 additional COVID-19 cases in the Philippines, raising the national caseload to 296,755.
The DOH also confirms 580 new recoveries, pushing the total reported recoveries to 231,928. The country's death toll now stands at 5,127 with 36 newly-reported deaths.
Total active case (net of COVID-19 deaths and recoveries) in the country is now at 59,700.