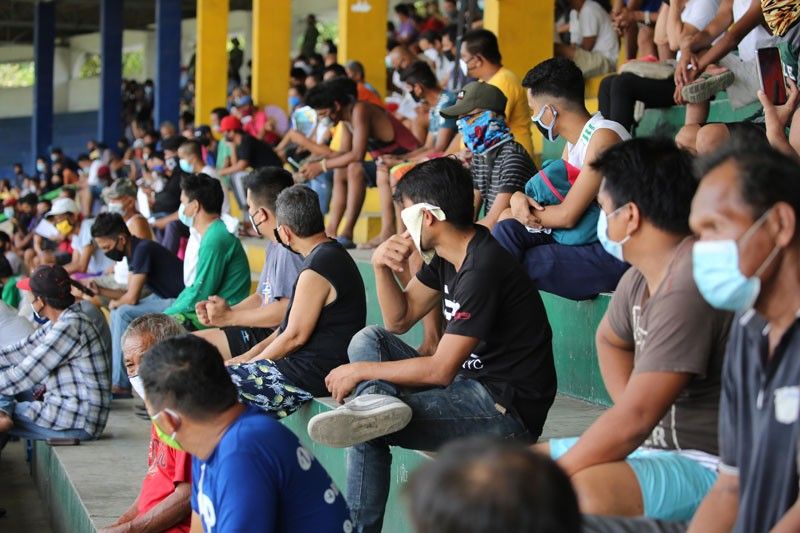 "It was not anticipated and it's not in the budget. So this two-week MECQ, we will check if we can put it in the Bayanihan Law," Finance Secretary Carlos Dominguez III said during a press briefing.
Boy Santos
DOF chief: Bayanihan 2 must be affordable
MANILA, Philippines — The Department of Finance (DOF) said yesterday it will study if the government can include in the Bayanihan 2 bill additional cash aid for poor Filipinos affected by the reimposition of modified enhanced community quarantine (MECQ) in some urban hubs, including Metro Manila.
"It was not anticipated and it's not in the budget. So this two-week MECQ, we will check if we can put it in the Bayanihan Law," Finance Secretary Carlos Dominguez III said during a press briefing.
Despite this, the finance chief maintained that the government could provide an economic stimulus package amounting to only P180 billion to ensure that it is fiscally sustainable.
"As we said, whatever stimulus package we have, it has to be affordable and it has to recognize the fact that this COVID virus may not be defeated by the end of this year. So we have to keep our powder dry for next year as well," Dominguez said.
The P180-billion package includes the P40-billion tax relief to be granted to businesses, with the proposed five-percentage point reduction in corporate income taxes under the Corporate Recovery and Tax Incentives for Enterprises (CREATE) bill.
The remaining P140 billion will be allocated under the Bayanihan to Recover as One bill or Bayanihan 2, which is also pending in Congress.
"So the total package is actually P180 billion. Now this number is arrived at to keep our fiscal deficit in a manageable zone," Dominguez said.
For next year, the DOF chief said the proposed P4.506-trillion national budget will include "some elements of the stimulus program."
He expressed confidence that tax revenues and additional borrowings would be sufficient to support next year's budget.
Last week, the Senate approved on third and final reading the Bayanihan 2 bill, which provides P140 billion in standby funds for the government's COVID-19 response efforts.
The House of Representatives on Wednesday also approved its own version of the bill, which is higher than the Senate's at P162 billion.
Another stimulus package, the ARISE bill, is also pending in Congress. However, economic managers earlier warned that the P1.3-trillion package is "fiscally unsustainable."
Taking into account the revenue losses due to the CREATE bill and the additional spending brought about by the Bayanihan 2 bill, the Development Budget Coordination Committee (DBCC) expects the country's fiscal deficit to widen to 9.6 percent of gross domestic product (GDP) this year.
Despite this, economic managers expressed confidence that the national government's debt will be kept within the 60 percent internationally recommended debt threshold.
At a separate virtual press briefing, Dominguez said Filipinos would need to "learn to live with the virus" to help the economy recover from the impact of the pandemic.
"A lot of our recovery will depend on our ability to either live with this virus or to conquer it. Of course the latter is better. But that is not in the immediate horizon. Probably it is very important for us to learn how to live with it," he explained.
Dominguez also told the public not to be discouraged by high spikes in COVID-19 cases as other countries are also experiencing the same.
"It's not only the Philippines. Japan, which had low infection for a long time, is seeing it all over. Vietnam is seeing it coming all over also. So we just have to deal with it," he said. "The attitude is we have this contagion and we have to live with it and live with it long enough so that we can defeat it."
Further delay
The passage of the Bayanihan to Recover As One Act or Bayanihan Act 2 by Congress may take a little more time as the proposed measure is heading to bicameral conference committee deliberations.
The bicam panel of the Senate and House of Representatives will have to convene after both chambers passed different versions of the bill.
After the Palace opted not to certify the measure as urgent, which could have allowed Congress to pass it on second and third readings in the same day, the bicam deliberation is expected to further delay passage of the bill.
The proposed measure is supposed to provide key and urgent measures to respond to the COVID-19 crisis, including expanded testing, hiring of more health workers and additional funds for the Philippine Health Insurance Corp. (PhilHealth).
The Senate passed on third and final reading last July 28 the Bayanihan 2 bill that seeks to provide P140 billion in additional funds for the government's response program to the pandemic.
Last Wednesday, the House passed on second reading its version of the bill, House Bill 6953, that provides for P162 billion in funding. The chamber is expected to pass the measure on third and final reading next week.
Speaker Alan Peter Cayetano said both chambers of Congress are expected to consolidate the different versions and try to meet halfway during the bicam meeting.
"We have limited resources, as the President put it. We're going to have to make do with around P140 billion to a maximum of P165 or 170 billion for this law," Cayetano revealed.
Deputy Speaker Mikee Romero proposed the inclusion in the measure of a one-time financial assistance to private school personnel who allegedly had no income because of the pandemic.
Another House leader, ways and means committee chairman Joey Salceda, explained that Bayanihan 2 is expected to extend some procurement and budgeting powers reflected in the first Bayanihan law.
"This is one of the many necessary steps in our long road to recovery, so we expect to deliberate on other economic measures in the coming weeks," Salceda stressed.
HB 6953 seeks to allocate an additional P162 billion for continuation of COVID-19 response measures – in addition to the P275-billion funding used under Republic Act 11469 or Bayanihan to Heal As One Act, which was enacted last March and expired last June.
It provides P10 billion for expanded testing, P10 billion for additional PhilHealth coverage, P10.5 billion for hiring of more healthcare workers and P4 billion for construction of quarantine and isolation facilities.
Also, P20 billion will be allotted for the implementation of cash-for-work program and the Tulong Panghanapbuhay sa Ating Disadvantaged/Displaced Workers (TUPAD), P51 billion for infusion of capital to government financial institutions, P20 billion support to the agriculture sector, P10 billion for programs for transport sector and P10 billion to finance DOT programs to assist impacted businesses in the tourism industry. – Edu Punay, Delon Porcalla