Timeout: Metro Manila back to MECQ August 4 to 18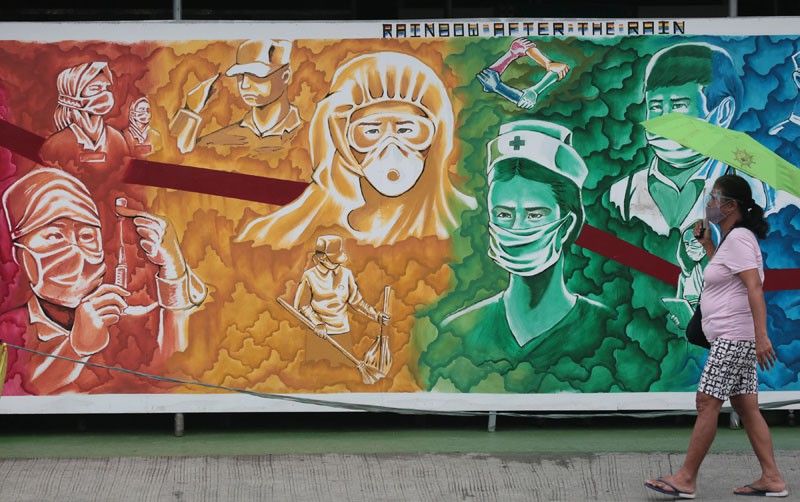 Rody, Cabinet grant medical workers' request
MANILA, Philippines ? Granting the request of exhausted medical frontliners for a "timeout," President Duterte approved last night a Cabinet recommendation to revert Metro Manila, Bulacan, Cavite, Laguna and Rizal to a stricter modified enhanced community quarantine or MECQ from Aug. 4 to 18.
The decision was reached during an emergency meeting at Malacañang of Duterte with the Inter-Agency Task Force on the Management of Emerging Infectious Diseases (IATF), as the 40 medical groups that called for the "timeout" last Saturday swelled to 100.
The MECQ is a compromise as the medical groups had called for ECQ while several Cabinet members warned of the economic consequences of reverting to tighter restrictions.
In a televised briefing last night, Duterte said he was heeding the frontliners' call and urged them not to lose hope, adding, "We agreed that you are bone-weary."
"We are doing everything possible to alleviate the situation," he said as he urged the health workers not to quit, stressing that the country has no one else to turn to in the pandemic.
He reiterated that he would not replace Health Secretary Francisco Duque III despite criticisms of the government's pandemic response. Duterte said the United States is in a "far worse" situation than the Philippines.
The decision to revert Metro Manila to MECQ was reached yesterday as the number of coronavirus disease 2019 cases nationwide breached 100,000, hitting 103,185 with 5,032 new COVID-19 infections reported.
Some Cabinet members had argued that hunger arising from impoverishment due to the pandemic also created health problems.
Over the weekend, analysts said the economy likely suffered a double-digit contraction in the second quarter due to restrictions imposed to contain COVID transmission.
In the briefing last night, Duque said he had met with the medical groups last Saturday. He enumerated the measures being implemented to ease the plight of medical frontliners, and reminded the public of the importance of complying with COVID health protocols.
Duque said agencies have crafted a seven-point response to address the concers of health workers.
These include hiring more health workers, deploying additional personnel to private facilities, providing additional benefits such as free life insurance as well as free and frequent COVID testing, issuance of quarantine passes to limit people's movement, localized lockdowns, strict enforcement of guidelines on minimum health standards, distribution of free masks to the poor, and the conduct of swab polymerase chain reaction tests.
Last Saturday, citing the increasing number of health workers who are getting sick, 40 medical groups including the Philippine College of Physicians (PCP) proposed that Mega Manila be placed under ECQ for two weeks so authorities would have time to refine pandemic control strategies.
Metro Manila and most parts of the country were under ECQ from mid-March to mid-May.
Mega Manila is composed of Metro Manila, Central Luzon, Calabarzon (Cavite, Laguna, Batangas, Rizal and Quezon) and Mimaropa (Mindoro, Marinduque, Romblon and Palawan) regions.
The group claimed that the Philippines is "waging a losing battle" against COVID-19 and that health workers are already "burned out with the seemingly endless number of patients trooping to our hospitals for emergency care and admission."
Executive Secretary Salvador Medialdea met on Saturday with some Cabinet members to come up with a recommendation on the issues raised by the medical community.
Present during the meeting were Duque, presidential spokesman Harry Roque, Budget Secretary Wendel Avisado, Trade Secretary Ramon Lopez, Interior and Local Government Secretary Eduardo Año, Defense Secretary Delfin Lorenzana, Senior Deputy Executive Secretary Michael Ong and Presidential Assistant for Foreign Affairs Robert Borje.
Also at the meeting were National Task Force chief implementer Carlito Galvez Jr., COVID-19 policy deputy chief implementer Vince Dizon, One Hospital Incident Command chief Leopoldo Vega and Sen. Christopher Go.
Go, who chairs the Senate committee on health and demography, assured the medical community that the government heard their concerns after their press conference last Saturday morning.
"They are the heroes in this battle. Let's help them and not make things difficult for them. All services we can provide to our health workers, let's give them as soon as possible," Go said in Filipino in a statement.
Before the meeting, officials met with representatives of the Philippine Medical Association, the Philippine Nurses Association and the Philippine Association of Medical Technologists to discuss their concerns.
Officials, who are under pressure to balance the need to reopen the economy while containing the virus, were tight-lipped on the result of the meeting.
"We wait for (President Duterte's announcement)," Lopez said in a text message. "We listen and want to help the frontliners. We look for solutions to problems at hand. We thank profusely the frontliners."
The trade and industry chief had earlier said the government is ready to address the concerns of health workers and to provide their needs, like additional personnel, beds, facilities and equipment.
He admitted, however, that it would be "difficult" to go back to ECQ as it can be "damaging" to people's well-being, with unemployment and poverty affecting health, wellness and nutrition intake.
"There are now other ways like granular lockdowns, massive tracing, testing, isolation, treatment and stricter compliance with health protocols in transportation and business establishments," Lopez said last Saturday.
"We have been very careful in reopening sectors focusing on those with the highest impact on livelihood and micro, small and medium enterprises. We made it clear (that there should be very strict compliance to health protocols; otherwise, we would close the stores until they correct their deficiencies," he added.
Hours before making the announcement on the meeting of Cabinet members last Saturday, Malacañang said the strict lockdown in Metro Manila "has served its purpose" and that there is a need to intensify other strategies.
"Community quarantine alone, we repeat, is an insufficient response in controling COVID-19. We are scaling up hospital capacity by increasing allocation of COVID-dedicated beds while hiring more doctors, nurses and medical personnel," Roque said in a statement.
"We are also engaging the community through risk communication, social mobilization and advocacy to observe the minimum public health standards of wearing a mask, washing of hands and keeping physical distance," he added.
Roque then updated his statement and revealed that Duterte has directed the government's pandemic task force to act on the concerns of health workers immediately.
Hunger under ECQ
While medical frontliners need the support and care of government, placing Metro Manila back under ECQ could result in some workers dying of hunger, Guevarra said yesterday.
While he understands the position of medical workers tired of battling COVID-19 and are calling for a two-week timeout, Guevarra, who is a member of the IATF. expressed belief that reimposing restrictions on the economy could lead to more people going hungry.
"I understand where our medical and health professionals are coming from. They are expectedly getting weary. I agree that they need all the support and care that the government can provide," he said.
"But everyone else is getting weary. Millions of people need to go back to work and earn a living, or else they will die of hunger. We need to stir the economy back to life, albeit gradually, lest we reach a point where it will be doubly difficult to recover," he added.
Guevarra explained that all Filipinos have to make personal sacrifices for the common good, as the challenges brought about by the pandemic will come to pass.
"When it's all over, the nation will remember with gratitude those who were heroes during this dreadful pandemic. Our doctors, nurses and other health workers surely top them all," he said.
Forty medical societies led by the PCP have called on Duterte to reimpose ECQ in Metro Manila to check on the spiraling cases of COVID-19.
As of yesterday, 60 more medical organizations and societies and patients' groups have joined the call.
DOH backs 'timeout' calls
The Department of Heath (DOH) yesterday backed the calls of the medical societies for a timeout.
In a statement dated Aug. 1 but released yesterday morning, the DOH said it is "one with the medical societies and the government in its solidarity call for a united, strategic stand on the enormous battle against the COVID-19 pandemic."
"We have heard your call and we are one with you in battling the COVID-19 before it lays further waste to our people and our nation… We support the call of our frontliners to ensure a science-based approach and stricter implementation of community quarantine measures," the agency said.
The DOH acknowledged the "incredible physical, emotional and mental fatigue" that the frontliners have been experiencing to keep the country's health system operational and effective.
"Working closely with the Office of the President and other government institutions, the timeout you have asked for will buy us the time to refine and revisit our strategies to meet the evolving nature of this global pandemic," it said.
The DOH added that it would also advocate for the "call for a timeout for NCR" in its meeting with the IATF.
DOH data showed that of the 5,032 new cases recorded yesterday, NCR accounted for 1,577 cases or 50 percent of the figure. It was followed by Calabarzon with 786 (25 percent) and Central Visayas with 299 (10 percent). – Evelyn Macairan, Sheila Crisostomo
Related video: