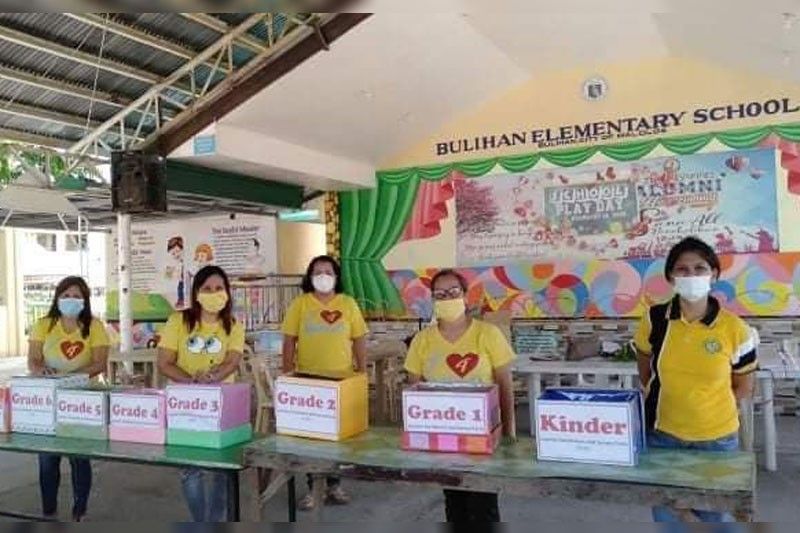 Public school students may be enrolled remotely through text message, phone call or social media or through designated drop boxes in schools or barangay halls, according to DepEd.
Philstar.com/ Gladys Cruz
Enrollment in public schools ends today
Janvic Mateo
(The Philippine Star) - July 15, 2020 - 12:00am
MANILA, Philippines — Parents have until today to enroll their children in public schools for the upcoming school year that would begin on Aug. 24, the Department of Education (DepEd) said yesterday.
Public school students may be enrolled remotely through text message, phone call or social media or through designated drop boxes in schools or barangay halls, according to DepEd.
As of yesterday, a total of 19,888,067 students have expressed their intent to enroll in public and private schools next school year, which is expected to forgo face-to-face classes due to the pandemic.
More than 18.8 million students have enrolled in public schools. Private schools only have a little over a million enrollees so far.
The DepEd said the total number of enrollees accounts for 71 percent of the more than 27 million students in basic education last year and 90.5 percent of the projected 21.97 million enrollment next school year.
Education officials earlier said enrollment would drop by around 20 percent or at least six million due to the economic impact of the coronavirus disease pandemic.
"We expect that we would not reach 27 million. We have a different projection," Education Secretary Leonor Briones has said.
"We're having negative economic growth this year and probably the following year based on projections. That is a big thing," she said.
Based on the latest DepEd data, enrollment in public schools represents 83.4 percent of last year while private school enrollment is only at 23.6 percent.
Over 250,000 students have transferred to public schools, the DepEd said.
Briones earlier said the number of enrollees in private schools might still increase given the different enrollment schedules.
Private school organizations have expressed alarm over the drop in enrollment.
Cash aid for teachers
Leaders of the House of Representatives are considering covering private school teachers and personnel in financial aid under the proposed Bayanihan to Recover as One Act or Bayanihan 2.
Like low-income families, Deputy Speaker and 1 Pacman party-list Rep. Mikee Romero said private school personnel should receive financial assistance of up to P8,000, which was granted by the government under the Bayanihan 1 Law.
"We should have one-time assistance for employees in private schools who, like most of our workers, have been affected by the pandemic," Romero said.
"We can categorize them as low-income and include the same amount of aid for them in Bayanihan 2, depending on the regions where they live," he added.
Romero pointed out that private school teachers would continue to be without income until classes open in August.
He suggested that private school employees who received cash assistance under Bayanihan 1 would no longer get additional aid if Congress includes such aid in Bayanihan 2.
Medical reserve corps bill
Meanwhile, Deputy Speaker LRay Villafuerte has proposed the creation of a medical reserve corps to better prepare the country's healthcare system for future pandemics.
Villafuerte recently filed House Bill 7007, which seeks to tap graduates with degrees in the fields of medicine, nursing, medical technology and other related courses who have not yet secured licenses, to augment frontliners during national health emergencies and disasters.
He said the medical reserve corps may be called upon and mobilized to assist the national and local governments in addressing the urgent needs of the country's healthcare system.
Several lawmakers have expressed support for Villafuerte's measure, which is similar to a bill filed by Sen. Pia Cayetano in the Senate.
Villafuerte cited the lack of medical personnel during the initial stages of the country's fight against the coronavirus pandemic.
Under the measure, the health secretary will initiate the mobilization of the medical reserve corps in coordination with the secretaries of the Departments of National Defense, Education and the Interior and Local Government or their duly authorized representatives with a rank of undersecretary. Edu Punay