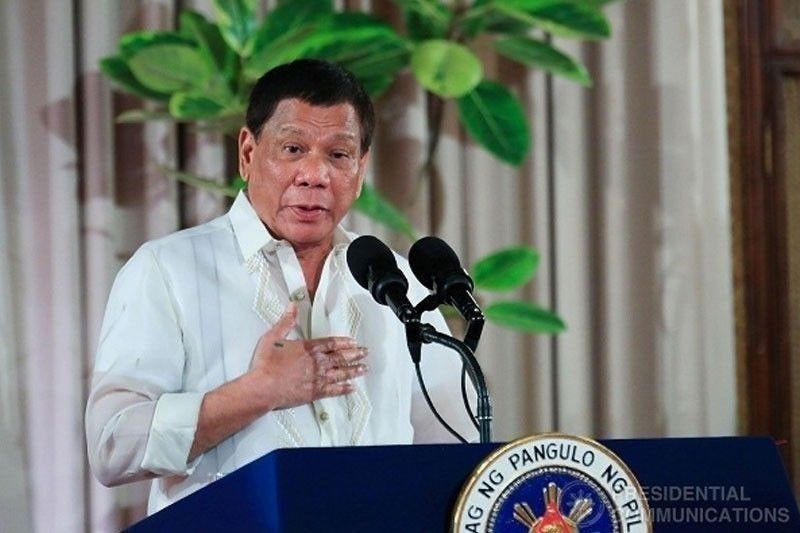 President Duterte, according to his spokesman Harry Roque Jr., has not filed libel cases against members of the media and even backed a broadcaster who was charged with libel by his former political rival, the late House speaker Prospero Nograles.
Alber Alcain/Presidential Photo
Palace: Duterte supports press freedom, never sued journalists
MANILA, Philippines — President Duterte supports free expression, Malacañang maintained yesterday as it disputed observations that the conviction of Rappler chief executive officer Maria Ressa for cyber libel was meant to silence critics of the government.
Duterte, according to his spokesman Harry Roque Jr., has not filed libel cases against members of the media and even backed a broadcaster who was charged with libel by his former political rival, the late House speaker Prospero Nograles.
Roque noted that Davao-based broadcaster Alexander Adonis was jailed at the Davao Penal Colony in 2001 over the so-called "Burlesk King" controversy involving Nograles.
But Duterte, then mayor of Davao City, provided material support to Adonis, who went to the UN Human Rights Committee to argue that the libel law in the Philippines was against free expression, Roque noted.
He said the committee had agreed with Adonis and declared that his imprisonment was not
proportional to libel and that libel need not be a criminal case and can be addressed by awarding civil damages instead of imprisonment.
"Because the President did not file any libel case against any journalist and even supported Alexander Adonis... the President supports free expression and press freedom. I hope that's clear," he pointed out. Roque said he and Adonis were among those who questioned the constitutionality of the law on cyber libel passed during the time of former president Benigno Aquino III.
He added that Ressa did not support their effort to challenge the law before the court.The Palace spokesman also described as baseless Ressa's claim that her conviction was meant to be a cautionary tale to make people afraid of criticizing the government.
"She is barking (up) the wrong tree. The President supported Alexander Adonis when he went to the UN Human Rights Committee. What additional evidence is needed to prove that one of the strongest supporters of freedom of expression and freedom of the press is the President?" Roque said.
He argued that the Supreme Court had decided that libel is not a protected speech. "That is jurisprudence. It did not come from the President."
Roque said under the law, there is a presumption that reporting is malicious if the complainant is a private individual. If the complainant is a public figure, there is a need to establish malice in law, he added.
"Since the complainant is a private individual, the court gave it credence and applied the presumption that any malicious imputation is in fact malicious," he explained.
Chief Presidential Legal Counsel Salvador Panelo said Ressa should stop telling her fellow journalists that her case is against all of them too because she and her researcher were the only ones sued.
"Simply put, this is a case between Ms. Ressa and Mr. (Wilfredo) Keng, whom the President does not know from Adam. It is a case of accountability upon those who abuse the freedom of the press," Panelo said in a statement.
"The present case is thus about punishing those who abuse the freedom of the press in violation of the rights of others," he added.
Panelo said freedom of the press in the country remains "robust and unfettered" because other journalists critical of the President "are still writing their biased articles with venom and abandon, without being sued, charged or arrested."
"The court's ruling will be used by the critics and detractors of this administration here and abroad, unsurprisingly, to peddle the canard that her conviction is the death knell to press freedom in this country, and expectedly, they will make the court decision a platform to make a hero out of Ms. Ressa," he added.
Vindicated
Businessman Wilfredo Keng declared that the conviction is a vindication "although the damage has already been done."
"This is not a fight against press freedom. This is about the truth!" Keng said in a statement.
He pointed out that when he sued Ressa and Santos more than three years ago, he "knew that this was going to be a long and painful process for me and my family. Still I vowed to see this case to the very end. This is my bid to protect my name."
Keng stressed that Rappler's lies still resound after the decision was handed, when the truth should have already set him free.
"Motivated by sheer conviction that I have done nothing to deserve the false accusation, I decided to go on my quest for justice even if it meant going up against Rappler, a powerful and well-funded media entity with a global reach, headed by one of Time Magazine's Top 100 Most Influential Women in the World," he said.
He added that Ressa's portrayal of herself as a defender of the press freedom "does not in any way exempt her from following the laws of the land."
"Ressa dares to publicly connect my private suit to an alleged governmental attack on press freedom but this is not a case of the government. I am a private citizen and this is a private suit. It is not a fight against press freedom," Keng claimed.
Meanwhile, senators said yesterday that all is not lost for Maria Ressa as she still has the option to file appeals all the way up to the Supreme Court.
Senate President Vicente Sotto III stressed that court decisions "are based on evidence and the law."
Sen. Panfilo Lacson said under the country's judicial system, due process does not end with a guilty verdict rendered by a regional trial court, pointing out that one can go to the appellate court and the Supreme Court, if necessary.
"This (appeal) is a guaranteed right of every Filipino under our existing laws. Other than that, since I am not familiar with the details much less the merits of the case, I think it will not be appropriate for me to either denounce or hail the court's decision," Lacson said in a statement.
Sen. Francis Pangilinan said he was not surprised with the decision even as he urged Filipinos to speak out against oppression and failures of government to address the urgent needs of the people.
"Under the current political atmosphere of repression and authoritarianism, it would have been a surprise if Maria and Reynaldo were acquitted. The silencing of critics and the attacks on the media have been going on for three years now," Pangilinan said in a statement.
"If they think this conviction and the effort to stifle dissent will silence those critical of this administration then I say to them, No way! And unless we stand up, speak out, and vigorously oppose the tyranny in our midst, their conviction will not be the last," he said.
Related video: