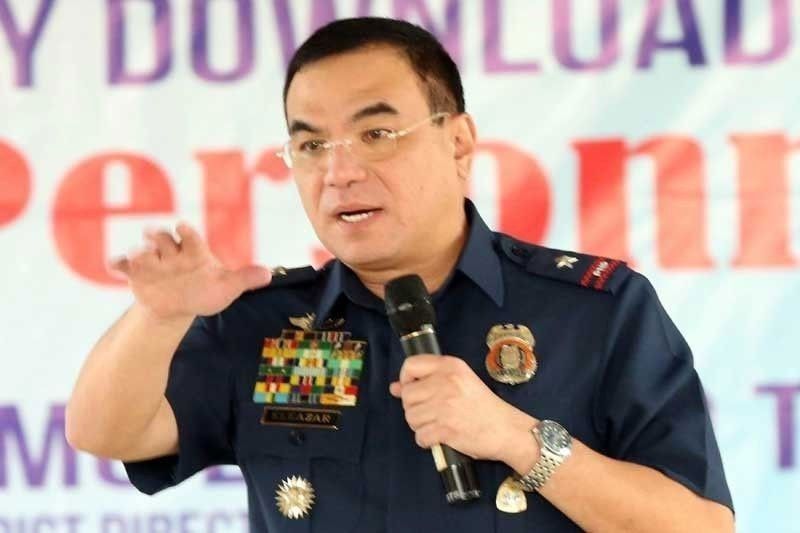 PNP deputy director for operations Lt. Gen. Guillermo Eleazar, who leads the Joint Task Force Coronavirus Shield, said police officers are ready for the influx of people and vehicles as more industries reopen after more than two months under strict lockdown.
The STAR/Boy Santos, file
Still no jeepneys; 23,000 taxis, TNVS deployed
MANILA, Philippines — All security measures are in place to ensure the safety of the public as Metro Manila shifts today to a more relaxed general community quarantine (GCQ) while the nation continues to face the coronavirus disease 2019 or COVID-19 pandemic, according to the Philippine National Police.
PNP deputy director for operations Lt. Gen. Guillermo Eleazar, who leads the Joint Task Force Coronavirus Shield, said police officers are ready for the influx of people and vehicles as more industries reopen after more than two months under strict lockdown.
"We are ready," Eleazar said in Filipino in an interview over dzBB. "This is not new to us."
The PNP has deployed police personnel at mass rail transit stations and transportation terminals to ensure that commuters are observing physical distancing measures.
Eleazar, however, admitted that implementing safety guidelines would be challenging in the coming days with more people allowed on the streets.
"From the point of view of law enforcement, that's a really big challenge because more industries and establishments are allowed to operate," he said.
The police official also
appealed to the public for cooperation as he warned that a second wave of coronavirus infections would occur if people ignore the guidelines laid out by the authorities.
"For sure, we will be dealing with the next wave if we don't cooperate, that's why we are reminding everyone that being under GCQ does not mean we are free to go out," he said.
The Department of Health has recorded 17,224 confirmed COVID-19 patients with 950 deaths.
Police will shift to implementing mobile and modified checkpoints, where inspections shall be made at random to ease traffic congestion.
The PNP has established at least 4,000 quarantine control points or checkpoints in Metro Manila and other parts of the country.
People from adjacent provinces who have work in Metro Manila should present their company identification card or certificate of employment to be allowed passage at police checkpoints.
Eleazar reminded unauthorized individuals such as senior citizens and individuals aged below 21 to remain at home, except when buying basic commodities and during emergency.
"If we don't have anything important to do, let us not go out with the others so we won't contract and spread the disease," he said.
Jeepneys not allowed in MM
The Department of Transportation (DOTr) said public utility jeepneys would not be allowed to operate at all in Metro Manila from today until June 21.
Transportation Assistant Secretary Goddess Libiran explained that based on the agency's updated guidelines, the only public transportation modes allowed in the National Capital Region (NCR) for phase one of GCQ – from June 1 to 21 – are trains, bus augmentation, taxis, transport network vehicle services (TNVS), shuttle services, point-to-point buses and other non-motorized transport such as bicycles.
Traditional jeepneys will only be allowed to operate in Metro Manila starting June 22, or under phase two, but only when the other available mode of transport with higher capacities would not be sufficient.
As much as possible, Libiran said buses and other higher-capacity vehicles must be utilized first before resorting to jeepneys in the metropolis.
In other areas outside Metro Manila that are also under GCQ, jeepneys may be allowed to operate, but also only if vehicles with higher capacities would not be sufficient, according to the DOTr official.
If the number of buses and modern public utility vehicless would not be enough, Libiran said this is the time that jeepneys would be allowed to operate as the priority are those on top of the so-called hierarchy of transport.
Taxi, TNVS back on roads
The Land Transportation Franchising and Regulatory Board (LTFRB) has approved the resumption of operations of over 23,000 taxi and TNVS units as Metro Manila shifts to GCQ today.
The LTFRB yesterday said a total of 23,067 units would be made available to the public in the NCR in the initial phase of the resumption of public transportation.
Of the figure, 18,629 are TVNS units and 4,438 are taxi units ready to serve commuters amid fears that there could be a looming public transportation shortage today.
All mass transportation modes, including those in the land and rail sectors, will be operating at limited capacity of mostly 50 percent.
This has raised questions on whether workers will be met with harder commutes as Metro Manila ends its more than 70-day strict community quarantine.
The number of approved TNVS units for the GCQ is less than a third of LTFRB's 66,000-unit cap on TNVS units, which was already being criticized even before the COVID-19 pandemic for being too low a supply that resulted in higher fares.
Still, the LTFRB said taxi operators and transport network companies, like Grab, cannot impose higher fares.
"With the resumption of operations, we are hereby informing the public that there will be no fare hike for approved taxi and TNVS units, and that only cashless transaction will be allowed as mode of payment," the LTFRB said in a statement in Filipino.
TNVS and taxi drivers would also need to comply with minimum health standards, such as wearing of face masks and limited capacity.
Frequent disinfection and putting up of partitions should also be undertaken to protect both the driver and passengers.
Commuters will have to log into a daily passenger manifest that could be used for contact tracing initiatives, if needed.
'Whole-of-nation approach'
As quarantine restrictions nationwide are eased today, Malacañang reminded the public to cooperate with authorities as it gave assurance that measures are in place to contain COVID-19.
Presidential spokesman Harry Roque said the Duterte administration has adopted a "whole-of-nation approach" in addressing the pandemic and has implemented interventions to comply with minimum health standards and to ensure the safety of Filipinos.
"The government cannot fight COVID-19 alone. We need the concerted effort of everyone. The sacrifices of our people in the past 70 or so days are laudable, and we must not put these to naught. It may be difficult for some, especially those who will physically report, but we live in extraordinary times and situation," Roque said in a statement yesterday.
"As more sectors and industries begin to operate, let us continue cooperating with authorities in enforcing quarantine protocols," he added.
Metro Manila, home to more than 12 million people and classified as moderate-to-high risk area, will be downgraded from modified enhanced community quarantine (MECQ) to the more relaxed GCQ starting today as the government seeks to gradually reopen the economy while fighting the virus.
The government did not say until when the capital region would remain under the quarantine scenario.
Also to be placed under GCQ until June 15 are moderate-risk areas of Cagayan, Central Luzon, and Calabarzon regions, Baguio City, and the provinces of Pangasinan and Albay in Luzon; Central Visayas and Iloilo City in the Visayas; and the cities of Zamboanga and Davao in Mindanao.
Cebu City, which has been classified as a high-risk area, will also shift from the strictest ECQ to MECQ until June 15.
The rest of the country will be under the most lenient MGCQ for 15 days.
Despite the easing of restrictions, lockdowns may still be imposed on villages or barangays with confirmed COVID-19 cases. Richmond Mercurio, Romina Cabrera, Alexis Romero, Helen Flores, Mayen Jaymalin