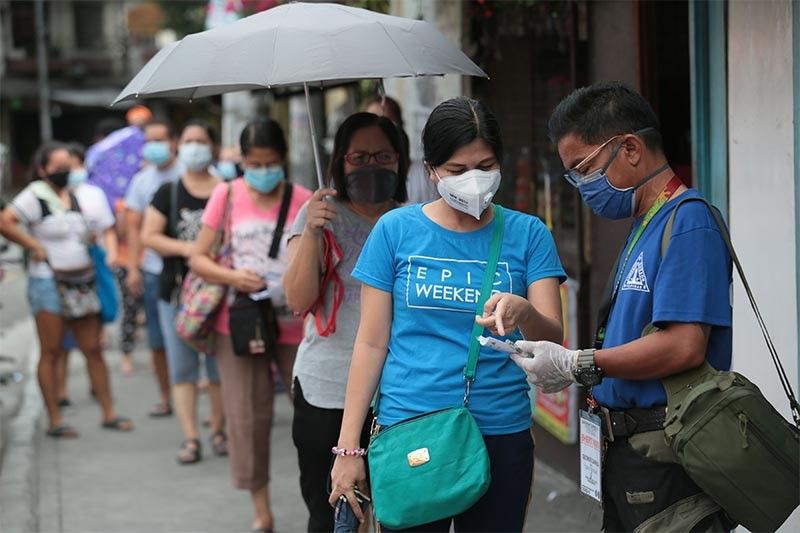 Market goers at Brgy. Quirino 3A in Project 3, Quezon City observes social distancing in this photo taken March 22, 2020.
The STAR/Michael Varcas
Metro Manila ready for GCQ, says Roque
MANILA, Philippines — Presidential spokesperson Harry Roque on Thursday said that Metro Manila is ready to be placed under a less stringent general community quarantine.
"The doubling rate is slowing… It has been consistent for a month. We have areas prepared for the confinement of the who are symptomatic," Roque said in Filipino during today's Palace briefing.
Roque, who is also spokesperson of the COVID-19 inter-agency task force, added that the doubling rate of novel coronavirus critical cases and critical care capacity are the criteria for deciding on whether to place areas under lockdown.
Under GCQ, several non-essential industries will be allowed to reopen. Public transport will also be allowed to resume operations at a reduced capacity to ensure proper social distancing.
Roque said data suggests that NCR is ready to shift to GCQ but everyone's cooperation will be needed. He added that the government's confidence in the Philippine people is high.
"They have proven that they can comply," Roque said in FIlipino.
However, the spokesperson also said that COVID-19 cases will inevitably rise while there is no vaccine or treatment available.
Forecasted rise of cases under GCQ
Researchers from the University of Santo Tomas in Manila also forecasted a rise in COVID-19 cases under GCQ.
Although, unlike Roque, they said "these increases are not inevitable" and "can be offset with a rigorous tracking, testing and tracing program that seeks to limit community spread by breaking chains of viral transmission."
Malacañang this week claimed that the country has met — and even exceeded — its target national testing capacity of 30,000 per day. However, data from the health department showed that around 10,000 samples or fewer are processed per day.
The Department of Health has clarified that the testing capacity of 32,000 is an estimate and does not mean that many tests are actually performed each day.
The World Health Organization recently sounded the alarm over the slow contact tracing being conducted by the government.
Duterte yet to decide on lockdown plans
The Inter-Agency Task Force on Emerging Diseases (IATF) on Wednesday night recommended to President Rodrigo Duterte that Metro Manila be placed under GCQ from June 1 to 15.
The final decision still lies with President Rodrigo Duterte who will meet with the IATF and his Cabinet tonight.
Roque said Duterte will announce his decision Thursday night in a televised address.
As of Wednesday afternoon, the DOH reported 15,049 COVID-19 cases and a death toll of 904 in the country.
As It Happens
LATEST UPDATE: July 7, 2020 - 10:15am
Other regions and provinces in the Philippines considered moderate and low-risk areas will be placed under general community quarantine starting May 1. Bookmark this page for updates. (Main image by The STAR/Edd Gumban)
July 7, 2020 - 10:15am
The Department of Information and Communications Technology lauches wfh.gov.ph to provide telecommuting resources for government employees
"The launch of wfh.gov.ph serves to support the President's agenda of unhampered and efficient service to the people," says DICT Secretary Gregorio Honasan II.
"We encourage our government employees to visit the website and find the right resources to help guide them transition into a remote working lifestyle," he adds.
July 6, 2020 - 4:43pm
The Department of Health on Monday reports 2,099 new COVID-19 cases (841 "late" cases and 1,258 "fresh" cases) in the Philippines, bringing the national total to 46,333.
The health department also confirms 243 new recoveries, pushing the total number of recovered patients in the country to 12,185.
The six additional deaths also raises the death toll to 1,303.
July 3, 2020 - 10:19am
The local government of Valenzuela announces that daycare students received Nutri-Packs as the general community quarantine has been extended.
"Public daycare students will get their 2nd Nutri-Pack from the city government... We want to make sure they have enough nutritional intake during these quarantine times," Mayor Rex Gatchalian says.
July 1, 2020 - 3:10pm
Senate Minority Leader Franklin Drilon agrees with Finance Secretary Carlos Dominguez III that quarantine restrictions in Metro Manila and other economic centers need to be relaxed soon.
"I support Secretary Dominguez's call to ease restrictions in the National Capital Region and Calabarzon and put them under the modified general community quarantine," Drilon says in an e-mailed statement.
"I'm afraid that any further delay in the easing of quarantine restrictions in these two economic centers will cause further damage to our economy and our people who have lost their livelihood."
July 1, 2020 - 12:10am
Health Secretary Francisco Duque says Metro Manila, Benguet, Cavite, Rizal, Lapu-Lapu Mandaue, Leyte, Ormoc,.Southern Leyte, Talisay City to be placed under general community quarantine.