Duterte: No vaccine, no face-to-face classes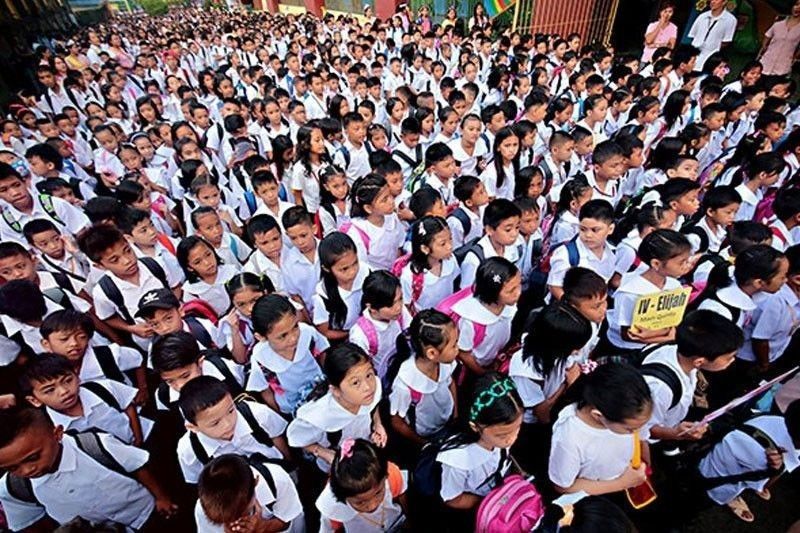 MANILA, Philippines — President Duterte is not in favor of opening schools until a vaccine for the coronavirus disease 2019 (COVID-19) is developed, with his spokesman clarifying that he was referring to face-to-face classes that cannot be held while the country is under community quarantine.
It's unclear if this would mean the postponement of the Aug. 24 target for the opening of the schoolyear in public schools, as only 48 percent of the system reportedly has access to the internet for online learning.
In a public address late Monday night, Duterte said he could not allow students to go to school until he is sure that they are really safe from the coronavirus, which has infected more than 14,000 people in the country as of yesterday.
"I will not allow the opening of classes na magdikit-dikit 'yang mga bata na 'yan (where children would go near each other). Bahala na hindi na makatapos (We would leave it to fate if they don't graduate). For this generation, wala nang matapos na doktor, pati engineer (no doctor or engineer will graduate)," the President said.
"Wala nang aral. Laro na lang (No more studying. Just play). Unless I am sure that they are really safe, it's useless to be talking about opening of classes. That's what I meant. Para sa akin, bakuna muna. 'Pag nandiyan na ang bakuna, OK na (For me, there should be a vaccine first. Once there's a vaccine, it's OK)," he added.
Duterte expressed hope that a vaccine would be developed by the end of the year.
"We will rely on the experts and the rich nations. They are feverishly working on it. Once (a vaccine) is developed, I will ask you to go out. If you refuse, I would drag you. Come on, let's stroll around once there is a vaccine," he said in jest.
"But without a vaccine, it's really (dangerous). It spells disaster," he added.
Presidential spokesman Harry Roque, however, claimed that Duterte was talking about the holding of face-to-face classes, which he said is not allowed until the Philippines is under the so-called new normal.
The government defines "new normal" as the emerging behavior, situations and minimum public health standards that will be institutionalized in common or routine practices and remain while the disease is not totally eradicated through such means as widespread immunization.
"That's what the President said. What he meant was as long as we do not have a vaccine and we are not yet under the new normal... we won't have face-to-face classes," Roque said at a press briefing yesterday.
"If we are under a 'new normal' on Aug. 24, it can be done. But if we are not yet under new normal and the community quarantines are not yet lifted, it does not mean that our youth can no longer study," he added.
Schools can adopt blended learning, which involves the use of television, radio and internet in teaching lessons, according to the Palace spokesman.
"The lesson here is stay at home if you do not need to go out, observe minimum health standards, wear masks, social distancing, use of disinfectants, so we can reach what we call the 'new normal,'" he said.
"The bottomline is we will not compromise the health of our youth," he added.
The use of radio and TV would ensure that students who do not have internet connection would not be discriminated against, according to Roque.
"Perhaps, we need makeshift classrooms using radio or TV in different barangay centers, where social distancing can be observed," he said.
He added that the President's statement also covers higher educational institutions and post-graduate levels.
"I'm advising all types of schools to prepare for the new normal. The possibility really is we will have to be more creative. They will have to (adopt) more blended or flexible learning. The President was right when he said we are not safe until there is a vaccine," Roque said.
"Let's hope by the 24th (of August) or by September, at least we reach that point that we are in the new normal because more or less, we would be able to manage the risks. That means, we have slowed down significantly the doubling rate of COVID and we have enough critical care facilities," he added.
Leni backs Rody
Vice President Leni Robredo yesterday backed Duterte's Monday night pronouncement that schools will remain closed in the absence of a vaccine against COVID-19 to ensure the safety of Filipino children.
"We appreciate the President's concern for the health and safety of our children," Robredo's spokesman Barry Gutierrez said in a statement.
The Vice President, however, expressed belief that the government must take sufficient steps to ensure that every Filipino student will still get the education he or she is entitled to.
"Inclusive and effective systems for home schooling must be put in place," Gutierrez said.
Lawmakers have urged the government to defer the Aug. 24 opening of classes until a vaccine for COVID-19 becomes available.
Duque counters Duterte
Contrary to Duterte's pronouncements, Health Secretary Francisco Duque III expressed belief that it would still be safe to open classes on Aug. 24 as long as protocols against COVID-19 are strictly followed.
"We'll study this very carefully, but for now, we think it would be safe to open classes by Aug. 24. What's needed is to make sure that all our minimum standards for health are in place," Duque told the Senate committee on health yesterday.
Duque was responding to a question from Sen. Bong Go on his views on the presidential pronouncements.
Among the health protocols that should be enforced in schools are physical distancing, regular disinfection of classrooms and school premises and frequent handwashing.
"We will continue to evaluate the number of cases down to the barangay level so we can identify one particular barangay if there are cases. So the schools there should be included in the community quarantine," the health chief said.
He also pushed for online learning as a possible substitute to physical attendance in classes.
'Find ways'
Senators yesterday asked the government to find ways to ensure that students are able to continue their education in spite of the health restrictions and the lack of vaccine for COVID-19.
They said public and private schools and universities should closely coordinate with each other and resort to alternative means of teaching like distance learning and reducing the number of students in a classroom to continue the education of the country's over 30 million elementary, high school and college students.
Senate President Pro Tempore Ralph Recto said locked-down schools "should not lead to education being put in quarantine."
Recto added that while Duterte does not want classes to start until a vaccine is found, this should not stop education stakeholders from fine-tuning the ways which will allow students to learn amid the pandemic without making them sick.
"Finding alternatives to face-to-face instruction is like answering a multiple choice test. To be sick should not be one of them," the senator said.
"Let us find the mix that will allow the 30 million children of this country to continue with their education without putting them in harm's way," he added.
Education can continue by customizing the alternatives – distance learning, television- or radio-based instruction, home schooling, modular distance learning, online courses, alternative learning systems, even radically reduced class sizes in zero-COVID zones – into one blend that will meet a learner's socioeconomic profile, according to Recto.
Sen. Francis Tolentino recently called on the Commission on Higher Education (CHED) to create an office that will spearhead the implementation of online learning and distance education in higher education institutions across the country.
Tolentino said the measure is meant to address the changing educational needs of students, especially in times of national emergencies, calamities and health crises.
He filed Senate Bill 1459 which seeks to amend Republic Act 10650, or the Open Distance Learning Act, and pave the way for the creation of the Tertiary Online Learning and Distance Education Office in CHED to be done in coordination with the Department of Information and Communications Technology and the Department of Science and Technology.
"At present, the problem is that educational institutions are implementing their respective online learning. With the creation of a national framework, CHED will prescribe the minimum requirements for the curriculum and will also oversee 'quality control,'" the senator said.
With the measure, Tolentino hopes that the newly created office will institutionalize online and distance learning in all colleges and universities by developing the necessary policy guidelines and quality standards for its extensive implementation.
The committee on basic education, chaired by Sen. Sherwin Gatchalian, is circulating for signature of senators a committee report of a bill seeking to amend RA 7977, which allows the opening of classes to take place "not later than the last day of August."
The bill, filed by Senate President Vicente Sotto III, seeks to authorize the President to set the start of the school year in the event of a declaration of a state of emergency, state of calamity or similar occurrence such as the COVID-19 pandemic.
Senate Minority Leader Franklin Drilon said he signed the report as the welfare and safety of the students should always be of primordial consideration.
"While the DepEd online learning, virtual classes and hybrid classes are admirable for the continuous learning of the students, the reality is majority of our population does not have access to the internet," Drilon said.
"The internet in the country remains the most expensive yet the slowest among Asian countries. I do not see how virtual classes being proposed by the DepEd can be effectively implemented across all sectors. The poor will be at a disadvantage here," he said.
Sen. Sonny Angara also expressed support to move the school opening set for Aug. 24 to a later date. Edith Regalado, Helen Flores, Paolo Romero, Cecille Suerte Felipe