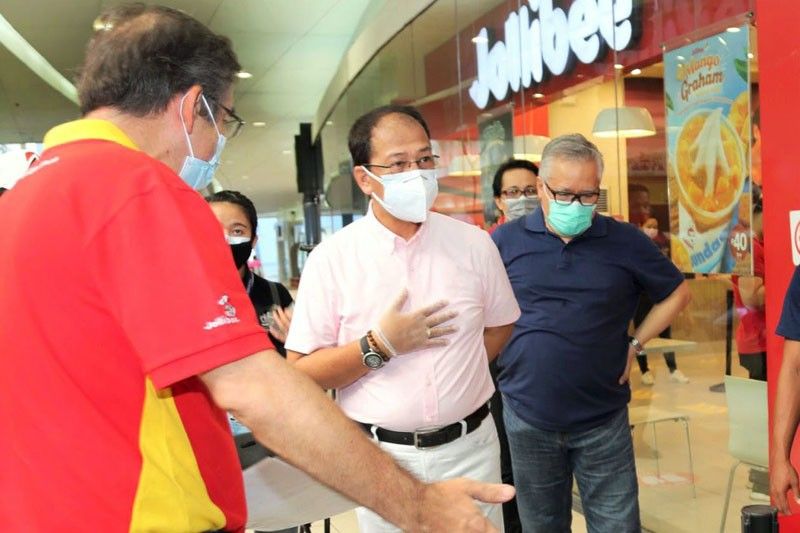 Trade Secretary Ramon Lopez and task force against COVID chief implementer Carlito Galvez recently inspected a Jollibee branch at a mall to check on COVID health and safety protocols.
DTI photos
Guidelines drawn up for barbers, salons, dine-in
MANILA, Philippines — Trade Secretary Ramon Lopez and National Task Force against COVID-19 chief implementer Carlito Galvez are set to recommend to the Inter-Agency Task Force (IATF) on Emerging Infectious Diseases special guidelines to be observed for the reopening of barbershops, salons and dine-in restaurants.
In a statement yesterday, the Department of Trade and Industry said there could be an accreditation system or a strict operations audit procedure before those establishments will be allowed to open. Its implementation will be done in coordination with DTI, health and safety officials of local government units, and the Department of the Interior and Local Government.
"With this system in place, there can be an earlier-than-scheduled reopening for those that will be prepared," the statement read.
Last Sunday, Lopez and Galvez conducted an inspection of three salons and barbershops to see health and safety protocol demonstrations.
"The IATF recognizes that salons and barbershops employ over 400,000 people. While we want them to reopen in the general community quarantine, we also need to take into consideration the pressing concern that this industry, which may cause further transmission, should institute strict measures to prevent such risks of passing infection," Lopez said.
"This is why we requested a demo so that Secretary Galvez and I could see how they are able to implement additional health protocols. The IATF stresses the importance of balancing the health of the people and the reopening of our economy," he added.
Apart from barbershops and salons, the two officials also checked the layout of a fast food restaurant catering to a maximum of only 50 percent of its capacity to ensure social distancing.
Galvez said he was very impressed with the demonstrations.
"We saw that these establishments even went further and innovated to ensure the protection of their clients and workers. Based on what we will see in the country's health progress, if deaths and transmissions continue to go down, maybe we can allow some more to open up. As Secretary Mon [Lopez] said, we have to balance public safety and the economy. But we will open up based on the reminders of the Department of Health: slowly and little by little," he said.
Lopez said the government would not compromise health standards even as it continues to assist businesses in restarting their operations.
Earlier, he said the DTI is studying the possibility of recommending resumption of dine-in service, as well as barbershops and salons in areas under general community quarantine.
At present, restaurants are only allowed to operate for take-out and delivery while barbershops and salons remain close.
Meanwhile, Deputy Speaker Mujiv Hataman called on the Department of Education to be more innovative and come up with a blended and hybrid plan for students in both public and private schools.
With two months left before schools open in August, he said the government should make arrangements for online learning and face-to-face classes. – Delon Porcalla