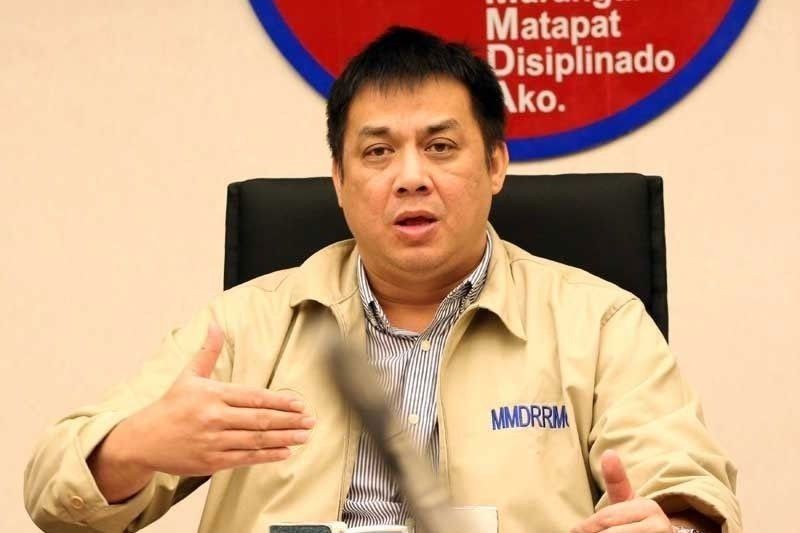 In a statement, Garcia announced that he tested positive after having a test on March 24.
STARBoy Santos/ File
MMDA exec tests positive; Pacquiao negative
MANILA, Philippines — Metropolitan Manila Development Authority (MMDA) general manager Jojo Garcia tested positive for the coronavirus disease 2019 (COVID-19).
In a statement, Garcia announced that he tested positive after having a test on March 24.
"My work puts me under a lot of risk, and this is part of it. I embrace this challenge with full trust and faith in God that I will overcome the same with your prayers," Garcia said.
In a phone interview, Garcia said he felt the symptoms on March 23 and he had been on self quarantine since then.
He had his office on lockdown after it was reported to him that a person who attended a meeting with him last March 17 tested positive for COVID-19.
"We need the public to avoid going outside. This virus does not choose its victims. We on the frontlines are doing everything to avoid the virus, and yet we are being affected. But it's part of my job to go out," Garcia said.
"Hopefully I feel better in the next few days," he added.
Garcia had met with Sen. Manny Pacquiao on March 17 and 20 for the donations of face masks and tourist buses for the agency.
Other MMDA officials like spokesperson Celine Pialago and traffic czar Bong Nebrija have gone on self quarantine since Garcia announced that he had been exposed to a COVID-19 patient.
Pacquiao yesterday said he has tested negative for COVID-19 twice but added that once he experiences symptoms of the deadly virus he will undergo swab testing with the Research Institute for Tropical Medicine (RITM).
"Twice na," said Pacquiao in a brief phone interview yesterday from his quarantined home in Dasmariñas Village in Makati.
Pacquiao said the members of his family also took the tests using a "rapid-testing kit," which was provided to him by a friend from South Korea.
"Negative. We're in good health. No symptoms," said Pacquiao, who did not say if members of his staff or his household also took the test.
The boxing icon vouched for the integrity of the testing kit that was used, saying it's the same one being used in South Korea.
"Maganda 'yan," said Pacquiao, who added that he took the second test last Friday and the first one a few days earlier.
"Once I experience symptoms, I am willing to undergo the swab testing for the sake of my family and my country. I will go through the regular procedure," he said.
Pacquiao assured everybody, including his fellow residents in Dasmariñas Village, that he is safe from COVID-19.
"Negative," he said after he received an official letter from Barangay Dasmariñas considering him a "person under monitoring" (PUM) because he was seen partying with fellow Sen. Koko Pimentel, who was found positive for COVID-19.
Two other senators, Juan Miguel Zubiri and Sonny Angara, have also tested positive for the virus.
Pacquiao said he has diligently observed self-quarantine even before he received the letter and urged his countrymen to do the same.
The senator said he has not left his home since March 23 when the Senate held a special session.
Pacquiao said he is saddened by the fact that three of his fellow senators have tested positive for COVID-19 and that he could not be present during the release of the 57,6000 test kits donated by Chinese tycoon Jack Ma through his Manny Pacquiao Foundation the other day.
"Nag-stay na lang ako sa bahay (I just stayed at home)," he said.
Pacquiao assured everyone that he would never break any protocol in dealing with the deadly pandemic.
ACT-CIS party-list Rep. Eric Yap has accepted the apology of the RITM for its error in the result of his COVID-19 test.
In a statement, he said the clerical error that led to release of a "positive" finding instead of a "negative" result was understandable considering the pressure on RITM during this COVID pandemic.
"It wasn't easy for me but I wholeheartedly accept the apology of DOH-RITM. It's not an excuse but it's normal to have that kind of error given the pressure on them right now. I will not harbor hard feelings towards anybody and I urge everybody to stay home and keep safe from this virus," explained Yap, who is also the House appropriations committee chairman.
Yap believed that such clerical error should not be taken against RITM, saying the agency "did not commit an error in processing the samples and reading the results."
"I thank God for this news but let us not keep our guards down. Let's all defeat COVID-19," he added.
Despite the clarification on Yap's status, House leaders and members who attended the special session last Monday opted to continue their self-quarantine.
Speaker Alan Peter Cayetano, Deputy Speaker LRay Villafuerte, Majority Leader Martin Romualdez and Minority Leader Benny Abante all started their 14-day quarantine last Thursday, March 26.
"I will complete the 14-day quarantine and will continue to work from home. We will continue to meet online as we still need to do our job and serve our people despite these challenges," Villafuerte said.
"I'm in the pink of health and well enough to continue performing my duties as House Majority Leader and will activate my work-from-home system," said Romualdez.
Quezon City Rep. Precious Hipolito Castelo, who was also among those who attended the special session, followed suit and deemed the quarantine as a necessary measure on their part.
"I have decided to self quarantine and practice health protocols while performing our legislative duties," she stressed. - With Abac Cordero, Edu Punay