PNP orders arrest of PUV drivers operating during enhanced quarantine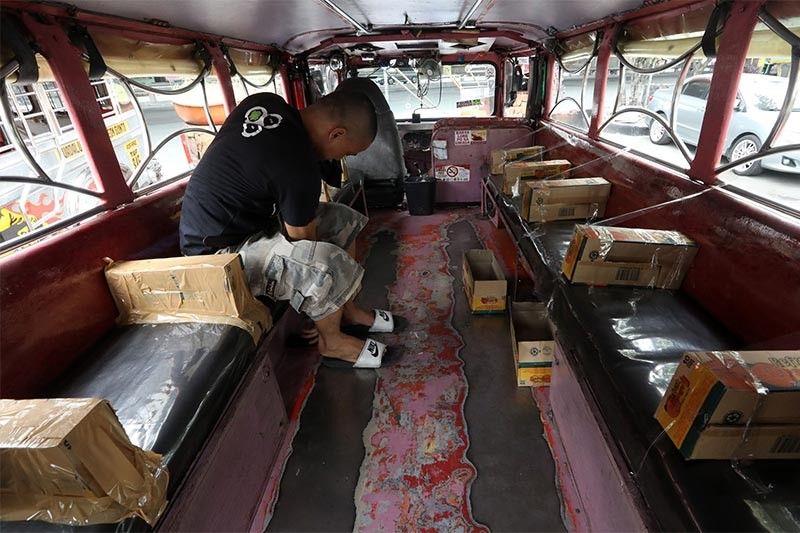 MANILA, Philippines (Update 1, 4:51 p.m.) — Philippine National Police chief Gen. Archie Gamboa on Tuesday ordered the arrest of public utility vehicle drivers continuing to operate in Metro Manila despite the enhanced community quarantine declared on Monday.
Under the said measure, mass public transportation is suspended across the island of Luzon.
Modes of transportation affected by the enhanced community quarantine in place until April 12 include the MRT-3, LRT-1, LRT-2 PNR, public buses, jeepneys, taxis, FX, UV Express, Point-to-Point or P2P buses, motorcycle taxis, and transport network vehicle service or TNVS, according to a Tuesday Department of Transportation advisory.
On top of arrest, the country's top cop warned violators that their vehicles will be impounded if they are caught.
"Sinabihan ko kanina ang Highway Patrol specific na hulihin niyo lahat, kung kailangan i-impound natin, of course problema na naman saan i-impound... so that the people will just see really we will enforce the law," Gamboa said in an interview on CNN Philippines.
(I specifically instructed the Highway Patrol to apprehend all of you, impound your vehicles if needed, of course another problem raised is where the vehicles will be impounded…)
The police chief said that he would ask the Land Transportation Franchising and Regulatory Board to write up an official order on the temporary suspension of all mass transportation, suggesting stiffer penalties.
"The second time there's suspension... so part of my input later, probably LTFRB would really come up with a clear order that all are suspended so that [if apprehended], it is not only the ticket that they're going to face," Gamboa said.
"They're also going to face administrative charges on the part of their franchise kasi napaka-simple naman sanang 'wag magbiyahe (because it's so simple not to operate)."
Violation of a lockdown is not prohibited under the Mandatory Reporting of Notifiable Diseases and Health Events of Public Concern Act (Republic Act 11332).
"No arrest can be made if there will be no ordinance from LGU," Justice Secretary Menardo Guevarra previously affirmed.
RELATED: Arrests during community quarantine? DOJ says only for assault, bribery, slander
However, Justice Undersecretary Markk Perete clarified that violators of the temporary suspension of mass public transport facilities can still be charged under the Revised Penal Code.
"Those who insist on operating these facilities and disobey orders from law enforces to desist from further operations may be held to account under Article 151 of the RPC (Resistance and Disobedience to a Person in Authority or the Agents of Such Person), among others," Perete told reporters.
"The criminal case is distinct from the administrative remedy...Remember, in the hands of an operator, a franchise to operate is a privilege saddled with conditions, among them compliance with lawful orders of the State." — with reports from Kristine Joy Patag