Duterte places entire Luzon under 'enhanced' community quarantine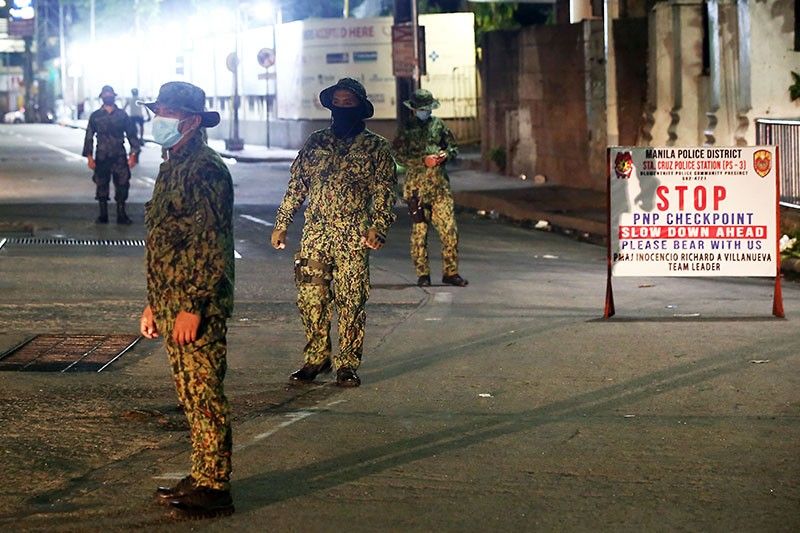 MANILA, Philippines (5th update at 10:13 p.m.) — President Rodrigo Duterte declared an "enhanced community quarantine" over the entire Luzon including Metro Manila as part of a continuous push to contain the spread of the novel coronavirus disease.
This comes as the latest in a string of measures after Duterte last week approved the hoisting of Code Red Sublevel 2 and placing Metro Manila under community quarantine.
A newly issued memorandum from the Palace on the enhanced quarantine guides government agencies to ensure the following:
Prohibition of mass gatherings and imposition of strict home quarantine among all households
"Movement shall be limited to accessing basic necessities, provision for food and essential health services shall be regulated," the memorandum states. "And there will be heightened presence of uniformed personnel to enforce quarantine procedures."
Work-from-home arrangement for the executive branch
"Except the [Philippine National Police, Armed Forces of the Philippines, Philippine Coast Guard and health and emergency frontline services, border control and other critical services which shall ensure a skeletal workforce."
Only essential establishments are to remain open
"Only those private establishments providing basic necessities and such activities related to food and medicine production i.e. public markets, supermarkets, groceries, convenience stores, hospitals, medical clinics, pharmacies and drug stores, food preparation and delivery services, water-refilling stations, manufacturing and processing plants of basic food products and medicines, power energy, water and telecommunications supplies and facilities shall be open."
READ: Restricted movement in mainland Luzon until April 12 due to COVID-19 quarantine
Despite the continued operations of the businesses falling under the above categories, they are required to adopt "strict skeletal workforce to support operations" and staff will also observe social distancing measures. Restaurants, meanwhile, are only allowed to deliver food but not open their establishments to dine-in and walk-in customers, said Cabinet Secretary Karlo Nograles at a press conference.
Export-oriented industries and business process outsourcing companies can also remain operational provided that they offer temporary accommodations to their personnel and observe social distancing as well.
Media practitioners will also be allowed to travel within the quarantine area as long as they are accredited via the Presidential Communications Operations Office.
Suspension of mass public transport facilities
Only private vehicles are allowed if the intention is to secure basic necessities like food and medicines. Only one person per family is allowed to buy essential items.
Employees who would normally take public transportation can be provided with private vehicles by their companies or by the local government unit.
READ: No mass transportation amid 'enhanced community quarantine' in Luzon
Restricted land, air and sea travel
Outbound passengers can still push through with travel plans within the next 72 hours since the declaration of the enhanced quarantine, that is until Thursday, March 19.
Inbound passengers who are in transit will still be allowed entry but will be subject to quarantine procedures if coming from countries covered by the travel restrictions.
Inbound Filipino citizens and holders of permanent resident visas will also still be allowed entry. They should also expect to be subject to quarantine procedures if coming from countries heavily affected by the outbreak.
Labor, social welfare, finance, budget and trade departments to come up with programs for affected workers and businesses
"These measures may include, but shall not be limited to, moratorium on lease rentals, advancing a pro-rated thirteenth-month pay, reprieve in utility bills, and assistance to micro-, small- and medium-scale enterprises," the memorandum states.
READ: Duterte urges early release of 13th month pay as coronavirus-related job losses loom
The Department of Social Welfare and Development was also tasked to come up with solutions for food assistance to those most affected across Luzon.
Not a 'total lockdown'
What the Cabinet officials proposed earlier on Monday, however, was a total lockdown of Metro Manila which they did not call an enhanced quarantine.
Presidential spokesperson Salvador Panelo bared that the proposal would be taken up at the meeting of the Inter-Agency Task Force behind the administration's response to the worsening virus.
READ: NCRPO sees smoother implementation of quarantine by next week
"A total lockdown would mean closing of all establishments, it would mean also work or classes are suspended," he explained to reporters at a briefing earlier that morning at Malacañang.
Panelo assured the public that food supply in a lockdown would not be a cause for concern. "We will not stop the entry of food supply. Markets should also remain open. I think even in Macau, they remained open," Panelo said.
The Department of Interior and Local Government last week asked the media to use the term "lockdown" sparingly in their reportage as this word could trigger panic.
Interior Undersecretary Jonathan Malaya earlier said that a lockdown would mean that people would be confined and not allowed to leave.
READ: 'Is it a lockdown or a community quarantine?' Your questions about latest move vs COVID-19 answered
"That's why the word lockdown is usually used with relation to prisoners. So when China declared a lockdown in Wuhan, their citizens are not allowed to leave those cities and the highways were closed. That's a lockdown," he said in a statement sent to reporters.
But at Thursday night's address, the President admitted, "Ayaw naming gamitin 'yan. But there is a lockdown."
--
If you believe you have come into possible contact with infected patients, you may be directed to the proper office of the Department of Health for advice through the following lines: (632) 8651-7800 local 1149-1150 or (632) 165-364.
You may also opt to call the Research Institute for Tropical Medicine at (02) 8807-2631/ 8807-2632/ 8807-2637.
As It Happens
LATEST UPDATE: October 16, 2021 - 6:03pm
Follow this page for updates on a mysterious pneumonia outbreak that has struck dozens of people in China.
October 16, 2021 - 6:03pm
Russia on Saturday tops 1,000 deaths over 24 hours for the first time since the start of the coronavirus pandemic, with the country's jab drive at a standstill and few restrictions in place.
An official government tally showed 1,002 deaths and 33,208 new infections, setting a high for both fatalities and cases for the third day in a row.
The surging outbreak has come with just 31 percent of Russians fully inoculated as of Saturday, according to the Gogov website, which tallies Covid-19 data from the regions. — AFP
October 12, 2021 - 1:53pm
Elated Sydneysiders celebrate the end of almost four months of coronavirus lockdown, putting behind them a period of "blood, sweat and no beers" in Australia's largest city.
Sydney's more than five million residents were subjected to a 106-day lockdown, designed to limit the march of the highly transmissible Delta variant.
With new infections now falling -- New South Wales state recorded 496 cases on Monday -- and more than 70% of over-16s fully vaccinated, the city is dusting off the cobwebs. — AFP
October 11, 2021 - 8:38pm
The Kremlin on Monday described Russia's COVID fatality toll as "high" and the country's vaccination rate as "unacceptably" low, even as it rejected new restrictions so as to protect the economy.
Officials on Monday registered 957 new deaths from Covid-19 over 24 hours, bringing the country's total fatalities to 217,372 -- the highest toll in Europe -- even as authorities are accused of downplaying the severity of Russia's outbreak.
Under a broader definition of deaths linked to the virus, the Rosstat statistics agency said Friday that by the end of August more than 400,000 people in Russia had died with the coronavirus.
The growing toll from the virus comes as Russia's jab drive has stalled. As of Monday, just over 30 percent of Russians had been fully vaccinated, according to the Gogov website, which tallies COVID-19 data from the regions.
"Yes, indeed, the level of vaccinations we have is small, unacceptably small," Kremlin spokesman Dmitry Peskov told reporters, saying that this is the reason for "such a high mortality rate." -- AFP
October 9, 2021 - 10:45am
A major study shows that cases of depression and anxiety surged by more than a quarter globally during the first year of the pandemic, especially among women and young adults.
In the first worldwide estimate of the mental health impact of COVID-19, researchers estimated that 2020 saw an additional 52 million people suffer from major depressive disorder, and an additional 76 million cases of anxiety.
These represent a 28- and 26-percent increase in the two disorders respectively, according to the study, published in The Lancet medical journal. — AFP
October 6, 2021 - 8:44pm
The novel coronavirus has killed at least 4,813,581 people since the outbreak emerged in China in December 2019, according to a tally from official sources compiled by AFP on Wednesday.
At least 235,767,340 cases of coronavirus have been registered.
The vast majority have recovered, though some have continued to experience symptoms weeks or even months later.