Army now deploys women to frontlines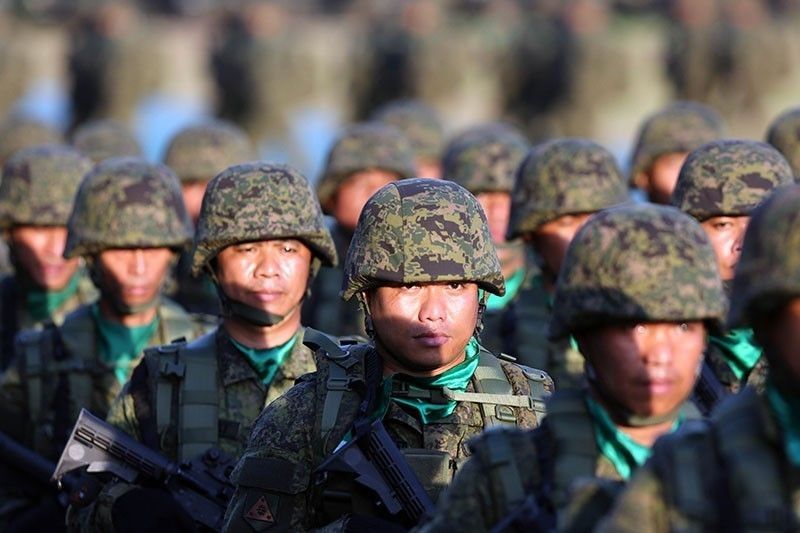 MANILA, Philippines — Women members of the male-dominated Philippine Army (PA) are no longer confined to performing desk jobs but are actually doing combat duties, either as frontliners or as field commanders.
Current Army records show that six female officers are assigned as battalion commanders. They are among the 795 female officers and 3,777 women-soldiers in the PA.
Col. Ramon Zagala, Army spokesman, said the women's deployment and assignment in top posts highlight the key role that the female officers and enlisted personnel play in the PA as it celebrates National Women's Month.
Among them are Lt. Col. Leah Santiago, 9th Fire and Artillery Battalion commander; Lt. Col. Nelicar Corsin, headquarters support battalion commander of the Sulu-based 11th Infantry Division; Lt. Col. Imelda Nadal, battalion commander of the 6th Forward Service Support Unit based in Central Mindanao; Lt. Col. Marites Agliam, commander of the 4th Signal Battalion; Lt. Col. Madeline del Guzman, commander of the 8th Signal Battalion and Lt. Col. Leonara Bascoguin, commander of the 11th Forward Service Support Unit.
Also occupying a top position is Brig. Gen. Joseline Bandarlipe who serves as commander of the Armed Forces of the Philippines (AFP) Engineering Brigade.
Aside from them, there are many other female junior officers assigned in the frontlines either as platoon leaders or company commanders. These smaller units are the ones that do actual field operations against known threat groups like the New People's Army (NPA), Abu Sayyaf and Maute group remnants.
Lt. Gen. Gilbert Gapay, Philippine Army chief, emphasized that women empowerment calls for women members to become holders and active contributors to development and mission accomplishment.
"No woman should be left behind. Let us cultivate a space where women are confident to build on their potentials, enhance their skills, make their own choice," Gapay said.
As Malacañang joins in the celebration of International Women's Month, presidential spokesman Salvador Panelo said the Duterte administration has already "made significant strides to empower our women."
He noted the laws where the government pushed for the interest of women, "some of these are giving them more financial, health and medical benefits or assistance, better work opportunities and improved working conditions."
According to Panelo, the changes are designed not only to promote the welfare of women but also to fill the gaps in upholding gender equality.
"We cannot quantify the contributions of Filipinas in the political, social and economic growth of the Philippines. This month-long celebration therefore underscores the recognition our country gives to women in the family, community and nation," he said.
Panelo recognized that a lot of work still has to be done to empower the Filipino woman. "Hence, we urge each one to help one another to motivate Filipinas in reaching their full potential, especially in nation-building. This government will continue its advocacy for women's rights and women empowerment." – With Christina Mendez