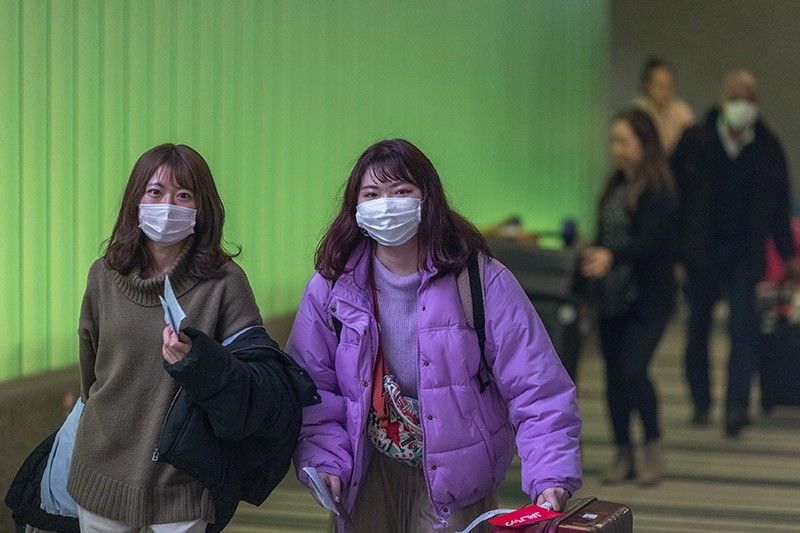 Travelers arrive to LAX Tom Bradley International Terminal wearing medical masks for protection against the novel coronavirus outbreak on Feb. 2, 2020 in Los Angeles, California. The United States has declared a public health emergency and will implement strict travel restrictions later today. Foreign nationals who have been in China in the last two weeks and are not immediate family members of U.S. citizens or permanent residents will be barred from entering the U.S. Meanwhile, about 195 U.S. citizens who were evacuated from China to March Air Reserve in California are under under quarantine at the base, prohibited from leaving until it is determined that they will not develop symptoms of the disease.
David McNew/Getty Images/AFP
300 Chinese nationals stranded in Philippines amid travel ban to stem novel coronavirus
MANILA, Philippines — About 300 Chinese nationals were stranded in the Philippines after their flights had been canceled due to the travel ban to China and its administrative regions, a Bureau of Immigration official said Monday.
President Rodrigo Duterte has approved a temporary travel ban to China and its administrative regions Macau and Hong Kong to prevent the spread of the novel coronavirus acute respiratory disease or nCoV ARD. The government has also imposed a temporary ban on travelers from China, Hong Kong and Macau but it does not cover Filipino citizens and holders of Philippine permanent resident visa.
"There are around 300 Chinese nationals who stranded in NAIA (Ninoy Aquino International Airport) because most of the airlines have canceled their flights already to and from the different parts of China," Immigration spokesperson Dana Sandoval said at a press briefing in Malacañang.
Sandoval later on clarified that the figure also included Chinese nationals in other parts of the country who want to go home.
"Our office is coordinating with the Chinese embassy and they have pledged to send an aircraft to fetch their citizens who are stranded in the country. Maybe today (Feb. 3) or the next few days we'll find out the details of these flights that the Chinese embassy will be arranging," Sandoval said.
"There are also other foreign nationals but most of the ones that were stranded since yesterday (Feb. 2) have already departed," she added.
Repatriation efforts
At the same briefing, Foreign Affairs Undersecretary Ernesto Abella said 42 Filipinos in Hubei, where the virus originated, have requested to be repatriated.
He said a rapid response team from the migrant workers' affairs office and five to seven medical personnel from the Health department may be deployed to fetch the Filipinos.
"The aircraft (that will repatriate the Filipinos) may leave for China sometime this week," Abella said.
The agency announced plans to repatriate Filipinos who want to leave Hubei last January 31.
Abella said no Filipinos in China have been confirmed to be infected with nCoV ARD so far.
"The Philippine embassy and six Philippine consulates general in China continue to issue timely advisories through the official websites and social media like WeChat," the foreign affairs official said.
All foreign service posts have established 24/7 hotlines so they can immediately respond to the needs of Filipinos in affected areas. There are 295,047 Filipino in mainland China.
As It Happens
LATEST UPDATE: March 30, 2020 - 9:31am
Follow this page for updates on a mysterious pneumonia outbreak that has struck dozens of people in China.
March 30, 2020 - 9:31am
The Department of Health denounces reports of health workers around the country being attacked physically and being refused access to basic services, blocked and fined at checkpoints and evicted from their homes.
"These acts cannot be tolerated," the DOH said in a statement released Sunday night.
The health department said it is mobilizing its own team to get more details and hold perpetrators of attacks against health workers liable. They will also report the incidents to the Inter-Agency Task Force on COVID-19 for proper investigation and resolution.
March 29, 2020 - 2:36pm
Health Secretary Francisco Duque III says test kits donated by the Chinese government are actually accurate.
In a transcript of a text message sent by the embassy and since confirmed by Duque, the health secretary said:
"Hi! There is nothing wrong with the REAL TIME-POLYMERASE CHAIN REACTION machine which is used for generating positive or negative result as the case may be!

Again your Test Kits BGI and SANSURE BIOTECHNOLOGY are very good and up to the standards as those which were donated by WHO and approved by our RITM. AGAIN OUR GRATITUDE AND APPRECIATION TO YOU AND THE CHINESE Government."
The Department of Health has also issued an apology and clarification on the issue.
March 29, 2020 - 10:51am
US President Donald Trump decided late Saturday against imposing a broad two-week lockdown on New York and its neighbors after a strong pushback from local political leaders and warnings of the panic it could spark.
"A quarantine will not be necessary," Trump tweeted, some eight hours after he stunned the New York metropolitan region, the epicenter of the US coronavirus outbreak, with a proposal to place it under quarantine to prevent residents from leaving.
Trump had indicated earlier he was responding to worries in other states, particularly Florida, that travelers from the greater New York city area could spread COVID-19 in their communities.
He told reporters that "heavily infected" New Yorkers were a threat to Florida, a popular southern holiday destination for people in the northeast. ?— AFP
March 28, 2020 - 6:29pm
Iran announces that 139 more people had died from the novel coronavirus, raising the official death toll to 2,517 in one of the world's worst-affected countries.
Health ministry spokesman Kianoush Jahanpour says in a press conference that 3,076 more cases had been confirmed in the past 24 hours, bringing the total number of infections to 35,408. — AFP
March 28, 2020 - 3:53pm
Actress Iza Calzado tested positive for the coronavirus disease, her manager says.