Public urged not to hoard face masks needed by frontline health workers battling nCoV
February 3, 2020 | 6:01pm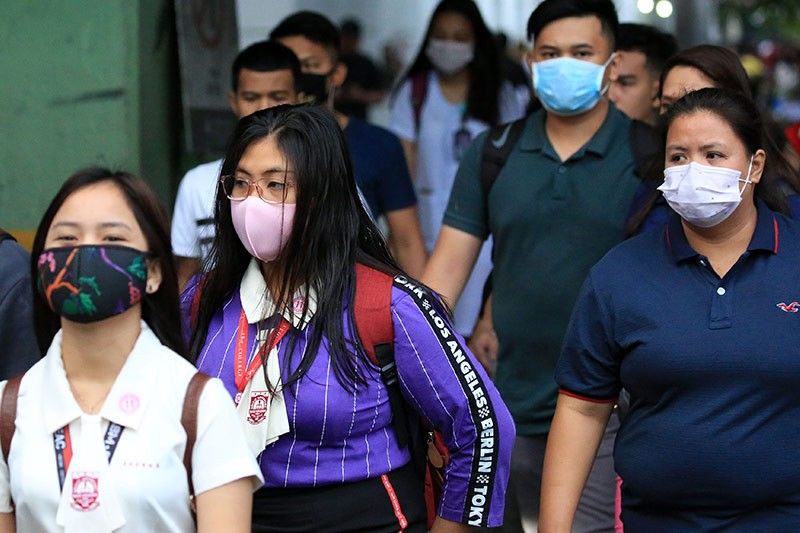 MANILA, Philippines — A health official Monday urged the public not to hoard face masks to ensure that there would be enough supply for health workers tending to patients who have exhibited symptoms of the novel coronavirus acute respiratory disease or nCoV ARD.
Research Institute for Tropical Medicine Director Celia Carlos said there is no community transmission of the virus in the Philippines so her agency is not yet recommending its use for those who do not have respiratory symptoms like cough and difficulty of breathing.
"We should reserve the face masks to those who need them. There is already a shortage of this valuable commodity, and we should give them to those who need them most: the health workers," Carlos said at a press briefing in Malacañang.
Citing guidelines from the World Health Organization, Carlos said one should wear a mask if he has respiratory symptoms, if he is providing care to individuals with respiratory symptoms, and if one is a health worker attending to individuals with respiratory symptoms.
Some stores in Metro Manila have ran out of face masks due to high demand, according to previous reports. Officials have warned businesses not to sell overpriced masks or face charges.
Ready for outbreak
Carlos said there are efforts to buy huge amounts of personal protective equipment from local and international sources in anticipation of a possible outbreak or wider spread of the virus. She said RITM has a "surge capacity plan" that includes the training designed to enable laboratories in the country to conduct testing.
"We just acquired the technology fairly recently, we may need to first make an assessment of five sub-national laboratories previously identified," Carlos added.
The health official said measures are in place to ensure the safety of health workers who are in the front lines in the fight to contain the infection.
"For San Lazaro and RITM, we have set standard procedures on standard prevention and control and that covers a lot of things from the wearing of the personal protective equipment to handling of patients to cleaning of rooms occupied by infected patients," Carlos said.
"Both of the hospitals have a long history of handling emerging infectious diseases. So far we have been good, the health workers, none of them, so far, have been infected," she added.
Carlos said health workers have also been requested to monitor their temperature twice a day.
"We quarantine them in case they develop any symptoms and we manage the symptoms," she added.
Asked if there is a need to provide the health workers additional pay, Carlos said it is not within her power to determine whether it should be given.
"But if that is recommended, I'm sure all of us will welcome that, especially from RITM and San Lazaro... But we have a standard hazard pay in government but there more people who are exposed to more hazards than others but they receive the same remunerations," she added.
WHO: Virus can be contained
WHO Representative in the Philippines Rabindra Abeyasinghe expressed optimism that the nCoV ARD can be contained and called on the public to "act rationally."
"The (emergency) committee (of the international health regulation) and WHO continues to believe that the outbreak can be controlled and the spread of the virus can be stopped. WHO is working together with member states to strengthen their preparedness capacities to improve their ability to deal with possible or likely cases and to better manage those cases," Abeyasinghe said at the same press briefing.
"The WHO continues to work together with the Department of Health Philippines and the Filipino government to increase its preparedness and response capacities to deal with this outbreak. We remain confident that the outbreak can be controlled and we can prevent expanded spread of this disease," he added.
Abeyasinghe also commended the Philippine government for its efforts to strengthen its preparedness and to build its capacity to detect cases of the virus.
Carlos said the tests conducted on patients exhibiting symptoms of nCoV ARD costs about P15,000 to P20,000 but the government is doing it for free. She confirmed that the government is also considering Fort Magsaysay in Nueva Ecija as one of the sites for the quarantine facility.
As It Happens
LATEST UPDATE: October 23, 2021 - 10:44am
Follow this page for updates on a mysterious pneumonia outbreak that has struck dozens of people in China.
October 23, 2021 - 10:44am
Peru, which has the world's highest COVID-19 death rate per capita, has surpassed 200,000 deaths from the coronavirus, the health ministry said on Friday.
The ministry announced 25 new deaths over the previous 24 hours, taking the South American country over the symbolic threshold with 200,003 deaths since the pandemic started in March 2020.
The Andean country of 33 million has also recorded 2.2 million infections.
With 6,065 deaths per million population, Peru's COVID mortality rate is the highest in the world, according to an AFP count based on official data.
The news comes at a time of falling daily cases and deaths attributed to the increase in vaccinations, although authorities remain worried about a potential new wave of infections due to the Delta variant that is now predominant in the country.
"We're maintaining a high level of control," health minister Hernando Cevallos said recently. — AFP
October 21, 2021 - 1:41pm
India administers its billionth COVID-19 vaccine dose on Thursday, according to the health ministry, half a year after a devastating surge in cases brought the health system close to collapse.
According to the government, around three-quarters of adults in the country of 1.3 billion people have had one shot and around 30 percent are fully vaccinated.
India suffered a huge spike in cases in April and May, reporting more than 400,000 infections and 4,000 deaths per day, with many hospitals unable to cope and crematoriums overwhelmed. — AFP
October 20, 2021 - 8:22pm
Russian President Vladimir Putin on Wednesday ordered a nationwide week-long paid holiday starting on October 30 to curb COVID infections amid record virus deaths and again urged Russians to vaccinate themselves.
At a televised meeting with officials, Putin said he supported a government proposal to "declare non-working days between October 30 and November 7 throughout the country" and asked Russians to "show responsibility" and get COVID jabs. — AFP
October 20, 2021 - 3:09pm
A Brazilian senate committee will on Wednesday ask that President Jair Bolsonaro be charged with "intentional" crimes over his management of the COVID-19 pandemic, which has left 600,000 of his compatriots dead.
Following six months of eventful hearings, with emotional witness statements and chilling revelations about the use of ineffective medication on "human guinea pigs," the committee of inquiry will deliver its eagerly awaited report.
Renan Calheiros, the centrist senator who is the lead author of the 1,200-page report, has already revealed that he has retained at least nine charges against the far-right president, including "quackery" and "crimes against humanity."
But he announced a last-minute withdrawal of "homicide" and "genocide" charges, after some infighting within the panel. — AFP
October 20, 2021 - 1:28pm
The Bill and Melinda Gates Foundation announces an investment of up to $120 million in an effort to speed up low-income countries' access to a new anti-Covid drug.
The treatment, a pill called molnupiravir developed by US lab Merck, reduces the risk of hospitalization by half in Covid-19 patients who take it in their first few days of infection, the company has said, and could be even more effective at preventing deaths from the virus.
The money from the Gates Foundation would be used to encourage the production of generic forms of the drug by other companies, especially in India, to which Merck has already granted such licenses. — AFP