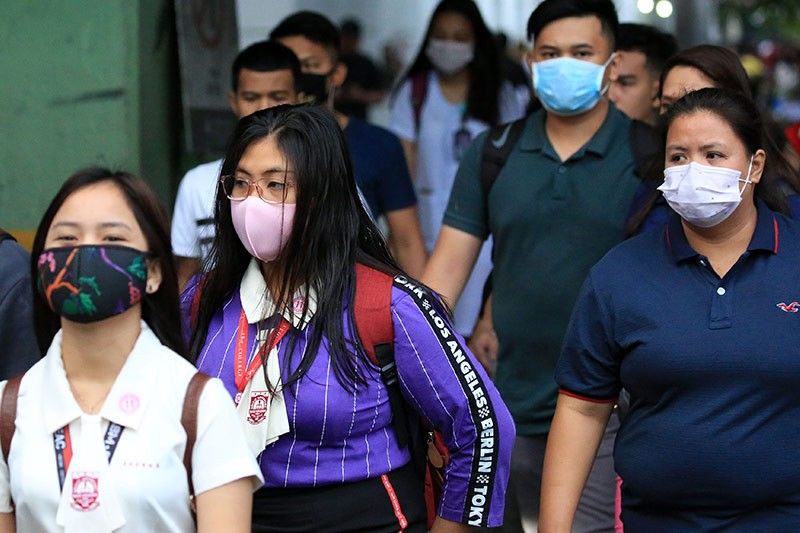 In this Jan. 31, 2020 photo, pedestrians in Metro Manila are shown wearing face masks, a day after the Department of Health confirmed the first case of novel coronavirus in the Philippines.
The STAR/Edd Gumban
Public urged not to hoard face masks needed by frontline health workers battling nCoV
MANILA, Philippines — A health official Monday urged the public not to hoard face masks to ensure that there would be enough supply for health workers tending to patients who have exhibited symptoms of the novel coronavirus acute respiratory disease or nCoV ARD.
Research Institute for Tropical Medicine Director Celia Carlos said there is no community transmission of the virus in the Philippines so her agency is not yet recommending its use for those who do not have respiratory symptoms like cough and difficulty of breathing.
"We should reserve the face masks to those who need them. There is already a shortage of this valuable commodity, and we should give them to those who need them most: the health workers," Carlos said at a press briefing in Malacañang.
Citing guidelines from the World Health Organization, Carlos said one should wear a mask if he has respiratory symptoms, if he is providing care to individuals with respiratory symptoms, and if one is a health worker attending to individuals with respiratory symptoms.
Some stores in Metro Manila have ran out of face masks due to high demand, according to previous reports. Officials have warned businesses not to sell overpriced masks or face charges.
Ready for outbreak
Carlos said there are efforts to buy huge amounts of personal protective equipment from local and international sources in anticipation of a possible outbreak or wider spread of the virus. She said RITM has a "surge capacity plan" that includes the training designed to enable laboratories in the country to conduct testing.
"We just acquired the technology fairly recently, we may need to first make an assessment of five sub-national laboratories previously identified," Carlos added.
The health official said measures are in place to ensure the safety of health workers who are in the front lines in the fight to contain the infection.
"For San Lazaro and RITM, we have set standard procedures on standard prevention and control and that covers a lot of things from the wearing of the personal protective equipment to handling of patients to cleaning of rooms occupied by infected patients," Carlos said.
"Both of the hospitals have a long history of handling emerging infectious diseases. So far we have been good, the health workers, none of them, so far, have been infected," she added.
Carlos said health workers have also been requested to monitor their temperature twice a day.
"We quarantine them in case they develop any symptoms and we manage the symptoms," she added.
Asked if there is a need to provide the health workers additional pay, Carlos said it is not within her power to determine whether it should be given.
"But if that is recommended, I'm sure all of us will welcome that, especially from RITM and San Lazaro... But we have a standard hazard pay in government but there more people who are exposed to more hazards than others but they receive the same remunerations," she added.
WHO: Virus can be contained
WHO Representative in the Philippines Rabindra Abeyasinghe expressed optimism that the nCoV ARD can be contained and called on the public to "act rationally."
"The (emergency) committee (of the international health regulation) and WHO continues to believe that the outbreak can be controlled and the spread of the virus can be stopped. WHO is working together with member states to strengthen their preparedness capacities to improve their ability to deal with possible or likely cases and to better manage those cases," Abeyasinghe said at the same press briefing.
"The WHO continues to work together with the Department of Health Philippines and the Filipino government to increase its preparedness and response capacities to deal with this outbreak. We remain confident that the outbreak can be controlled and we can prevent expanded spread of this disease," he added.
Abeyasinghe also commended the Philippine government for its efforts to strengthen its preparedness and to build its capacity to detect cases of the virus.
Carlos said the tests conducted on patients exhibiting symptoms of nCoV ARD costs about P15,000 to P20,000 but the government is doing it for free. She confirmed that the government is also considering Fort Magsaysay in Nueva Ecija as one of the sites for the quarantine facility.
As It Happens
LATEST UPDATE: January 27, 2021 - 12:27pm
Follow this page for updates on a mysterious pneumonia outbreak that has struck dozens of people in China.
January 27, 2021 - 12:27pm
Hong Kong has begun using "ambush lockdowns" to suddenly close off and test everyone inside neighbourhoods where coronavirus cases have spiked, as a spate of recent outbreaks lay bare the rampant inequality in the wealthy Chinese finance hub.
Police cordoned off a row of densely packed tenement buildings in the Yau Ma Tei area overnight on Tuesday through to Wednesday morning to conduct mandatory tests.
The new tactic involves authorities giving no warning of an impending lockdown.
City leader Carrie Lam said such "ambush style" lockdowns were needed to ensure people did not flee before testers move in.
"I thank residents in the restricted area for their cooperation," she wrote on her Facebook page Wednesday as the lockdown was lifted. —AFP
January 26, 2021 - 1:07pm
Mexico's coronavirus death toll has surpassed 150,000, the government says, a day after President Andres Manuel Lopez Obrador announced he had Covid-19.
The health ministry reports 659 more deaths in its daily update, taking the total to 150,273, behind only the United States, Brazil and India.
The overall number of infections registered now stands at more than 1.77 million in the nation of around 128 million, an increase of 8,521 from the previous day. — AFP
January 26, 2021 - 11:41am
Thousands of Australians defy coronavirus rules to protest the country's national day, held on the anniversary of British colonization of the vast continent that its Indigenous population brands "Invasion Day".
Officially recognized as Australia Day, January 26 also sees annual rallies drawing attention to the injustices faced by Indigenous people and calling on the government to change the date of the national holiday.
The celebration of the origins of the modern nation is a time of mourning for Indigenous Australians, who have inhabited the land for 65,000 years and view the arrival of British settlers in 1788 as the beginning of two centuries of pain and suffering.
Thousands of people gathered at a central Sydney park in defiance of police threats of fines and arrests for breaching a 500-person limit on gathering in public places, though organizers called off a march through the city that usually follows. — AFP
January 26, 2021 - 7:38am
The Netherlands was hit by a second wave of riots Monday evening, as protesters again went on the rampage in several cities following the introduction of a coronavirus curfew over the weekend.
Riot police clashed with groups of protesters in Amsterdam as well as the port city of Rotterdam, where people smashed shop windows and ransacked their supplies.
The unrest also hit Amersfoort in the east, the small southern city of Geleen near Maastricht, The Hague and Den Bosch, police and news reports said.
More than 70 people had been rounded up by 2200 GMT, public newscaster NOS reported.
Geleen police said in an earlier tweet that they were dealing with "rioting youths who are throwing fireworks". — AFP
January 25, 2021 - 2:17pm
New Zealand's first case of coronavirus in the community for more than two months has been identified as the more contagious South African variant, prompting Australia to suspend quarantine-free travel from the neighbouring country for at least 72 hours.
A 56-year-old New Zealander, who recently returned from Europe, tested positive on Saturday to the infectious strain, 10 days after she completed her compulsory two weeks in isolation.
New Zealand has been widely praised for its handling of the pandemic, with just 25 deaths from 1,927 confirmed virus cases in a population of five million. — AFP