PETA asks for relief items for animals amid Taal eruption
January 13, 2020 | 4:30pm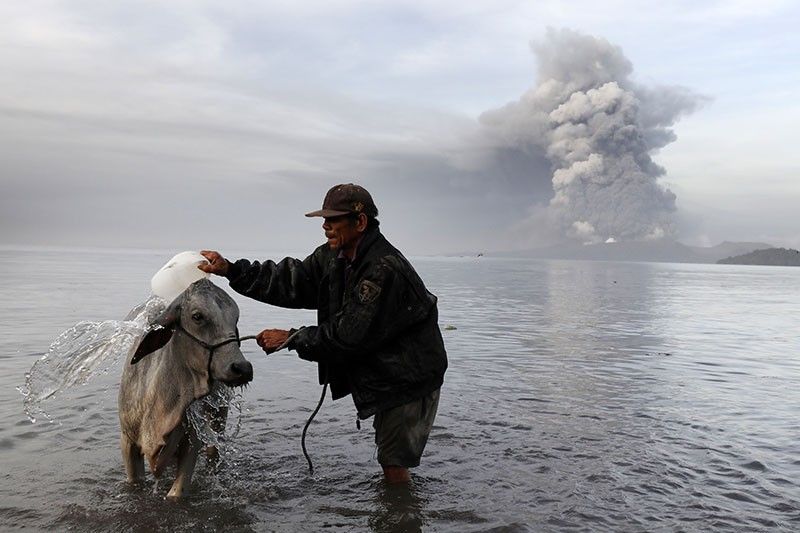 MANILA, Philippines (Updated 3:35 p.m., Jan. 23, 2020) — Animal rights organization People for the Ethical Treatment of Animals called for items needed for relief operations for animals affected by the eruption of Taal Volcano in Batangas.
PETA has deployed its animal rescue team to provide food and basic veterinary care to animals at evacuation centers.
The organization said it is also ready to provide help to animals on Taal Volcano Island itself when permitted.
#TaalVolcano is erupting. PETA's animal rescue team is on the ground right now providing food & veterinary care to animals, and are ready to help animals on the island itself when permitted. If you see any animals in need of help, please reach us on 09998887382. #TaalEruption2020

— PETA Asia (@PETAAsia) January 13, 2020
"If you see any animals in need of help, please reach us on 0966-442-1708," PETA Asia said on Facebook.
PETA also asked for donations of the following items:
Telescope (to search for signs of life on the island)
Dog and cat food
Face masks
Leashes and collars
Donations can be dropped off from 10 a.m. to 6:30 p.m. at PETA Asia headquarters at United 706, Fedman Building, 199 Salcedo Street in Legaspi Village, Makati.
The organization can also be contacted at 8817-5292.
PETA Asia is also accepting cash donations as it continues its rescue operations for animals on the volcano island and surrounding areas.
Cash assistance may be deposited in the following account: Metrobank, PETA Asia-Pacific Limited (007-066-31632-3).
Alert level 4 is still raised over Taal Volcano, indicating that hazardous eruption is possible within hours to days.
Phivolcs reiterated its call for total evacuation of the volcano island, as well as high-risk areas within the 14-kilometer radius of the main crater.
The agency also advised those in the southwest areas to stay alert against the effects of heavy and prolonged ash fall. — Patricia Lourdes Viray
As It Happens
LATEST UPDATE: April 9, 2022 - 9:28am
Get updates as Phivolcs issues warnings over activity in Taal Volcano. (Main photo by Philstar.com/Rosette Adel)
April 9, 2022 - 9:28am
The Philippine Institute of Volcanology and Seismology says it has lowered Taal Volcano's status to Alert Level 2.
March 26, 2022 - 8:44am
Phivolcs raises Alert Level 3 over Taal Volcano, which means there is magmatic intrusion that may further drive succeeding eruptions.
July 11, 2021 - 9:45am
State volcanologists record 75 volcanic earthquakes from Taal Volcano in the past 24 hours as of 5 a.m. on July 11.
Phivolcs says these include 61 volcanic tremors that lasted from one to 25 minutes with weak background tremor.
Alert Level 3 is still raised over Taal Volcano.
BULKANG TAAL
Buod ng 24 oras na pagmamanman
11 Hulyo 2021 alas-5 ng umaga #TaalVolcanohttps://t.co/PE0xY4Rnwd pic.twitter.com/jMjg8bfIb3

— PHIVOLCS-DOST (@phivolcs_dost) July 11, 2021
July 9, 2021 - 12:16pm
Batangas Gov. Hermilando Mandanas has issued a memorandum restricting leisure travel in high-risk areas located within the 7-kilometer radius of the Taal Volcano crater.
In Memorandum Circular No. 01 Series of 2021, leisure travel to Barangays Banyaga and Bilibinwang in Agoncillo town and Barangays Buso-buso, Gulod and Bugaan East in the town of Laurel shall not be allowed.
Prohibited activities include staycations, going to a recreational area, resort, camping, sunbathing, pool swimming, picknicking, island hopping, group water activities, partying and merriment events and other similar activities. — The STAR/Arnell Ozaeta
July 4, 2021 - 4:40pm
State volcanologists record the highest levels of volcanic sulfur dioxide from Taal Volcano.
As of Sunday afternoon, Phivolcs log at an average of 22,628 tonnes/day and a total of 26 strong and very shallow low-frequency volcanic earthquakes.
"In view of the above, DOST-PHIVOLCS is reminding the public that Alert Level 3 prevails over Taal Volcano and that current SO2 parameters indicate ongoing magmatic extrusion at the Main Crater that may further drive succeeding explosions," Phivolcs says in an advisory.
TAAL VOLCANO ADVISORY
4 July 2021
4:15 P.M.#TaalVolcanohttps://t.co/2wRjzyT1zD pic.twitter.com/KCrmHmA1RZ

— PHIVOLCS-DOST (@phivolcs_dost) July 4, 2021