Taal explodes; ashfall hits Metro Manila
January 13, 2020 | 12:00am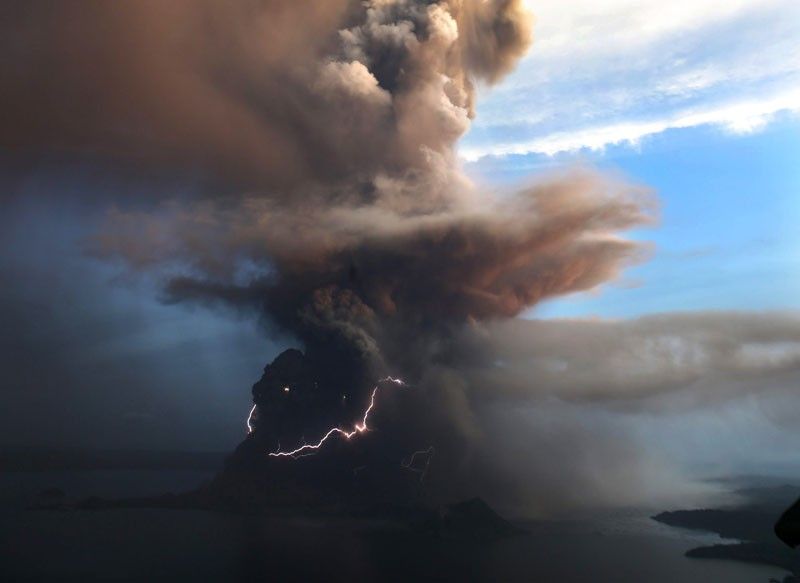 MANILA, Philippines — Thousands were evacuated, flights at the NAIA were suspended and there are no classes today in Metro Manila, Cavite and parts of Batangas and Laguna after Taal Volcano exploded yesterday, with ashfall blanketing much of Southern Tagalog and reaching Metro Manila.
The Philippine Institute of Volcanology and Seismology (Phivolcs) raised the alert status of Taal to 4 – meaning an eruption is imminent – after the volcano spewed ash and rocks a kilometer high yesterday afternoon.
According to social media posts, ashfall hit the areas of Tagaytay and Silang, Cavite; Talisay, Batangas; Cabuyao, Laguna; and also the cities of Parañaque, Makati, Las Piñas, Muntinlupa, Taguig and other parts of Metro Manila.
Classes in all levels, public or private, in the entire Metro Manila are suspended today, as well as in Cavite province and the Batangas towns of Talisay, Balete, Mataas na Kahoy, Cuenca, Alitagtag, Sta. Teresita, San Nicolas, Agoncillo and Laurel.
The Department of Education is leaving the decision to suspend classes to local government units (LGUs).
Flight operations at the Ninoy Aquino International Airport have been suspended. Passengers are advised to coordinate with their respective airlines for further
updates.
Three inbound flights of Philippine Airlines were diverted to Clark International Airport. PAL also canceled all flights that were scheduled to depart Manila from 7 p.m. to 11 p.m Sunday.
Air Asia has also cancelled all of its domestic flights.
"Taal Volcano's main crater has escalated its eruptive activity, generating an eruption plume one kilometer-high, accompanied by volcanic tremor and felt earthquakes in Volcano Island and barangays of Agoncillo, Batangas. Ashfall is currently being showered on the southwest sector of Taal," Phivolcs said.
Alert level 4 means "hazardous eruption imminent."
"Magma is intruding from below. If eventually this will continue to move up, then there can be a magmatic eruption which is more dangerous," Phivolcs director Renato Solidum Jr. said in an interview.
Some photos shared on social media also showed the eruption sent lapilli, or rock fragments, to Tagaytay City.
Several volcanic tremors were also felt within the vicinity of the volcano, which is popular among tourists for its scenic view.
Phivolcs strongly recommended the Taal Volcano Island and high-risk barangays of Agoncillo and Laurel in Batangas be evacuated due to the possible hazards of pyroclastic density currents and volcanic tsunami.
The agency reminded the public that the entire Volcano Island is a permanent danger zone, and entry into the island as well as high-risk barangays of Agoncillo and Laurel is prohibited, it said.
"In addition, communities around the Taal Lake shore are advised to take precautionary measures and be vigilant of possible lakewater disturbances related to the ongoing unrest," Phivolcs said.
Evacuate now
Malacañang said yesterday President Duterte has ordered the evacuation of residents from the volcano's danger zone.
"The Palace is closely monitoring the situation of Taal Volcano," presidential spokesman Salvador Panelo said in a statement.
"President Rodrigo Roa Duterte has already given instructions to undertake measures necessary to place the people within the perimeter of Taal out of the danger zone. Concerned agencies of the national government are now working closely with the provincial government of Batangas to ensure the safety of the residents, including their evacuation," he added.
In addition, Interior and Local Government Secretary Eduardo Año ordered LGUs near Taal Volcano to evacuate residents.
He said local chief executives in the vicinity of the volcano should be on deck and immediately evacuate people while authorities are assessing the situation.
"What's important is for those people in the danger zone near the volcano to evacuate for now," Año said in Filipino in an interview over dzBB.
Aside from locals, he also urged tourists to leave the place for their safety.
Año also instructed local chief executives to provide assistance to affected residents.
At around 2:30 p.m. yesterday, Phivolcs raised Taal's alert level from 1 (abnormal) to 2 (increasing unrest), following a phreatic or steam-driven explosion at 1 p.m., generating an ash column 100 meters high.
"A phreatic eruption is a shallow eruption due to pressure," said Louie Velasco, Phivolcs science research analyst, and that the resulting ashfall is harmful to one's health.
Evacuations were ongoing in the municipalities of San Nicolas, Balete and Talisay as of yesterday afternoon, according to the National Disaster and Risk Reduction Management Council. These towns are the closest to the volcano.
Taal, one of the active volcanoes in the country, has displayed moderate to high level of seismic activity since March 28, 2019, Phivolcs said. Some of these earthquakes were felt with intensity ranging from 1 to 3.
The last time Phivolcs raised Alert Level 3 over Taal was in 1994, Solidum said. However, he noted that Taal's abnormal activities yesterday escalated quicker than in 1994.
The official also advised residents affected by the ash fall to wear a face mask or use a wet cloth to cover their nose.
The volcano had erupted 33 times in the past, based on Phivolcs records. Its last major eruption was on Oct. 3, 1977. – With Arnell Ozaeta, Alexis Romero, Emmanuel Tupas, Rudy Santos, Rainier Allan Ronda