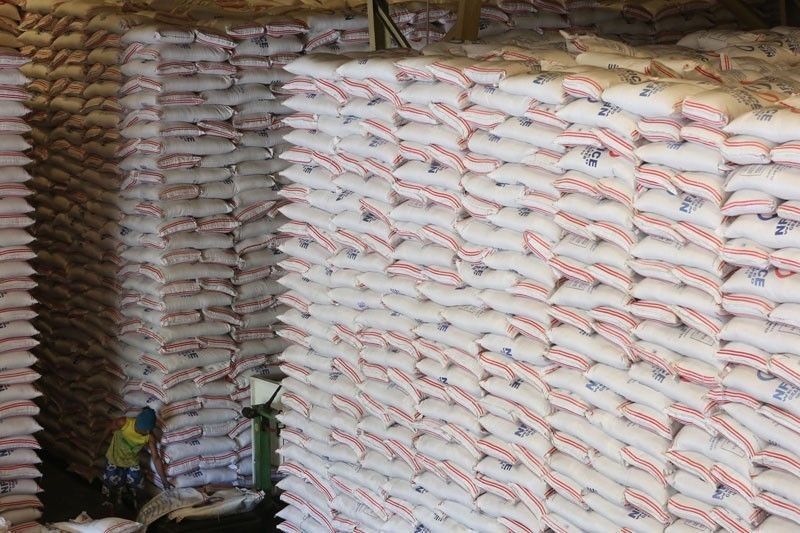 Duterte said there is no guarantee that the harvest of local farmers would be enough to meet domestic demand due to typhoons.
The STAR/File
Suspending rice imports a folly — Duterte
MANILA, Philippines — Suspending rice importation is a "folly" as there is no guarantee that the harvest of local farmers would be enough to meet domestic demand due to typhoons, President Duterte said yesterday.
Duterte took back his previous order to put on hold the purchase of rice from abroad during harvest time after a meeting with Executive Secretary Salvador Medialdea, Agriculture Secretary William Dar and Finance Secretary Carlos Dominguez III.
Before the meeting, Duterte and the agriculture department had issued conflicting statements about rice importation.
The President had said he would suspend the importation of rice to help farmers who were affected by the influx of imported rice.
The agriculture department, however, had maintained that the rice importation would continue.
Speaking during the inauguration of a power plant in Sarangani yesterday, Duterte said the attainment of rice production targets is dependent on the country's weather condition. ?"They can plant and harvest but it is always a contingent one in the Philippines. Now to say that you stop importation just because they're going to produce the… projected number, that would be a folly because I said we are the window to the Pacific island," Duterte said.
"And you know there's never a way of knowing how much typhoon would ravage our plant, including the rice land, and whether there would be a good harvest or not," he added.
Duterte claimed that he was "greatly misunderstood" when he made the remark.
"I have always been misunderstood. My presidency was a misunderstood venture. That's the way it is. I said we have to import because the producer cannot fill up the requirements, it's lacking. But there is a produce which they have to sell. And I said to Dar, you have to buy it, even if it costs a little more," he said.
"I would understand that there's a prevailing market value for all. It's always the law of supply and demand. So they must have something there that is a reasonable pricing and for the consumers which is us to buy all. Let's buy all their produce before we venture into this rice tariffication imports."
Duterte said buying the harvest of rice could prevent "social unrest." He said it would cost the government more if the farmers who are experiencing hardships join the communist New People's Army.
"Buy this because you are buying social unrest. That's what I was saying to the Cabinet. Just buy the social unrest that would accompany if there is really something of a – their products, their produce, their sweat. If you don't pay them, they are in perpetual agony of debt," Duterte said.
"So when the time comes when they sell, that's the time that they have money to give to the creditors. But then allow them a leeway of comfort in life. So who bears the burden? The Filipino people. We lose. Yes, we lose. How many billions? Five, six, seven billions. So what? It's our money. It's our money. And we are, I said, buying social unrest."
After government's announcement of continued rice importation, farmers are pushing for the imposition of safeguard duty to address the surge in imports.
The Federation of Philippines Industries (FPI) said a safeguard measure on rice imports would be the fastest way to address the imports surge.
"It is not hard to prove that there is an import surge, as rice import surge is an economic reality that is known to the government's top hierarchy. Even President Duterte and top Department of Agriculture officials know of the import surge," FPI chairman Jesus Arranza said yesterday.
He said the government had earlier imposed safeguard duty on ceramic tiles, flat glass, steel and cement and the step has helped address the affected sectors' concerns.
Apart from addressing the surge in imports, Arranza said the safeguard duty on rice could also serve as a way to raise funds for farmers.
Earlier, a plan was floated to impose safeguard duties on rice, but this did not push through as economic managers said this may lead to higher prices and fan inflation.
Under the Safeguard Measures Act, the government may impose safeguard measures to provide relief to domestic players hurt by a surge in imports.
Last Thursday, Agriculture Secretary Dar said rice importation would not be suspended as the government continues implementation of the Rice Tariffication law.
While rice imports would continue, Dar said the government would impose stricter measures.
Earlier this week, Duterte announced rice imports would be suspended as farmers complained of falling palay prices following the implementation of the Rice Tariffication law.
The law, which took effect earlier this year, liberalized rice imports by removing the quantitative restrictions on the staple to ensure stable supply and price in the market.
Under the law, traders can bring in rice from various countries without permit from the National Food Authority as long as they secure a sanitary and phytosanitary import clearance from the Bureau of Plant Industry of the DA and pay the tariff.