Robredo not a Cabinet member, says Duterte
November 19, 2019 | 12:00am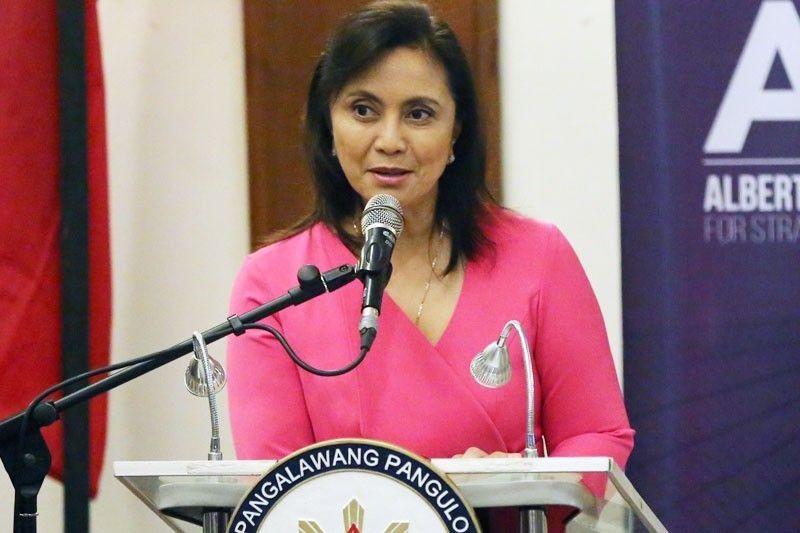 MANILA, Philippines — Vice President Leni Robredo is not part of the Cabinet despite her appointment as anti-drug czar, President Duterte has clarified, contradicting his previous statement that she would be given such rank if she accepted the post.
Duterte yesterday expressed concern that Robredo might disclose sensitive information discussed during Cabinet meetings, noting that she has been talking to various groups since she was named co-chair of the Inter-agency Committee on Anti-illegal Drugs (ICAD).
"She is not a member of the Cabinet. I have not appointed her as a Cabinet member. You know why? Early on she was talking right and left that she would talk to this and talk to that. In the Cabinet meeting, we talk about what's happening. Eh kung marinig niya 'yan diyan tapos dadaldal niya sa labas? So 'di ko (What if she hears it and talks about it outside? So I did not make her a Cabinet member)," Duterte told GMA News.
"She's not a Cabinet (member). I have not signed an appointment designating her as a Cabinet (member)," he added.
Last month, Duterte offered the anti-drug czar's post to Robredo after she said that the government's crackdown on narcotics needed "tweaking." Robredo accepted the offer and vowed to put an end to what she described as "senseless killings" in the controversial campaign.
Speaking to reporters in Davao City last Oct. 31, Duterte said Robredo should have a Cabinet rank if she becomes anti-drug czar. "If I would take her in as the drug czar, I will have to first make her a Cabinet member. Then I will give her the marching orders and the specific functions. All in connection with drugs, hers," he said in a press conference at a Catholic cemetery in Davao City.
Presidential spokesman Salvador Panelo had also issued statements stating that Robredo would be given a Cabinet rank post if she accepts the President's offer.
Cabinet Secretary Karlo Nograles said Robredo could still perform her functions even if she is not a member of the Cabinet.
"As co-chair of ICAD she's already been calling meetings with anti-drug agencies and she's been functioning as co-chair and agencies are giving her support," Nograles said in a phone patch interview yesterday. "I think that's sufficient and the fact that she is able to call meetings means that she's already doing her job as chair of ICAD."
Surigao del Norte 2nd district Rep. Robert Ace Barbers, chair of dangerous drugs committee, has also urged Robredo to respect the confidentiality policy and other processes in the war on illegal drugs and drop her demand for access to the "narco list."
"There is no need for VP Leni to have a copy of the list of high value targets (HVT) as it is classified information and must only be accessible to personalities with security clearance. There is already a process in place to protect the confidential nature of such highly sensitive information that we, as government officials should respect," he stressed.
"While we all share the goal of eradicating narcotics and its sources here in the country, we should exercise due diligence and keep in mind that our national security should always be our paramount concern… Should the HTV list fall in the wrong hands, it might compromise the investigation done on these people and jeopardize the success of the anti-drug campaign, or worse, pose a threat to national security," Barbers argued.
Anakalusugan party-list Rep. Michael Defensor, vice chairperson of the House health committee, also called on Robredo to focus, instead, on reducing the demand for illegal drugs "by sending as many abusers as possible to compulsory rehabilitation."
"In other countries, demand reduction is a proven approach in cutting down supply. With less abusers, supply also drops as the market for drugs shrinks," he stressed. "We have a multitude of abusers. Yet, only a few of them are undergoing either voluntary or compulsory rehabilitation. Our strategy with respect to abusers should be: you either go to rehab, or you go to jail."
Lt. Gen. Archie Gamboa, Philippine National Police officer-in-charge, agreed, saying the thrust falls under Robredo's view that illegal drugs are a health problem handled by a different cluster of the ICAD.
He said it would be better for Robredo to leave law enforcement to those who know it best and focus on the rehabilitation side of the anti-drug campaign.
'Do not cross the line'
Duterte said Robredo should avoid overreaching her authority as ICAD co-chair and disclosing classified information to foreign entities.
"Early on, many people have offered to help her. She would be protected, that's good. But, you know, you guys, do not cross the line just because you are there you think you are fancy? No, of course not. You and I have this duty to our country," the President said.
"I'm just in the side and I think she's doing good. But she has to, treading a very dangerous ground I heard. Just because you are taken in to be the flag officer of the ICAD doesn't mean you can just give info right and left," he added as he stressed that he is ready to fire Robredo if she leaks classified information.
Asked if he is contemplating on firing Robredo, Duterte replied: "No, as long as she stays on that, treading on a red light. Because of her so many references of talking to this, talking to that, talking to the prosecutor. She even invited (the prosecutor). And that prosecutor said I am all packed and ready to go to arrest Duterte. Oh, and I would be privileged if that guy does it."
Last March, the Philippines walked out of the Rome Statute, the treaty that formed the ICC, in response to the tribunal's decision to conduct a preliminary examination on the government's war on narcotics. Malacañang has said the ICC did not have jurisdiction over the Philippines because the Rome Statute was not published in the government's official publication.
The ICC has maintained that the Philippines' withdrawal of its ratification of the Rome Statute would not remove its obligation to cooperate with the probe. – With Edu Punay, Romina Cabrera