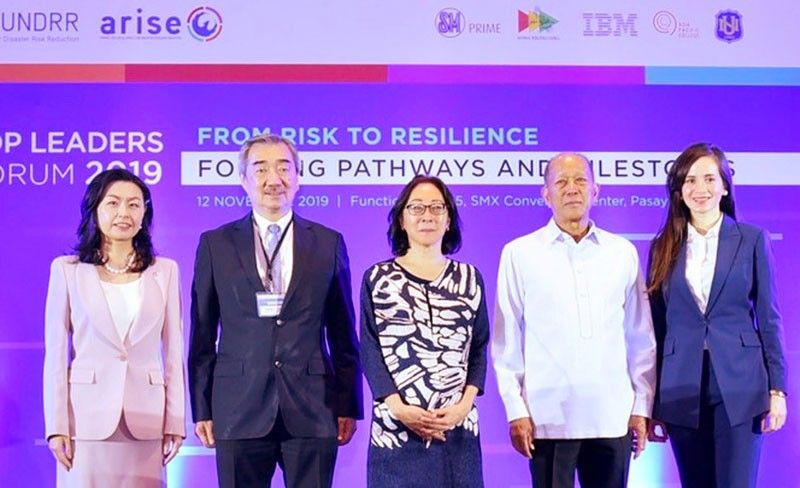 The Top Leaders Forum 2019 was attended by ARISE board member and Kokusai Kogyo Co. Ltd. chair and CEO Sandra Wu, ARISE board member and SM Prime Holdings executive committee chair Hans Sy, UNDRR SRSG Mami Mizutori, Defense Secretary Delfin Lorenzana and Leyte Rep. Lucy Torres-Gomez.
Forum tackles public-private initiatives on risk reduction
(The Philippine Star) - November 17, 2019 - 12:00am
MANILA,Philippines — The 2019 Top Leaders Forum once again gathered senior government officials, top-level executives from the private sector and local chief executives to discuss the country's status on disaster risk reduction, preparedness, resiliency and sustainability.
Held at the SMX Convention Center in Pasay City, the annual conference carried the theme, "From Risk to Resilience: Forging Pathways and Milestones." ?
This year's speakers and attendees assessed the progress of the National Resilience Council (NRC) as it partners with local government units (LGUs) in building climate and disaster resilient communities in
collaboration with private sector and academic/scientific partners. ?Now on its 8th year, the Top Leaders Forum, organized by SM Prime Holdings in partnership with the United Nations Office for Disaster Risk Reduction (UNDRR), envisions to translate science into actions that deliver a meaningful impact on disaster risk reduction and resilience in the Philippines. The event also aims to spread awareness and engage the youth in developing solutions for key resilience challenges at the local level.
Moreover, the forum also tackled NRC's Adopt-a-City program, which aims to strengthen the leadership and governance capacities of LGUs to achieve human, economic, infrastructure and environment resilience.
The forum engaged the private sector into a more innovative and strategic partnership for resilient local government systems.?Another highlight of the event was the private sector engagement with the micro, small and medium enterprises (MSMEs) to ensure the same level of preparedness for disasters.
For instance, SM Prime Holdings works to boost the resilience of its business tenants by investing in a Resilience Center, which serves as data storage and back-up facility for MSMEs and other affiliates; houses and conducts capacity building trainings on Business Continuity Planning; and operates a monitoring system for disasters.
?"The interconnectedness of the ecosystem to prioritize mainstream resilience and climate change adaptation is crucial for sustainable development," said NRC co-chair Hans Sy. "ARISE members actively support capacity building in government initiated DRR activities and SM's Business Continuity Program has been implemented among 1,500 SMEs through free access to an offsite Data Storage Facility. Let us all heed the call of resilience and do our share," he added. ?"While companies have much to lose, they also have a tremendous amount to offer. It is vital that we engage the private sector if we are to reduce disaster risk and ensure that our fast-growing cities are resilient," said UNDRR SRSG Mami Mizutori.
"What is happening now in the Philippines under the excellent work of ARISE Philippines, the guidance and leadership of SM Prime Holdings and its honorable chairman, Hans Sy, is something that all countries should be doing," she added.?For the first time, youth involvement in disaster risk resilience was highlighted with the Young Leaders for Resilience Program where students from various universities in each LGU underwent a Design Thinking Workshop led by IBM Philippines and co-facilitated by the Asia Pacific College (APC) and National University, together with focal persons from NRC's LGUs and academic partners.
Eight entries from the LGUs competed for the top prize during the TLF on finding potential solutions on climate and disaster risk profiles of their own cities / province. ?Among the forum's speakers were Department of National Defense Secretary Delfin Lorenzana, USEC Ricardo Jalad of the Office of Civil Defense, Rep. Lucy Torres-Gomez, Bataan Governor Albert Garcia, Cagayan de Oro City Mayor Oscar Moreno, Naga City Mayor Nelson Legacion, Zamboanga City Mayor Maria Isabelle Climaco and Ormoc City Mayor Richard Gomez, Unilever Philippines chairman Benjie Yap, Maynilad Water Services CEO Ramoncito Fernandez, IBM Philippines president and country general manager Aileen Judan-Jiao, San Miguel Properties Inc. project lead Cecile Ang, Jollibee Group Foundation executive director Gisela Tiongson, Aboitiz Foundation Inc.
FVP and COO Maribeth Marasigan and Ateneo de Manila president Fr. Jet Villarin.?ARISE Philippines is a network of businesses committed to create risk-resilient societies through the distinct approach of private-public partnerships.
The NRC is a science and technology-based public and private partnership that supports government, communities and the private sector in advancing the intersections among the Sendai Framework for Disaster Risk Reduction, Sustainable academe Development Goals, the Paris Climate Agreement and the New Urban Agenda. ?For more information, visit https://resiliencecouncil.ph/ or go to Arise Philippines Facebook Page (https://www.facebook.com/UNDRRARISEPH) and their website at bit.ly//ArisePhilippines.