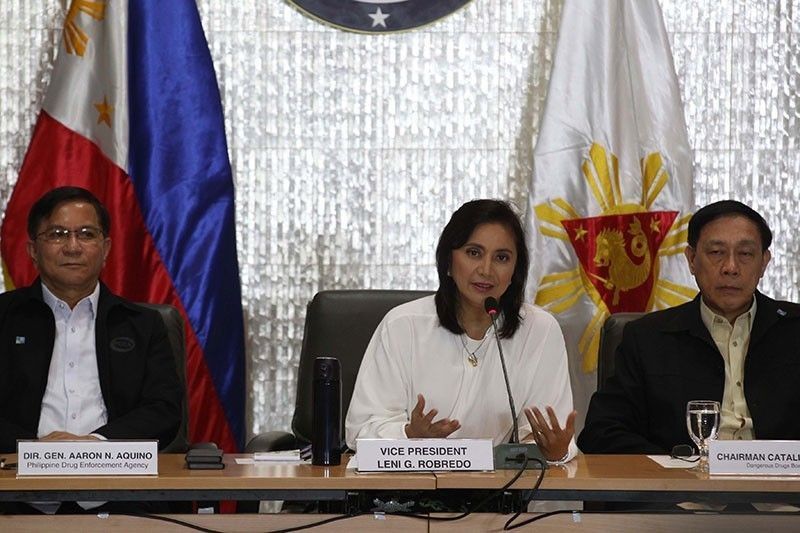 In this file photo, top officials of the Inter-Agency Committee on Anti-Illegal Drugs conduct a general meeting headed by Vice President Leni Robredo (center) with PDEA Dir. Aaron Aquino (left) Dangerous Drug Board Chairman Catalino Cuy at Office of the Vice President in Quezon City.
The STAR/Boy Santos
Robredo assures confidentiality of sensitive 'drug war' info
(Philstar.com) - October 31, 2019 - 1:01pm
MANILA, Philippines — Vice President Leni Robredo on Monday again assured the administration that she will not divulge sensitive information on the government's anti-narcotics campaign, amid a warning from President Rodrigo Duterte and the Palace that she may be fired from the government body on illegal drugs if she does.
"There is assurance that no sensitive information will be disclosed," Robredo was quoted in Filipino in a News5 tweet report.
LOOK:VP Robredo attends the budget deliberation of the OVP in the Senate. When reporters asked abt PRRD'S warning on not disclosing sensitive information on war on drugs. VP responded "Yung assurance naman lahat ng sensitive information hindi iddisclose." @News5AKSYON @onenewsph pic.twitter.com/BfY5WoxO2b

— marie ann los banos (@maeannelosbanos) November 18, 2019
Sen. Francis "Kiko" Pangilinan was also quoted in reports as saying Robredo need not be told what should remain as confidential information.
"If they want effective cooperation, then they should be able to share information," Pangilinan said.
The vice president was at the Senate Monday morning for deliberations on the Office of the Vice President's proposed 2020 budget, which was approved swiftly by the legislative body.
Palace: Robredo 'may be treading dangerous grounds'
Presidential spokesperson Salvador Panelo on Sunday said that Robredo, co-chair of the Inter-agency Committee on Anti-Illegal Drugs, may be treading on "dangerous ground" if she invites foreigners critical of the anti-narcotics campaign.
The vice president, one of the critics of the bloody drug war, earlier said she plans to meet with officials from the embassies of Japan, Australia and Thailand.
A week since she accepted her new designation, Robredo has met with officials of the United Nations Office on Drugs and Crime and the US embassy, as well as members of the law enforcement cluster of the ICAD.
Duterte had also threatened to fire Robredo if she would share classified information.
Panelo pointed out that Robredo demanding access to classified data regarding the drug war may be "an overreach of the granted authority," although the specific powers and authorities of her post as ICAD co-chair were not defined in the memorandum naming her to the post.
He also said that there is information that even Cabinet members are not allowed to look into.
Robredo seeking PDEA info on big-time drug lords
Robredo already earlier assured the government that she understands confidentiality in State matters.
On her weekly radio show Sunday, the vice president said: "I also understand what information cannot be divulged to media. If it's sensitive, then it shouldn't be divulged."
She also explained that she asked the Philippine Drug Enforcement Agency for data on high-value targets—a term used for big-time drug suspects—is for accountability and for her to be able to do her job.
Local Government Undersecretary Ricojudge Echiverri earlier said that agencies are apprehensive about sharing information with Robredo, co-chair of the Inter-Agency Committee on Anti-Illegal Drugs, because she is a member of the opposition.
"What we are looking at is, is she really for real in helping us or looking into things that might be used against us?" Echiverri said on One News' "The Chiefs". In a separate interview on CNN Philippines, Echiverri said he hopes there would be no "laglagan"—a Filipino term for leaving someone out to dry—if the vice president gets information.
"The term 'laglagan' connotes there is something to hide. We just want to be as transparent as possible so the people know what is happening," Robredo said, stressing however that she "will not divulge sensitive information that will hurt the campaign." — Kristine Joy Patag with report from News5/Meanne Los Baños