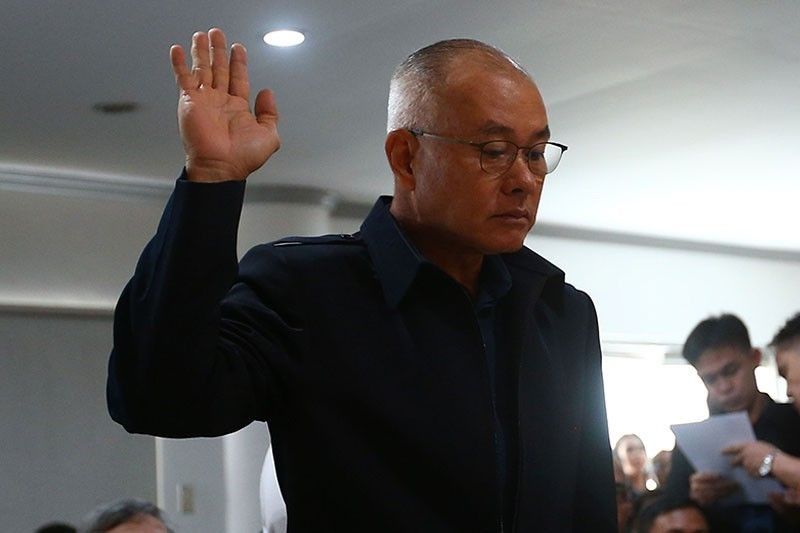 In this photo taken Nov. 5, 2019, former Philippine National Police chief Oscar Albayalde attends the preliminary hearing at the Department of Justice on the ninja cops case.
The STAR/Edd Gumban
Reinvestigation into 'ninja cops' scandal now up for resolution
(Philstar.com) - October 31, 2019 - 12:05pm
MANILA, Philippines — The Department of Justice on Monday ended its reinvestigation into alleged "ninja cops," including former top cop Oscar Albayalde, over a 2013 drug raid in Pampanga.
The STAR reported that Senior Assistant State Prosecutor Alexander Suarez, head of the prosecution panel, said that the complaint against Albayalde and 13 others is now deemed submitted for resolution.
Former PNP Chief Oscar Albayalde attends the 5th preliminary investigation on the Ninja Cops controversy. | @EZMacairan pic.twitter.com/ra3ynZHAln

— The Philippine Star (@PhilippineStar) November 18, 2019
Albayalde personally affirmed his rejoinder-affidavit before Suarez, who leads the three-member prosecution panel.
Police Col. Rodney Baloyo also attended the rejoinder held at the DOJ.
The 13 cops, led by Baloyo, were accused of making off with shabu worth P648 million, at the time, and setting free alleged drug lord Johnson Lee.
The Criminal Investigation and Detection Group filed complaints of violations of sections 27 (misappropriation), 29 (planting) and 32 (custody and disposition) of the Republic Act 9165 or the Comprehensive Dangerous Drugs Act of 2002 against the 13 "ninja cops."
The complaint, however, was dismissed and is now subjected to a Petition for Review.
As the DOJ proceeded with reinvestigation of the 2013 Pampanga drug raid, the CIDG included Albayalde as one of the respondents.
Albayalde: I became respondent by 'mere association'
Albayalde, who was then Pampanga province director, was accused of protecting his men implicated in the raid and intervening to change their dismissal order to demotion.
The former top cop is facing a complaint of one count of violation of Article 171 of the RPC and for violation of Article 208 of the RPC (prosecution of offense; negligence and tolerance).
RELATED: 'Albayalde had control of ninja cops in drug sting'
At the Senate, 19 lawmakers signed the committee report earlier in November recommending filing of graft and drug raps against Albayalde over the ninja cops controversy.
But Albayalde, in his reply-affidavit, insisted that his position at the time of the operation "is not a crime in itself or an element thereof." He pointed out that the chief of the PNP then tasked the CIDG and the Police Regional Office for Region III to investigate the operation.
He argued that the CIDG implicates him in the case "by mere association, and by mere jumping to conclusion without any factual basis" that he had control over Baloyo and his team.
Baloyo is also facing additional complaints of violation of Article 171 of the RPC (two counts of falsification by public officer).
Albayalde has since stepped down, ahead of his retirement, since the controversy broke. — Kristine Joy Patag with reports from The STAR/Evelyn Macairan