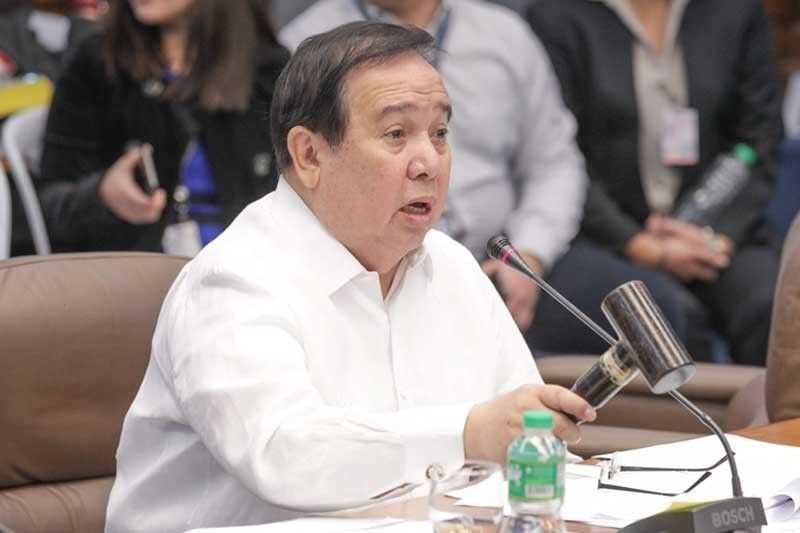 Richard Gordon
Geremy Pintolo/ File
'Albayalde had control of ninja cops in drug sting'
MANILA, Philippines — The Philippine National Police-Criminal Investigation and Detection Group (PNP-CIDG) yesterday said their former boss Oscar Albayalde had direct control and supervision over the multimillion-peso anti-illegal drug operation conducted in 2013 by the team of Maj. Rodney Baloyo IV, tagged as "ninja cops," in Pampanga.
In their 15-page reply affidavit, the PNP-CIDG represented by police Lt. Julius Sagandoy rebutted the counter-affidavit filed by Albayalde, saying the former PNP chief used denial as his main defense.
They added that Albayalde wanted to downplay the "partial committee report" of the Senate Blue Ribbon committee headed by Sen. Richard Gordon and instead supported as gospel truth the testimonies given by Baloyo and his police team.
The CIDG argued: "The Senate Blue Ribbon proceedings and the witnesses presented therein under oath are competent enough to establish probable cause against the respondents."
"The overt acts of respondent Police General Albayalde, as then acting provincial director, Pampanga Police Provincial Office, were clear. He had direct control and supervision over the operation of respondent Supt. Baloyo and his team at Lakeshore, Mexico, Pampanga as of 23 November 2013 until he was administratively relieved on 26 March 2014," the CIDG said.
Albayalde claimed he was administratively relieved as provincial director of Pampanga and placed on floating status on March 26, 2014, but the CIDG said this was already four months after the large quantity of illegal drugs reportedly went missing.
"Albayalde was fully informed about every detail that was happening during the raid, including, but not limited to, the marked money, pre-arranged signal, suspects' arrest and confiscation of suspected shabu placed in one open luggage and one medium-size box, the cash money amounting to P300,000 and the marked money amounting to P100,000," the CIDG said.
It added, "Despite knowledge of the irregularities in the said operations, he remained mum and even applauded respondents Supt. Baloyo and his team for a job well done."
The CIDG also pointed out that the dismissal of the criminal case against Chinese national Ding Wenkun and Roel Cabag strengthened the allegations allegedly committed by the respondents in the case.
There are reports that Baloyo's team originally arranged an anti-illegal drugs operations against alleged large-scale Korean drug trafficker Johnson Lee in a house he was renting in Woodbridge Subdivision in Mexico Pampanga.
But the 13 policemen allegedly released Lee in exchange for 160 kilograms of shabu worth P648 million, P50 million in cash, brand new sport utility vehicles (SUVs) and, in his stead, presented Ding Wengkun as suspect.
During yesterday's fourth preliminary investigation, the DOJ panel of prosecutors led by Senior Associate State Prosecutor Alexander Suarez and members Assistant State Prosecutors Josie Christina Dugay and Gino Paolo Santiago noted that out of the 13 original respondents and Albayalde, only nine of them were present.
Present were Police Sr. Insp. Joven de Guzman Jr., Senior Police Officer 1 Jules Maniago, SPO1 Rommel Muñoz Vital, SPO1 Dante Dizon, SPO1 Eligio Valeroso, Police Officer 3 Dindo Dizon, PO3 Gilbert de Vera, PO3 Romeo Guerrero Jr. and Police Officer 2 Anthony Lacsamana.
While Albayalde and Baloyo were not present, SPO1 Donald Roque and SPO1 Alcindor Tinio attended separate court hearings, while SPO1 Ronald Santos never showed up for preliminary investigation.
Prosecutor Suarez said last Nov. 8, Santos sent his counter-affidavit via courier. But the panel decided to no longer accept his counter-affidavit because he submitted it after the deadline set by the panel; the complainant CIDG said they were not furnished a copy and Santos failed to state to whom he affirmed his counter-affidavit.
The DOJ panel gave the respondents seven days or until Nov. 18 to submit their rejoinders.