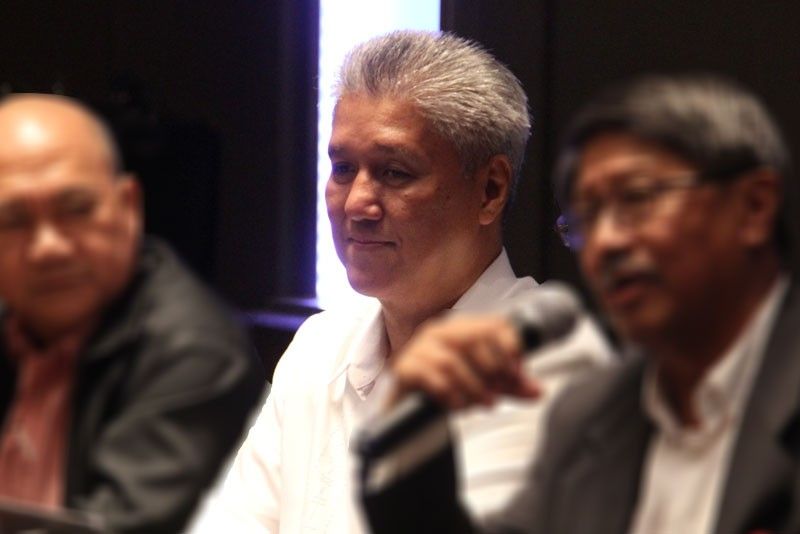 "It will pass through our legal affairs and our assistant secretary for installations and self-reliance," DND spokesman Arsenio Andolong said yesterday.
PNA.gov.ph
AFP, Dito Telecoms deal under review
Jaime Laude
(The Philippine Star) - September 18, 2019 - 12:00am
MANILA, Philippines — Amid security concerns, the Department of National Defense (DND) will subject to a thorough review the memorandum of agreement (MOA) between the Armed Forces of the Philippines (AFP) and the country's upcoming third telecommunications player Dito Telecommunity.
"It will pass through our legal affairs and our assistant secretary for installations and self-reliance," DND spokesman Arsenio Andolong said yesterday.
Andolong gave assurance the MOA will pass through concerned defense offices for evaluation.
While the DND is not that concerned with MOAs entered into by the AFP with its civilian partners, Andolong said the putting up of civilian telecommunication facilities inside military camps deserves a closer look, citing its implication to national security.
Defense Secretary Delfin Lorenzana said he was abroad when the AFP and Dito forged the deal last Sept. 11. Lorenzana is one of the proponents for the relocation of Philippine offshore gaming operations (POGOs) away from key military camps due to security concerns.
The MOA signed by Maj. Gen. Adrain Sanchez, AFP deputy chief of staff for communications electronics and information system, and Adel Tamano, Dito chief administrative officer, allowed the Dito consortium to build facilities in camps and installations.
The agreement allowed Dito Telecommunity Corp., formerly Mislatel which is composed of China Telecom and Udenna Corp. led by Davao businessman Dennis Uy, to put its system, towers and facilities inside military bases in the country.
Also around during the MOA signing was outgoing AFP chief Gen. Benjamin Madrigal Jr., who said Dito gave assurance that its operations will not in any way compromise military operations.
"We believed the AFP vetted and evaluated the proposal. And on our side, we will also exercise due diligence in also evaluating the memorandum of agreement to make sure that all of our requirements are met and other issues that may come up are also addressed properly," Andolong said.
Madrigal clarified Lorenzana was not bypassed in the signing of the MOA.
"I cannot do that (bypassing Lorenzana). I have signed many MOAs, some not relating to telecommunications… like health, education and donations. I signed it first before the secretary signs it," he said.
Madrigal noted Sen. Risa Hontiveros filed a resolution seeking a congressional inquiry into the MOA.
"We're not hiding anything. As I've said and I'll say it again, the contract (with Dito) is the same contract that we did, that we are doing with Smart and Globe. This (Dito) is a telecommunications company that won through public bidding," Madrigal said.
He added the MOA was subjected to scrutiny by various AFP units, including the intelligence and the military's legal office.
"It passed through our intelligence. It passed through our legal and of course with our communications people," Madrigal said.
Under the contract, Udenna is in charge of providing local knowledge and footprint in the business, while China Telecom will build and deploy the actual telecoms infrastructure.
The Chinese firm will also have a hand in all technical requirements of the third telco.
Saying that he is not an expert on telecommunications and cyber security, Andolong said the review will allow DND to scrutinize plans of any civilian proponent or project to put up infrastructure or technical facilities inside military camps.
Only after a thorough review by concerned defense offices will the AFP-Dito MOA be forwarded to the defense chief's office for his final decision.
Critics have expressed fear that the new telco will be used by China to tap into all communications of its subscribers in the Philippines.
Vice President Leni Robredo urged the DND not to rush into approving the deal.
"For me, it will be better if they (AFP leadership) will listen to the concerns of the experts," Robredo said.
"There were defense experts who expressed their apprehensions. I was surprised with Secretary Lorenzana's statement that it has already the approval of the AFP leadership," she said.
Hontiveros called for a congressional inquiry into the deal after Lorenzana admitted he was unaware that the MOA was already signed by the AFP leadership.
"Left in the dark, clueless," Hontiveros remarked of Lorenzana's admission. – With Evelyn Macairan, Jess Diaz, Delon Porcalla