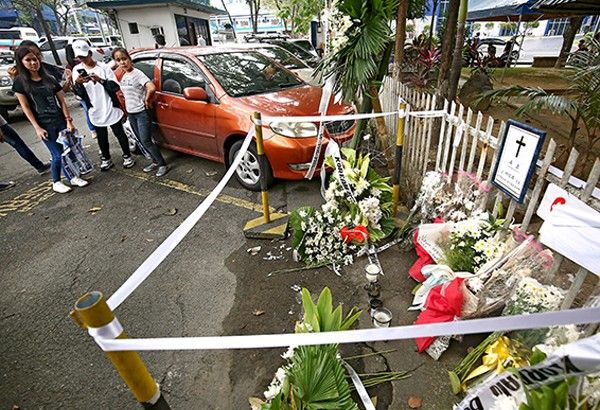 In this February 2017 file photo, flowers and candles are seen at a memorial for Korean businessman Jee Ick-joo inside Camp Crame, where he was killed allegedly by members of a police anti-drug unit.
Miguel de Guzman/File
Jee Ick Joo case faces delay as judge inhibits from trial
MANILA, Philippines — The judge handling the kidnap-slay case of Korean businessman Jee Ick Joo, who was killed inside police headquarters in 2016, has recused herself from trial.
In a two-page order, Judge Irin Zenaida Buan granted the second motion for inhibition filed by the prosecution panel.
"The Presiding Judge of this Court hereby recuses herself from actively trying these cases," the order, dated September 2 but made public only Monday, read.
Buan denied the first motion for inhibition filed by the prosecution panel on May 23, but the panel sought her inhibition again on August, upon the orders of Justice Secretary Menardo Guevarra and Prosecutor General Benedicto Malcontento.
Accused Police Chief Master Sergeant Ricky Sta. Isabel and NBI "runner" Jerry Omlang also moved for Buan's inhibition from the case.
'Continuing trial counter-productive, prejudicial'
Buan, in granting the separate motions, said that continuing the trial of the case "will already be counter-productive if not prejudicial to the Presiding Judge."
"The allegations/arguments of the movants readily reveal their inner disposition towards the Presiding Judge clearly signifying their discontent to the latter's rulings as well as their obstinate belief that the Presiding Judge cannot remain impartial in trying these cases," the order read.
"To insist on trying these cases despite a continuing call for recusal will already conjure an erroneous image of a judge holding on to a case under a continuous cloud of doubt," it added.
The case will now be re-raffled to another judge.
'Judge exhibited bias'
The prosecution sought Buan's inhibition, noting the judge granted Police Col. Rafael Dumlao's petition for bail on April 24, saying the prosecution failed to prove that the evidence of guilt against him is strong.
Buan's orders "indicate clear badges of partiality and bias" in favor of Dumlao, according to the DOJ and Jee's wife.
"The people and the private complainant have undoubtedly and irretrievably lost their trust and confidence that the presiding judge will hear the cases with utmost fairness, impartiality and probity," the motion read.
The DOJ charged Dumlao, Sta. Isabel and Omlang with the complex crime of kidnapping for ransom with homicide in January 2017.
Dumlao, Sta. Isabel and Omlang are currently detained at Angeles City jail.
According to the resolution issued by the Justice department, policemen killed Jee inside the PNP headquarters in Camp Crame in Quezon City. The Korean businessman was kidnapped from his residence in Angeles City under the guise of an anti-drug operation.
The PNP was then headed by Ronald "Bato" Dela Rosa, who is now a senator. — with report from The STAR/Evelyn Macairan