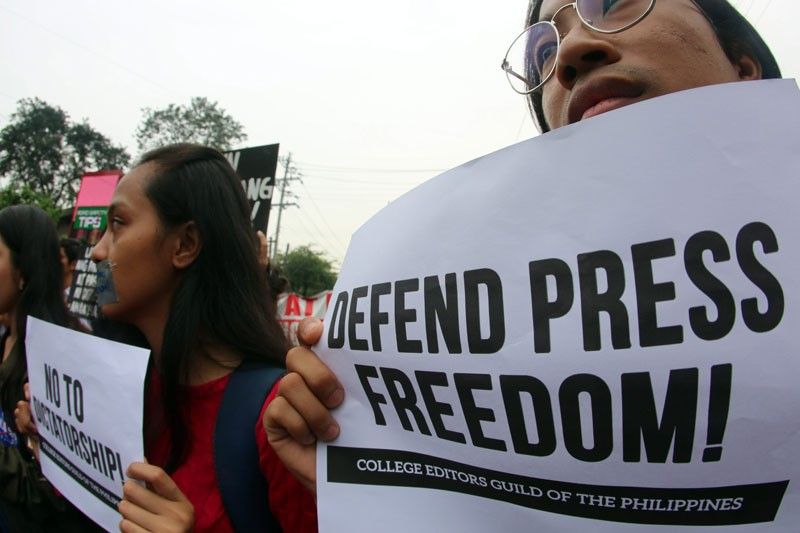 File photo shows members of the College Editors Guild of the Philippines holding a protest.
The STAR/KJ Rosales, File
July 25 declared as National Campus Press Freedom Day
MANILA, Philippines — Campus journalists all over the country will now observe July 25 of every year as the National Campus Press Freedom Day.
This, after President Rodrigo Duterte signed Republic Act 11440 or the National Campus Press Freedom Act on August 28. A copy of the document was released Tuesday.
The measure mandates all educational institutions to observe the celebration and provide assistance to the preparation of activities and events to be conducted by the students.
"As part of media, the campus press is an important institution in promoting and protecting the freedom of the press and the freedom of expression," the law reads.
The legislation was passed by the House of Representatives as House Bill 6024 on Aug. 14, 2017 and adopted by the Senate as an amendment to Senate Bill 747 on June 4.
Rep. Isagani Zarate (Bayan Muna Party-list), the House bill's principal author, said in his explanatory note that it was on July 25, 1931 that the College Editors Guild of the Philippines was founded. CEGP is an alliance of tertiary student publications nationwide and said to be the largest and oldest of its kind in the Asia-Pacific region.
The solon earlier said that campus press "continues to defend the interest and welfare of the Filipino people by tackling both national and sectoral issues—providing a free and adequate venue for the discussion of student concerns."
The Philippines placed 134th out of 180 countries on the World Press Freedom Index of media watchdog Reporters Without Borders.
According to a report release by various Philippine-based media groups last May, there have been 128 cases of attacks and threats against Philippine press from June 30, 2016 to April 30, 2019.