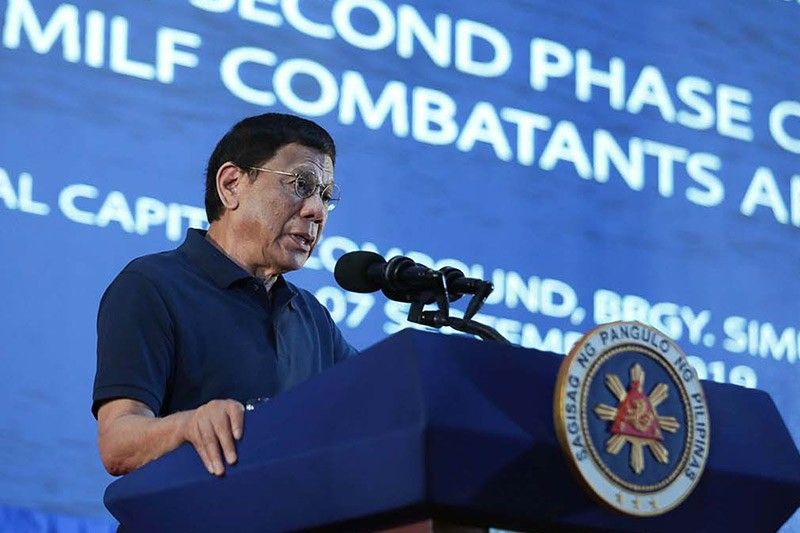 President Rodrigo Duterte delivers his speech during the launch of the second phase of the decommissioning of Moro Islamic Liberation Front combatants and weapons at the Old Provincial Capitol Compound in Sultan Kudarat, Maguindanao on Sept. 7, 2019.
Robinson Niñal Jr./Presidential Photo
Duterte says he won't appoint Faeldon to another government post
MANILA, Philippines — President Rodrigo Duterte is no longer inclined to appoint dismissed corrections chief Nicanor Faeldon to another post but remains convinced that he is an honest man.
"No, not. I don't think so. He (Faeldon) has had enough of controversies in the last few years. But I still believe, but I don't believe he is dishonest," the president told GMA News in an interview aired Monday night.
Duterte drew flak last Friday for saying that he still believes in Faeldon despite disobeying his orders not to release convicts who displayed good conduct. Presidential spokesperson Salvador Panelo said the president believes that the former corrections chief is not involved in corruption.
READ: Palace says it is possible Faeldon had no clue about corrupt practices in BuCor
Despite the controversy hounding Faeldon, Duterte justified his preference for former military officials, saying they quickly obey his orders.
He said the corrections officials involved in the discharge of heinous crime convicts should be ready to face the investigation.
"They have to face the music, those who participated in the proceedings, those who prepared the document, made the study and made the recommendation," the president said.
READ: 'Honest siya': Palace tries to justify Duterte's trust in Faeldon
Duterte also reiterated his call for convicts who were released early due to the Good Conduct Time Allowance law.
"I won't put you to jail. I'm just asking you to come back, have your sentence recomputed and if you fall within the category of those who will be released, you can go," the president said.
"For the heinous crimes, well, let me think about it. Either i set you free or I'll drop you there in the Pasig River," he added.
With regard to those who refuse to surrender, Duterte said his order for government forces is to get them "dead or alive."
READ: Duterte's anti-corruption body to leave no stone unturned in GCTA probe, but won't touch Bato
Duterte said there are unclear provisions in the GCTA law, which faced scrutiny because of the near release of convicted murderer rapist Antonio Sanchez.
"This law is not equivocal. It can be the subject of many interpretations. If it is the subject of many interpretations and even (justice) secretary (Menardo) Guevarra said, we will ask for a clarification from the Supreme Court, (that) means to say that law is not very clear," he said.
Duterte also revealed that he did not grant the request for absolute pardon of former Batangas Gov. Jose Antonio Leviste, who was sentenced with a 12-year jail term for killing his aide Rafael de las Alas in Makati in 2007.
"The problem there is he said, 'give me a pardon because I want to run.' He will use my pardon as an excuse for him to run. If he asked me to pardon him because of old age, I might consider. You really grant pardon to those who are sick," Duterte said.