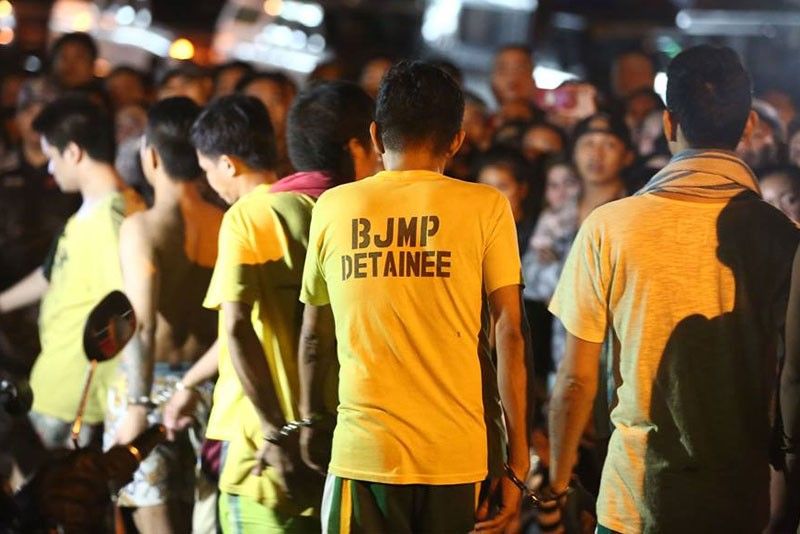 The President admitted the other night that he indeed ordered the transfer of the 10 convicts, citing reports that De Lima's sympathizers at the NBP could possibly kill any of them.
File
Presidential prerogative used in transfer of witnesses
DAVAO CITY, Philippines — It was an exercise of his prerogative as Chief Executive to order the transfer of high profile convicts who had testified against Sen. Leila de Lima – including drug dealer Peter Co – from the New Bilibid Prison (NBP) to a detention facility of the Philippine Marines in Taguig City, President Duterte said on Friday.
The President admitted the other night that he indeed ordered the transfer of the 10 convicts, citing reports that De Lima's sympathizers at the NBP could possibly kill any of them.
"There's an issue that there were others in the penitentiary (NBP) in Muntinlupa. I transferred them to the Marines. Why? Because I was scared that De Lima still has people inside there, and these witnesses and those who are there will be killed inside," the President said in remarks at the groundbreaking for the relocation site intended for earthquake victims in Naga City, Cebu.
"Pagdating ng panahon, wala nang magsasabi ng totoo. Sasabihin ko sa inyo, akin 'yan. Ako ang nag-utos niyan (When time comes, nobody will tell the truth. I will tell you, that's mine. I ordered that)," the President said.
But De Lima said the President ordered the transfer of the convicts to coerce them into sticking to their testimonies against her.
Ordered transferred were Hans Anton Tan, Peter Co alias Wu Tuan Yuan, Jojo Baligad, Vicente Sy, Froilan Trestiza, Nonilo Arile, Chua Che Ket, Rico Caja, Joel Capones and Allan Senogat.
Seven of the 10 inmates had testified against De Lima on her alleged links to the drug trade at the NBP during her time as justice chief. De Lima denied the allegations, saying the charges were political persecution.
The President also asserted his authority to pardon criminals, calling it an "absolute power" granted to him by the Constitution.
Without mentioning names, Duterte said he had pardoned or commuted the sentences of some convicts because they deserved it.
The President may grant reprieves, commutations and pardons, and remit fines and forfeitures, after conviction by final judgment, according to Article VII, Section 19 of the 1987 Constitution.
"The power to commute and to pardon is absolute. My discretion lang. Bakit may mga taong pinalaya, binigyan ng pardon? Akin na yan (Why were some people freed, given pardon? That's mine). You do not question because the Constitution says it is an absolute power," Duterte said. "It's my power so I will not answer questions why."
Justice Secretary Menardo Guevarra defended the President's move, saying Duterte does not need a court order for the convicts' transfer since they were moved from the NBP to an extension facility "such as a military camp," as allowed under a memorandum of agreement (MOA) between Bucor and the Philippine Marines. Guevarra said he has no copy of the MOA.
'Baloney, hilarious'
De Lima, who is in detention on drug charges, called Duterte's justification for the transfer of the inmates "baloney, hilarious."
"I strongly suspect that the real reason is for my oppressors to further 'operate' on these convicts-witnesses, i.e., to further coach and coerce or pressure them to stick to their perjured testimonies," she said.
De Lima has been detained on drug charges at the Philippine National Police Custodial Center at Camp Crame since February 2017.
Sen. Francis Pangilinan, an opposition colleague of De Lima, also questioned the transfer.
He said Guevarra's explanation that the transfer was for security reasons "is a virtual admission of the inability of our prison system to safeguard inmates."
Pangilinan noted that the 10 convicts were already in the maximum security compound, which is supposedly heavily guarded.
"More than a case of special treatment, one can't help wonder if this is part of the reward the convicts are receiving for weaving stories and testifying against Sen. Leila de Lima," Pangilinan said.
"After securing a comfortable sanctuary at the Marines barracks, what is still in store for these convicts? We might wake up one day to reports that they have been released, while Sen. De Lima remains incarcerated for a crime she never committed," he said.
For Sen. Panfilo Lacson, the transfer would likely weaken the case against De Lima.
He said the transfer could be taken as a privilege granted to the convicts – a situation lawyers of De Lima would likely exploit during cross-examination.
"Something is wrong, because that's a privilege. You came from Building 14 maximum security to a bungalow at the Marine compound at Fort Bonifacio. We don't know what's going on in there. That's a privilege," Lacson said in Filipino over dwIZ.
He said in sworn statements, witnesses are made to manifest that they act on their own free will and are not under threat, or promised any reward or privilege. Lacson cited his experience as police investigator.
"The mere fact they were transferred from a maximum security facility where life is really miserable to a place where there are privileges – that's it. Instead of strengthening the case against the accused – in this case LDL – it might even weaken," he said, referring to De Lima by her initials.
He also said that since De Lima has been in detention since 2017, it is unlikely that she still has influence at the NBP. – With Robertzon Ramirez, Paolo Romero, and Cecille Suerte-Felipe