Peace remains fragile in BARMM — report
September 4, 2019 | 12:00am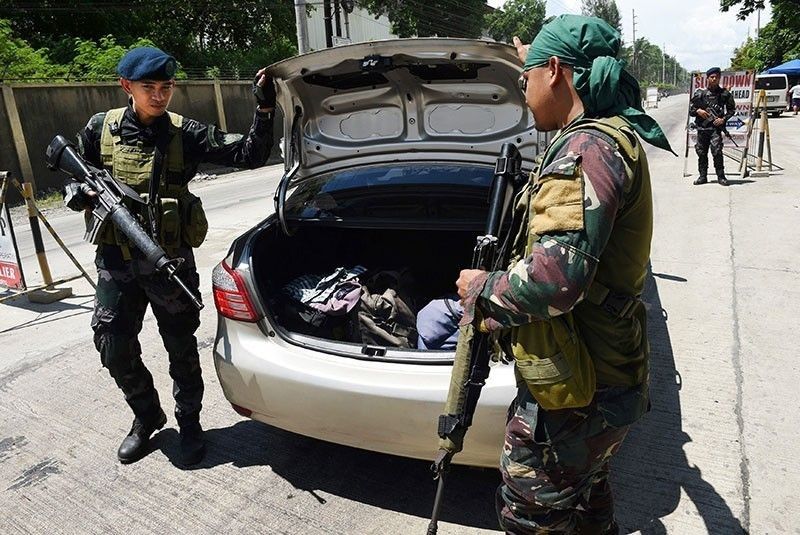 MANILA, Philippines — This year's National Peace Consciousness Month was marked by the decline of violence in the former Autonomous Region in Muslim Mindanao (ARRM) as the government highlighted its achievements on peace efforts.
Peace, however, remains fragile in the entire region despite the decline of violent incidents, International Alert Philippines (IAP) said in its conflict alert report yesterday.
"Conflict Alert data show that conflict incidence across all provinces of the ARRM (now Bangsamoro Autonomous Region in Muslim Mindanao or BARMM) dropped 30 percent from 4,140 incidents in 2017 to 2,910 in 2018. Conflict deaths also decreased 60 percent in 2018 from a year before from 2,261 to 900," IAP said.
Conflict Alert is a conflict monitoring system developed by IAP to track incidence, causes and the human costs of violent conflict in the ARRM in the entire 2018, including the cities of Isabela in Basilan and Cotabato, Davao and Caraga regions.
Nikki dela Rosa, IAP country manager, explained that the decrease in conflict-related incidents and deaths was partly due to the drop in coordinated attacks and the lesser use of explosives by various armed groups.
"The State was also able to maintain a fragile peace in the Bangsamoro by imposing martial law, which in turn signifianctly deterred carrying and use of firearms," Dela Rosa said.
According to AIP, the Philippine National Police made more arrests for illegal possession of firearms in 2018 which resulted in a decline in gun-related deaths by 31 percent from 1,190 in 2017 to 891 in 2018.
It added that bombing incidents declined from 193 incidents in 2017 to 166 in 2018 and were less deadly in 2018 with five deaths per incident, slightly down from six in 2017.
Francisco Lara, senior peace and conflict adviser of Alert Philippines, pointed out that violence in the BARRM – despite a decline from 2016 to 2018 – was significantly higher compared to the crime trends that occurred three years prior to 2016.
"Conflict deaths have also decreased, but not as low as the years prior to the spike in 2016, when violent extremist incidents began to erupt just before the 2017 Marawi war," Lara said.
As peace remains fragile, Lara said certain conditions will have to be met before the military's pullout or martial law is lifted in Mindanao.
Lifting martial law
"The lifting of martial law in Mindanao is certain, but there has to be a political settlement on the use of weapons before it is lifted," Lara said.
Lara said that while decommissioning of Moro Islamic Liberation Front (MILF) firearms is seen as an important process for conflict settlement, this move will only have a negligible effect in terms of the number of weapons that will actually be decommissioned.
He explained the firearms that will be decommissioned are those owned by the MILF as an organization and not personally owned by MILF combatants.
The only group that has the capability to collect personal firearms owned by MILF combatants and those from other lawless groups is the government's state security forces.
Dela Rosa also pointed out that following the declaration of martial law in Mindanao, the government, through the military, was able to curb the proliferation of illicit weapons.
"If martial law is lifted… we need to look at specific policies that curb proliferation of weapons and can regulate carrying of weapons," Dela Rosa said.
She added that Republic Act 10591, also known as "Comprehensive Firearms and Ammunition Regulation Act," needs thorough review because of its direct implications on the ongoing decommissioning process.
Under the law, individuals are allowed to own or carry at most 15 semi-automatic weapons. Traditionally, most Moro families in Mindanao own more than one weapon.
"If I were a combatant, why will I decommission my guns if I will go back to my community that is heavily armed," Dela Rosa said.
This is important, she said, in a region rife with multi-causal conflict that fuses identity issues with political issues, such as violent extremism, conflicts among rebel groups and clan feud related to political contestations.
BARMM, BOL highlighted
The ratification of the Bangsamoro Organic Law (BOL) and establishment of the BARMM were highlighted as the top achievements of the government on peace efforts, according to presidential adviser on the peace process Carlito Galvez, who renewed calls for unity among Filipinos.
Galvez made the statement as the Office of the Presidential Adviser on the Peace Process (OPAPP) led the nation in celebrating National Peace Consciousness Month last Monday.
OPAPP director Pamela Ann Padilla-Salvan, head of the peace policy unit, said this year's theme celebrates diversity in ideologies, beliefs, culture and values as instruments of peace.
Pursuant to Proclamation No. 675 issued on July 20, 2004, National Peace Consciousness Month is annually commemorated in the country every September.
"We hope that all these achievements will help us strengthen the foundations of peace, open up more opportunities for multi-stakeholder dialogue and build a better and brighter future for our countrymen," Galvez said. – With Jose Rodel Clapano, Ramon Lazaro