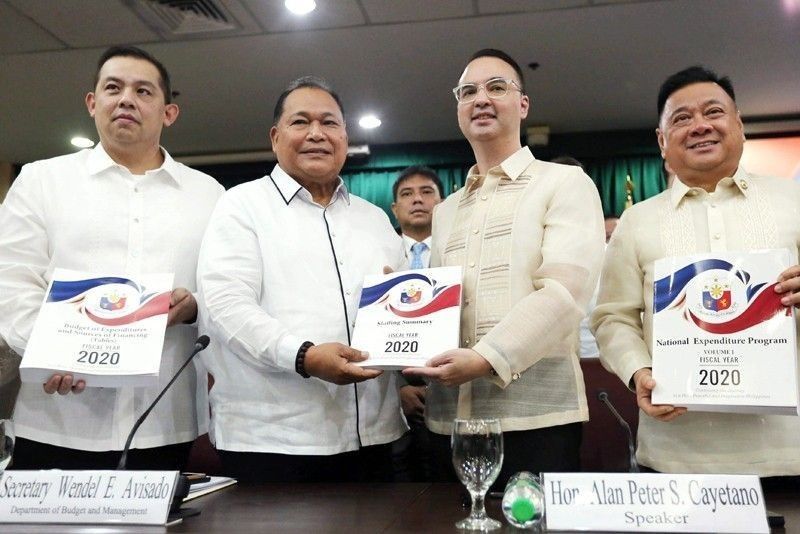 Reports from Davao City quoted Rep. Isidro Ungab as saying that the General Appropriations Bill (GAB) had been withdrawn.
File
House exec withdraws 2020 budget
MANILA, Philippines — Another firestorm is apparently brewing at the House of Representatives under the leadership of Speaker Alan Peter Cayetano as next year's P4.1-trillion national budget bill has been withdrawn by his ally.
Reports from Davao City quoted Rep. Isidro Ungab as saying that the General Appropriations Bill (GAB) had been withdrawn. Ungab, who chairs the House appropriations panel, was installed with the help of President Duterte's daughter Davao Mayor Sara Duterte-Carpio and lawmaker-son Paolo.
Ungab said House Bill 4228 or the GAB 2020, which was deliberated upon last Aug. 28, was pulled out on the same day, supposedly upon the order of Cayetano, who was with Duterte during his visit to China.
House Deputy Speaker LRay Villafuerte, an ally of Cayetano, yesterday confirmed the GAB was indeed withdrawn, but was quick to allay the public's fear about alleged possible insertions in the spending bill, where budgetary allocations for senators and congressmen are contained.
"The 2020 budget will be transparent and pork free. Process will be inclusive and transparent. Budget aims to implement President Duterte's vision of a safe and comfortable life for all," the Camarines Sur congressman stressed.
But a legislator revealed that this latest development could be "another ploy of some lawmakers to insert or realign funds" to their districts, which was seen as having resulted in the four-month delay in this year's budget.
The administration congressman, who spoke on condition of anonymity, vowed to oppose the move of some of their counterparts to make realignments, or worse, allocate post-enactment funds known as pork barrel funds, that could again be the result of a veto by Duterte which he made in the 2019 budget.
"I don't want a repeat of the delay in the 2019 budget. Our economy will suffer again," he said.
But Villafuerte said their objective is to "avoid the protracted, if secretive, deliberations that led to the four-and-a-half-month delay in the approval of the 2019 national budget, which partly induced the domestic economic slowdown in this year's first semester."
"The House leadership is targeting the chamber's action on the 2020 GAB by end-October without 'short-circuiting' the normal legislative process for this bill's committee and plenary approval as enshrined in the 1987 Constitution," he stressed.
Budget deliberations have started in both houses of Congress.
"This bill will be fully transparent and in keeping with the SC's landmark ruling against pork barrel funds for legislators. This legislative process must not be done with undue haste or making a mockery of the House's constitutional power of the purse," Villafuerte said.
The Bicolano congressman said he moved for HB 4228's withdrawal as it was a "premature" filing of the bill on first reading, considering that all departments and other agencies of the government have yet to finish presenting their respective budget proposals at that time.
"The bill's withdrawal was not an issue; it was just a procedural matter as the presentation of the budget proposals of all government offices before the House appropriations committee have yet to be completed at the time of HB 4228's filing on first reading," Villafuerte said.