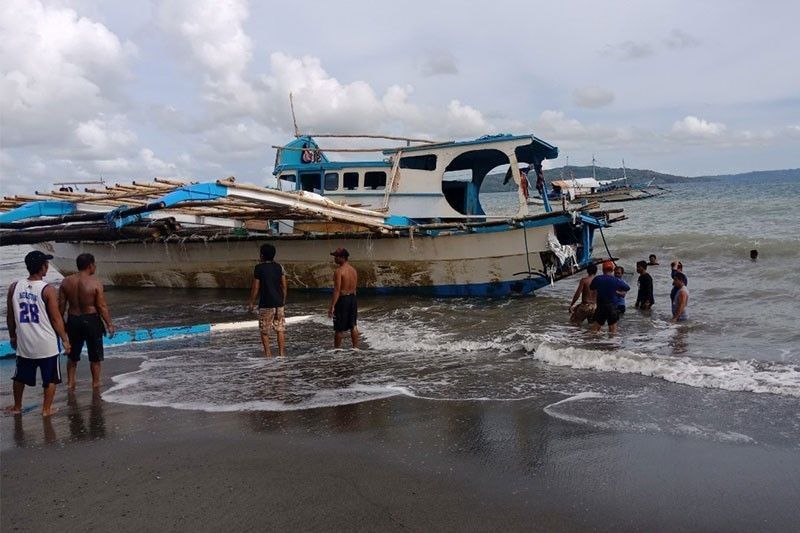 FILE — F/B GimVer 1, which was hit by a Chinese vessel in the West Philippine Sea, being towed to the shores of San Jose, Occidental Mindoro.
PCG/Released
Owner of Chinese vessel apologizes for Recto Bank allision
MANILA, Philippines — The owner of a Chinese vessel that rammed into a Filipino fishing boat on June 9 has apologized to the Filipino fishermen affected by the collision near Recto Bank in the West Philippine Sea.
In a memo released by the Department of Foreign Affairs Wednesday, a letter from a Chinese association confirmed that the offending vessel is registered in Guangdong province.
"It was fortunate that there were no casualties. I feel deep regret that this accident had to happen and I would like to express my deep sympathy to the Filipino fishermen," the letter read, which appears to be penned by an association in which the shipowner is a member of.
Defense Secretary Delfin Lorenzana earlier slammed the Chinese vessel's act of abandoning the 22 Filipino fishermen aboard their sinking boat.
The Chinese Embassy in Manila later on released a statement claiming that the captain of Chinese ship Yuemaobinyu 42212 tried to rescue the Filipino fishermen but was afraid of being besieged by other Filipino boats in the area.
A Vietnamese fishing vessel rescued the distressed Filipino fishermen about six hours after the allision.
In the apology letter released by the DFA, the Chinese side said they have asked from the shipowner, ship captain and crew of the offending vessel to investigate the incident.
The Chinese claimed that the collision two months ago in Philippine waters was an "unintentional mistake" of the Chinese fishermen.
"The Philippine side is requested to file a specific appeal for civil compernsation based on the actual loss," the letter read.
The Chinese association, which the DFA has yet to identify, said it will urge the shipowner of the Chinese fishing boat involved to coordinate with the Philippines for the fishermen's compensation.
Malacañang earlier declared that the Philippines will insist on the liability of the Chinese vessel that collided into the Filipino fishing boat near Recto Bank.
The Recto Bank incident is among the issues that President Rodrigo Duterte is expected to discuss with Chinese President Xi Jinping as the former goes on his fifth visit to China.