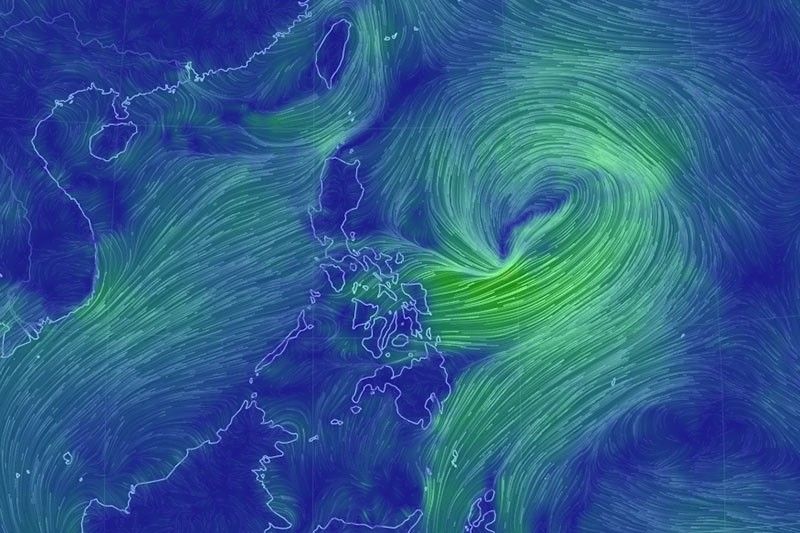 This screengrab taken on Aug. 21, 2019, shows the location of Tropical Storm Ineng at 5 p.m.
Screengrab/earth.nullschool.net
'Ineng' intensifies, now a tropical storm
(Philstar.com) - August 21, 2019 - 5:47pm
MANILA, Philippines — Tropical Depression Ineng (international name: Bailu) intensified into a tropical storm Wednesday afternoon but PAGASA said it is not expected to further strengthen to a typhoon category.
In its 5 p.m. update, PAGASA said "Ineng" now packs maximum sustained winds of up to 65 kph near the center from the 55 kph recorded at 11 a.m. Meanwhile, gusts are at 80 kph at 5 p.m., stronger than the 70 kph recorded before noon.
A landfall scenario is still unlikely.
The state weather bureau said "Ineng" is not expected to further strengthen into a typhoon and would retain its tropical storm category while inside the Philippine area of responsibility.
According to PAGASA's classification system, a typhoon is a tropical cyclone with a maximum wind speed of 118 to 220 kph. A tropical storm, meanwhile, has a maximum wind speed of 62 to 88 kph. Typhoons pack the second strongest wind speeds next to super typhoons, which have maximum wind speeds exceeding 220 kph.
Out of PAR by Sunday
As of 3 p.m., the eye of the tropical storm was located at 1,135 km east of Infanta, Quezon. It is now moving northwest at 15 kph, faster than its initial speed.
PAGASA weather specialist Aldczar Aurelio said "Ineng" is expected to move faster in the coming days as it barrels toward Taiwan.
The weather disturbance is still forecast to exit PAR by Sunday, August 25.
The state weather bureau said cloudy skies with scattered rainshowers and thunderstorms are expected over Bicol, Eastern Visayas and Quezon Province due to the outer rain bands of "Ineng."
Similar weather conditions are forecast over Batanes, Babuyan Group of Islands, Mimaropa and the rest of the Visayas due to the southwest monsoon or habagat.
No gale warning is issued by PAGASA. — Mikas Matsuzawa