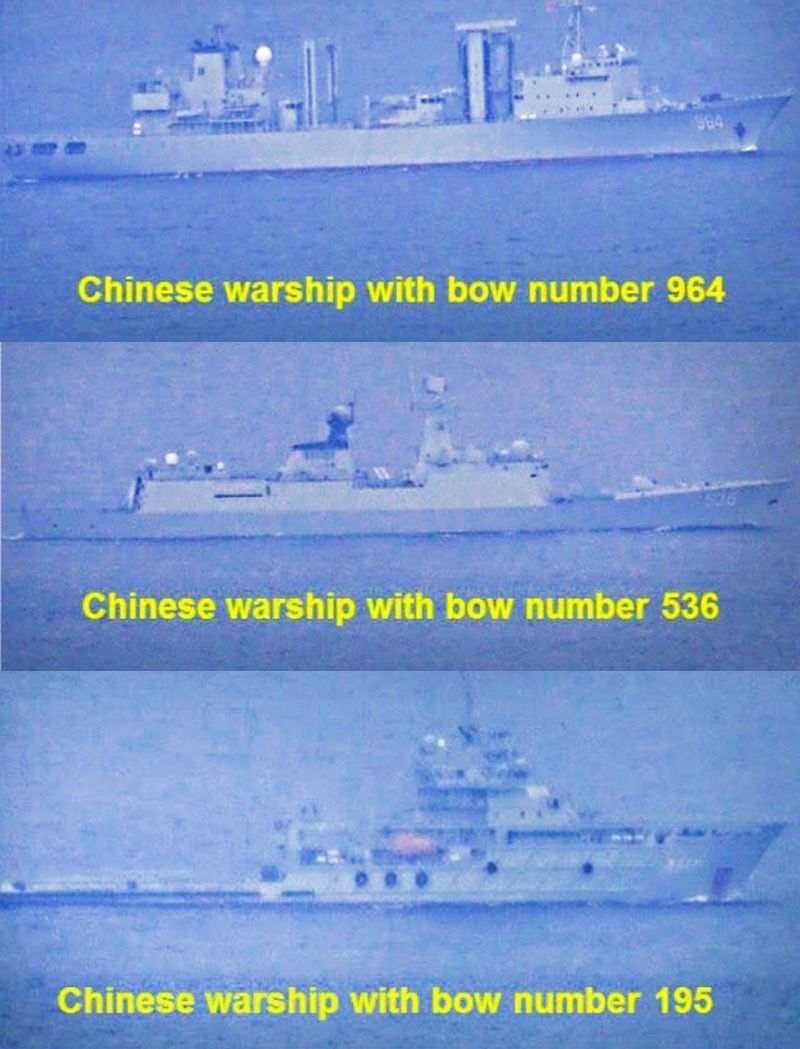 Photos provided by the Western Mindanao Command show three of the five Chinese warships spotted at Sibutu Strait in Tawi-Tawi in July and August. Philippine security officials say the ships entered into territorial waters without any coordination or advance notification and switched off their automatic identification systems.
Handout photo
Tawi-Tawi fishermen confirm sightings of Chinese warships
ZAMBOANGA CITY, Philippines — Fishermen said they also spotted the Chinese warships sailing along the Sibutu Strait in Tawi-Tawi and were puzzled by its frequent presence in the area, according to local official.
Moh Faizal Jamalul, mayor of Taganak Island in the southernmost municipality of Tawi-Tawi, said the fisherfolk have frequently spotted Chinese warships cruising from the south of Sibutu towards Pearl Bank and from the north between Mapun and Taganak and back to Sibutu Strait.
Jamalul said his people were puzzled by the presence of the warships also seen at Spot Islands near Taganak after traversing the border.
According to Jamalul, fishermen observed two sightings of Chinese battleships and a Coast Guard type warship passing the area this month.
"We really don't why but based on the sightings, the warships after passing the Sibutu Strait and going to Mapun would return to Spot Islands," Jamalul said.
Spot Islands are scattered islets near Taganak Island where an international oil company used to conduct drilling exploration due to its rich oil reserves.
Jamalul said they had no idea as to the purpose of the Chinese warships but knew that their presence was a violation of Philippine sovereignty.
"But we were really puzzled why they are passing without proper coordination and we don't know why. Perhaps, we in the local government units in Tawi-Tawi should be aware what they were doing in our area," Jamalul said in Tagalog.
"We cannot just stop them, even our (Navy) ships cannot confront those Chinese warships and stop them," Jamalul added.