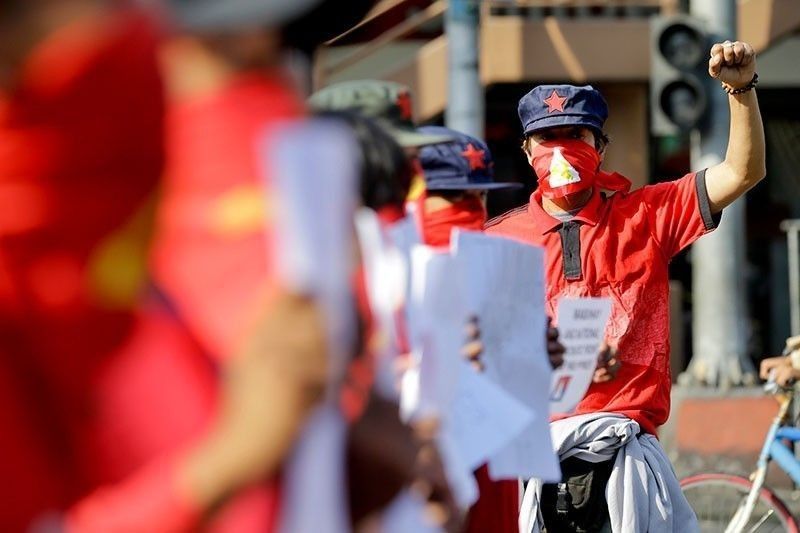 While President Duterte has yet to issue a stand on the matter, his spokesman Salvador Panelo yesterday said Año's proposal should be reviewed further to determine if it could address concerns over the recruitment of youths by the New People's Army (NPA).
File
Subversion law revival needs review – Palace
MANILA, Philippines — Malacañang is not closing the door on the proposal of Interior Secretary Eduardo Año to restore the law criminalizing subversion.
While President Duterte has yet to issue a stand on the matter, his spokesman Salvador Panelo yesterday said Año's proposal should be reviewed further to determine if it could address concerns over the recruitment of youths by the New People's Army (NPA).
"I still don't know what opinion the President (will have on this). But I will ask him when we meet," Panelo said in Filipino. "That was already repealed if you remember, but I think their concern is child recruitment."
Justice Secretary Menardo Guevarra, however, has made it clear Año's proposal stands on weak legal ground.
"Being leftist is far from being terrorist. As long as activism remains in the realm of ideology, there is nothing to be alarmed about. But once it flows into overt acts that threaten the national security or at least causes widespread fear among the people, government has to step in, and step in really hard," Guevarra said.
Panelo said if there are concerns regarding certain provisions of the Human Security Act of 2007, these should be better communicated with lawmakers who are in the position to amend the 12-year-old law.
"Yeah, they've been saying that we have to put more teeth to that. I think that should be addressed to the lawmakers because they are the ones legislating the laws. They should provide more teeth to that," he said.
"Like they're complaining about the detention being so... so limited in number of hours," he said. The law prescribes 36 hours reglementary period of detention for suspected terrorists.
"If you fail to file a case on time, you will have to release the suspect. But you can't file because you're still gathering evidence," Panelo said.
He also said he is deferring to the wisdom of the national security adviser regarding the report of Sen. Rolando dela Rosa and Año on the hundreds of students reportedly being recruited to join left-leaning organizations.
But Panelo emphasized he is against the proposal of Dela Rosa, a close ally of the President, to allow Philippine National Police (PNP) personnel into school campuses to deter leftist groups from recruiting students.
"Given the idealism of the youth – I've been a youth myself – you know, they want action, they are easily convinced to do something noble for their country; and if they feel they need to join an organization to do that, they will," Panelo said.
He advised parents, however, to always remind their children of supposed dangers in joining school organizations espousing "obsolete ideology" such as the NPA's. Dela Rosa chairs the Senate committee on public order and dangerous drugs.
"Our suggestion to parents is: tell their children that ideology has long passed and is passé and they should not entertain joining any kind of subversive organization for their own safety," Panelo said.
While the Communist Party of the Philippines is no longer illegal with the repeal of the Anti-Subversion Act, Panelo maintained that it's wrong to join leftist organizations that seek the overthrow of the government.
"As I said, if the left-leaning organization is found to be allied with organizations that are subversive of our democratic society, then it becomes wrong and illegal," he said.
Panelo stressed that groups aiming to overthrow the administration are different from those that air grievances against the government— the latter being protected under the freedom of speech clause in the 1987 Constitution.
"But if you (would) join organizations to express grievance… legitimate grievance against the government, certainly it is not. It's part of freedom of speech," he said.
There are civic organizations and human rights groups, which protest against the government, but they do not join call for its ouster, he said.
"You have to distinguish between expressing yourself out of a legitimate concern for a grievance you perceive to be committed by local officials or national officials as against joining an organization that is allied to communist organization found to be subversive of our democratic society," Panelo said.
Stronger HSA
Guevarra, meanwhile, maintained that instead of criminalizing subversion as means to fight terrorism, steps should be taken to strengthen the Human Security Act.
"With all due respect to Secretary Año, mere membership in the Communist Party of the Philippines (subversion) is not a crime unless overt criminal acts are committed. Amending and giving more teeth to the Human Security Act will suffice, in my opinion," he said.
The justice secretary also pointed out there are several provisions of Republic Act 9372 or the Human Security Act that needed to be revisited and amended such as Section 50 of the law that covers "Damages for Unproven Charge of Terrorism."
"There are many provisions that need to be amended. One of them imposes a penalty of P500,000 per day of incarceration upon any law enforcement officer who mistakenly accused and prosecuted a person for terrorism, even if done in good faith," the DOJ chief said.
He believes that imposing a P500,000 a day penalty against a law enforcement officer should be scrapped since "there are (already) laws penalizing malicious prosecution anyway."
Año, in raising his proposal, said RA 9372 has not been used against terrorism because it imposes punishment on even honest mistakes of law enforcers – like imprisonment of up to 10 years.
Año expressed belief that reviving the anti-subversion law would complement President Duterte's Executive Order No. 70 that created the National Task Force to End Local Communist Armed Conflict.
PNP chief Gen. Oscar Albayalde, for his part, said he is in favor of reviving the law making subversion a criminal offense as proposed by Año, but admitted it needs further study.
"That needs several studies pa kung yung anti-subversion law talagang it will be more productive or become harmful," he told reporters at Camp Bagong Diwa in Taguig City.
He said the insurgency has stymied the country's growth as rebels would usually attack even civilian targets.
Albayalde also belied accusations from militant groups that the PNP is brainwashing the parents of missing students who reportedly joined the underground movement. He stressed it was the parents of the missing student activists who approached the PNP for help. – With Evelyn Macairan, Emmanuel Tupas