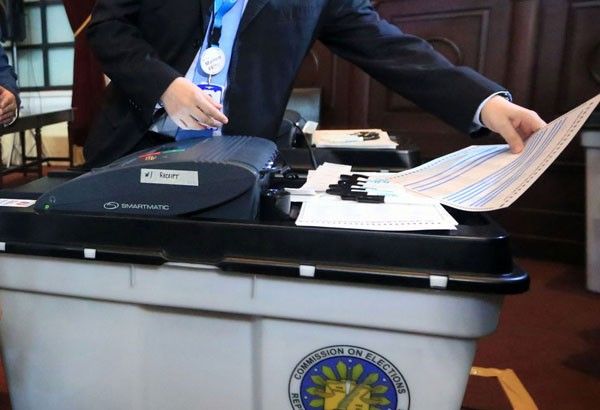 The Philippines has been using an automated election system since 2010.
File
9 in 10 Filipinos want automated polls to continue — Pulse Asia
(Philstar.com) - August 7, 2019 - 11:00am
MANILA, Philippines —A significant majority of Filipinos said they would like to see the automated election system to continue in the future, according to the latest Pulse Asia survey released Wednesday.
The poll showed that 91% or about nine in 10 Filipinos said they want to continue the automated election while 7% said they do not want to and 2% said they do not know.
The Pulse Asia survey also found that 82% of Filipinos found the results of the 2019 midterm elections believable and 83% said the release of the results were fast.
The Comelec said after the May midterm elections that, 961 or 1.1% of a total 85,769 vote counting machines for the elections were defective, higher than 801 faulty VCM in the 2016 presidential election.
Out of 85,769 SD cards released, 1.9% or 1,665 units malfunctioned — of which 1,253 were replaced. In 2016, there were 120 broken SD cards.
The release of partial and unofficial election results was also delayed on the evening of May 13 due to technical problems.
The Comelec said that evening that its transprency server, which was also supposed to send the election data to media partners, was working and had received 80% of polling results.
It said the problem was not with transmission to the server, but in sending the data from the transparency server to media computers linked to it.
'Big trust' in May elections
About eight in 10 Filipinos also said they had "big trust" in the results of the previous elections.
According to the survey, 84% of Filipinos said they had big trust of the May 2019 polls, with 23% saying they had "very big" trust and 61% said they had "big" trust.
RELATED: Despite glitches, Comelec says midterm election 'successful'
Only 3% said they had "small" trust while 13 said they had "maybe big" or "maybe small" trust in the election results.
This is quite higher than the survey result in July 2016, where 74% of the respondents said they had "big trust" in the results of the May 2016 general elections.
Meanwhile, the top reasons why voters were not able to vote in the 2019 elections were because they were not able to go to the province whre they are registered (33%), they became ill (19%) and they had to go to work (19%).
The base for this was the 9% of registered voters who did not vote in the May 2019 midterm elections.
The survey respondents also cited election management-related reasons on why they were not able to vote such as failure to find their names in the voters' list (10%), deactivated registration (4%) and malfunctioning vote counting machine (1%).
The survey was conducted from June 24 to 30 among 1,200 respondents nationwide with sampling error margins of ±3 for national percentages and ±6 each for Metro Manila, balance of Luzon, Visayas and Mindanao.
President Rodrigo Duterte has said that he wants tech provider Smartmatic replaced in coming elections.
"I will tell the Comelec, it's an independent body. But I will really tell them. Do not use that mechanism again," Duterte said while in Tokyo in May.
"I would like to advise Comelec now, I won't wait for it (State of the Nation Addess) anymore: Dispose of that Smartmatic and look for a new one that is free of fraud," he said.
Despite that, the Palace said it found the elections, where administration allies dominated the senatorial race, credible. — Patricia Lourdes Viray