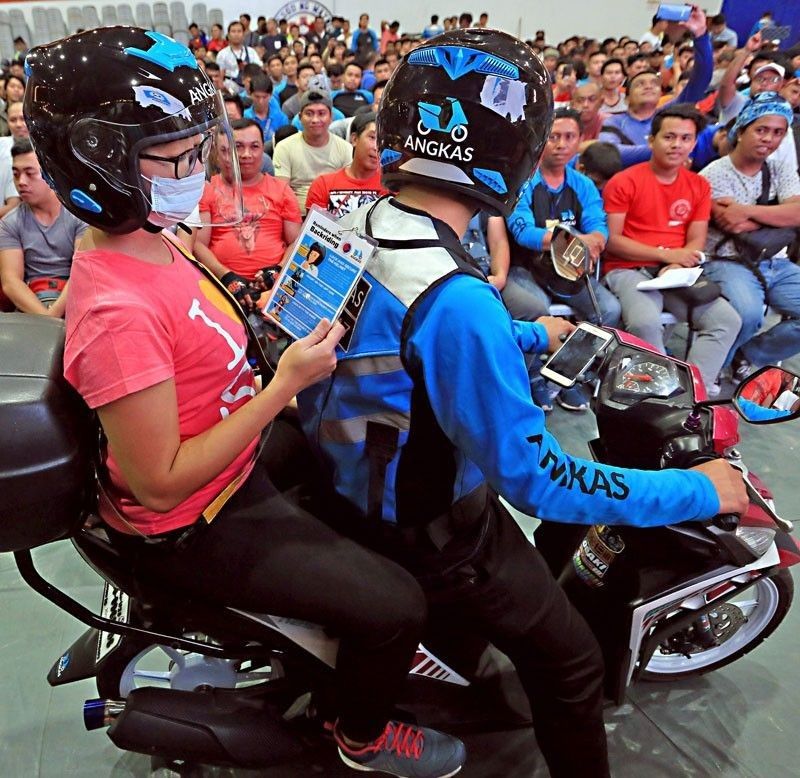 In this file photo, motorcycle instructor Karl Tuguib shows drivers the proper way of riding a motorcycle during Angkas' retraining course in Manila. He wears a special reflectorized vest that helps drivers to be more visible at night. The vest also has side straps that help the passenger hold on to the driver.
The STAR/Edd Gumban, file
Angkas sorry for suggestive tweet after scolding on social media
(The Philippine Star) - August 1, 2019 - 8:45am
MANILA, Philippines — Motorcycle taxi service Angkas apologized Thursday for a tweet comparing riding a motorcycle to sex, a post that was criticized on social media by users and by the Philippine National Police.
In a statement posted on its Twitter account, Angkas admitted it had "made a misstep" when it said riding a motorcycle taxi for the first time is like having sex for the first time.
"Words and analogies are meant to help us connect with our audience, but in this case, we missed the mark," Angkas, which is known for its irreverent and often funny social media content, said. "We take full responsibility for this misstep."
???????? pic.twitter.com/qfCSGiet6Q

— Angkas (@angkas) July 31, 2019
The tweet earned Angkas criticism on social media for being inappropriate.
Among the tweet's critics was the PNP's social media account, which called out Angkas and called the attention of the Land Transportation Franchising and Regulatory Board. It said the tweet was "not acceptable to commuters" and would scare off potential riders.
This is not acceptable to commuters. Matatakot ang tao sa Angkas pag ganito. This is not promoting public safety in transport business anymore hen @LTFRB_Official @LTFRB. pic.twitter.com/pA63OeUJfw

— PNP Tweets (@PNPhotline) July 31, 2019
Despite the PNP's scolding of Angkas, its chief, Police Gen. Oscar Albayalde in May excused away sexual remarks from President Rodrigo Duterte as "an obvious joke."
"In fairness to the president, he probably just wanted to make everybody happy or he probably wanted to make people there laugh," Albayalde said in response to the president pretending to read out a list of offenses at the Philippine Military Academy's graduation rites.
Among the supposed offenses that he was pardoning were rape, drugs with rape and robbery, and multiple rape. The remarks elicited laughter from the audience, which included cadets and their parents, as well as top military officials.
In its apology, Angkas acknowledged that "sex should never be used to create shame, fear, or disgust, and certainly not used lightly for the sake of some buzz."
FROM INTERAKSYON: Grab takes down suggestive post promoting 6-seater service
Angkas stresses safety, respect for passengers
Angkas said that the tweet was meant to communicate that the service is safe and that commuters sohuld not hesitate to try it. "If nothing else, our 99.997% safety record is a testament to the quality of our service."
The company said in June that while it has received applications and previously trained over 100,000 riders, it only accredited 27,000 to ensure passenger safety.
It also sassured the public that it has the necessary feedback mechanisms on their mobile platform to monitor the performance of their drivers and to address commuter concerns.
The ride-hailing app company also apologized to its bikers, saying the tweet had "cast them in an unfair light."
"Our biker-partners have been trained to respect their riders and make them as comfortable as possible," it said. "They are qualified professionals who are just working hard to make a decent living for themselves and their families."