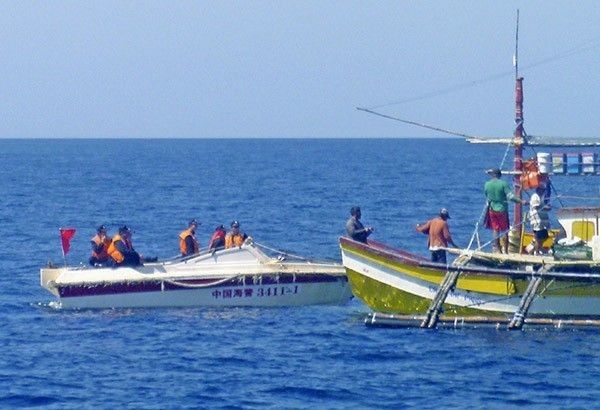 Duterte on Monday night said it would be difficult to stop China from fishing in the country's exclusive economic zone (EEZ) under the United Nations Convention on Law of the Sea.
File
China's intrusion worsens fish catch decline – watchdog
MANILA, Philippines — An environmental advocacy group has warned that local fisheries production might not recover soon with President Duterte's stand allowing China to continue fishing within Philippine territorial waters.
International organization Oceana said the executive department's task is to enforce the law and prosecute violators, which is mandatory and not discretionary.
"Is he not worried that soon there is nothing to fish and no fish for the constituents? It sends the signal that anyone can fish and poach without consequences," Oceana Philippines vice president Gloria Ramos told The STAR yesterday, referring to Duterte.
"That is an example of illegal, unregulated and unreported fishing, which causes displacement of fisherfolk and stocks to decline and which we committed
as a country to fight under international conventions and the Fisheries Code as amended," she added.
Duterte on Monday night said it would be difficult to stop China from fishing in the country's exclusive economic zone (EEZ) under the United Nations Convention on Law of the Sea.
"I don't think that China would do that. Why? Because we're friends. And they are of the same view that that should not result in any bloody confrontation," Duterte said.
Some 22 Filipino fishermen were left adrift at sea for hours after their boat the F/B Gem-Vir 1 (GemVer) was rammed and sunk by a Chinese vessel near Recto Bank last June 9 as various groups urged Duterte to declare the area an exclusive fishing ground.
The fishermen claimed that foreign vessels have been fishing in Recto Bank since 2014. Recto Bank is 85 nautical miles from Palawan and is within the country's 200-mile EEZ.
"We need the rule of law if we are to manage sustainably our declining fisheries," Ramos said.
Data from the United Nations Food and Agriculture Organization showed that marine production of China has been increasing over the past decade while that of the Philippines has been on a steady decline.
Latest data revealed that China's average production was at 13.18 million metric tons from 2005 to 2014. This further increased to 15.24 million MT in 2016.
The Philippines, on the other hand, recorded 2.15 million MT average production from 2005 to 2014. The figure has dropped to 1.86 million MT in 2016.
China is by far the world's main fish producer and has also been the largest exporter of fish and fish products. It has also produced more than the rest of the world combined every year since 1991.
Bureau of Fisheries and Aquatic Resources (BFAR) director Eduardo Gongona explained that the Philippines has fisheries agreements with neighboring countries, including China, on the issue of encroachment.
"Once they encroach, we just escort them out. That's the only way based on bilateral agreements," Gongona told The STAR.
"We cannot be aggressive. We have to consider our diplomatic and trade relations," he added.
The Philippines has existing agreements with China, Taiwan, Vietnam and Indonesia, among others.
With regards to the declining fish catch of the country while that of China increases, Gongona said there are other factors that should be considered.
"Encroaching is just one of the reasons. We should also look at our problems in the municipal waters, use of destructive gear of some of our fishermen and the lost sustainability of our fisheries which we are trying to revive," he said.
Meanwhile, Agriculture Secretary Emmanuel Piñol said BFAR is drafting a proposed legislation which aims to modernize the fishing industry in the country similar to that of the jeepney modernization program.
He added that the proposed Philippine Fishing Boats Modernization Act (PFBMA) has already received support from Occidental Mindoro Rep. Josephine Sato who promised to sponsor the bill in Congress.
The Gemver that was sunk by a Chinese boat did not have radar or transponders.
"The Philippines has about 5,000 fishing boats with similar features and BFAR is just starting to install transponders on the fishing vessels so their movement could be tracked by satellite under the vessel monitoring system program," Piñol said.
"Just like the jeepney modernization program, the PFBMA proposes government incentives for fishing boat owners who would be willing to modernize their fleet. This is expected to improve the efficiency of Philippine fishing boats and increase productivity in the fisheries sector," he added.
The proposed bill is expected to be filed when the new Congress opens in July.