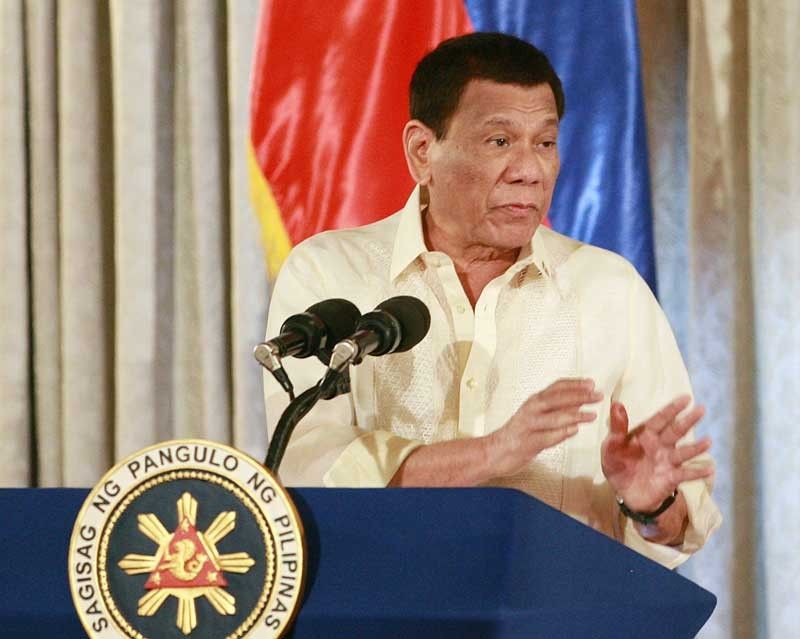 Duterte announced his choice of Army general Ricardo Morales as Velasco's replacement at a thanksgiving dinner on Thursday for Senator-elect Christopher Go at the Arcadia Activity Center here.
Joven Cagande
After Metro Manila water woes, MWSS chief replaced
DAVAO CITY, Philippines — Another military officer – a retired Army general – has been chosen by President Duterte to join his administration, this time as replacement for administrator Reynaldo Velasco of the Metropolitan Waterworks and Sewerage System (MWSS).
Duterte announced his choice of Army general Ricardo Morales as Velasco's replacement at a thanksgiving dinner on Thursday for Senator-elect Christopher Go at the Arcadia Activity Center here.
The announcement came months after a severe water shortage hit several parts of Metro Manila, specifically the east zone service area of the Ayala-led Manila Water Co.
"Dick Morales shall head the MWSS. Taga-Davao din yan si Dick Morales. He is very good," the President said, referring to Morales by his nickname.
"Rebelde yan si Morales," the President pointed out, apparently referring to Morales' role in the 1986 People Power revolution that ousted the Marcos dictatorship.
In 2005, Morales was relieved of his command of the Philippine Army (PA)'s 404th Brigade based in Eastern Mindanao reportedly due to his vocal criticism of the military leadership. Morales belongs to the Philippine Military Academy (PMA) Class '77.
The President said he is comfortable working with military men, with almost half of Cabinet positions occupied by retired military officers.
Morales had served and lived in Southern Mindanao, specifically Davao City, before his retirement.
Sought for reaction, Morales told The STAR he is just awaiting his appointment papers.
"I am ready to take on the job. I am glad for the President's trust in me," Morales said.
Velasco, for his part, said he has yet to receive dismissal papers from Malacañang.
"I have yet to receive. But that's OK, I accept it, I am an appointee of the President; that is his decision. We can't do anything about that," Velasco said.
MWSS-Regulatory Office chief regulator Patrick Ty disclosed they had been hearing about Morales days prior to Duterte's announcement.
"We have been hearing that name since last week from people from the board," Ty said.
He added that even Velasco had an idea of Morales' looming appointment to MWSS.
"He knows about the rumor. I think he already felt that somebody will be replacing him," Ty said.
"I don't know him personally. But we support whatever the President's decision is," he added.
Trust in Rody's choice
Maynilad Water Services Inc., for its part, said Morales' assuming the leadership of MWSS would be a welcome development.
"We are very close to MWSS so they have been sharing the information that there might be some revamp, some change. We support the decision and we trust in the President's choice," Maynilad president and CEO Ramoncito Fernandez told The STAR in a phone interview.
"We hope we could work hand in hand with him in ensuring water security and water availability for the future of Metro Manila," he added.
Manila Water has yet to comment on the development.
In March, Duterte gave MWSS officials an ultimatum to solve the water supply problem or face dismissal.
Until now, some parts of Metro Manila are still experiencing water supply interruptions.
Andanar too?
Meanwhile, Presidential Communications Operations Office chief Martin Andanar said he is unfazed by the likelihood of getting a new appointment or even losing his current job with organizational changes in the PCOO.
"I work at the pleasure of the President and I'm a good soldier, so whatever, if the President assigns me to a specific agency or department then maybe, the President sees a little bit of capability or capacity on my part to serve on a particular agency outside the PCOO," Andanar said.
When asked if former TV 5 colleague and veteran broadcaster Erwin Tulfo was being groomed as next PCOO chief, Andanar said he believes in Tulfo's capability to handle the job.
"You know I've worked with Erwin for the longest time since 2013, and prior to 2013 I was a beat reporter and we scoured the WPD or MPD for stories way back then," Andanar said.
"We've been good friends and I see the capacity of Erwin to run an office like the PCOO. I think he's qualified to be the next press secretary if you ask me," he added.
Andanar said his office had submitted to the President a draft executive order reverting the functions of the PCOO to the Office of the Press Secretary.
"But for now the President has not talked to me about it, even moving to a new department. As I said yesterday, work as usual," he added.
Asked if he is being eyed as presidential adviser on political affairs, Andanar said, "It's difficult to consider something that has not been offered to you."
Andanar was interviewed at the launch of the new logo of the Radio Television Malacañang (RTVM) and blessing of its newly renovated office. He said he couldn't tell if the launch of new logo and office would be his last project.
"Is it my last project? I don't know, the President has not talked to me about moving to another department or any agency, we all work at the pleasure of the President," he said.
Andanar said there are pending projects aimed at strengthening the communications arm of the Office of the President. – With Christina Mendez