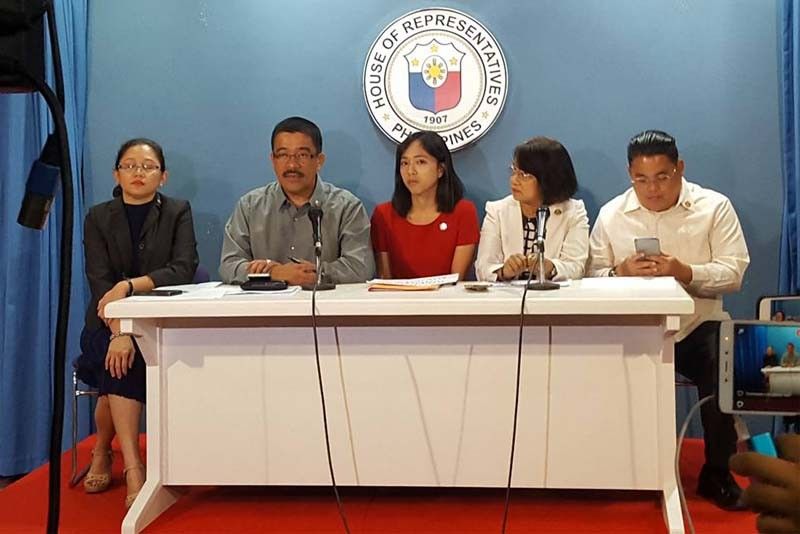 This handout photo shows Rep. Arlene Brosas (Gabriela), Rep. Carlos Zarate (Bayan Muna), Rep. Sara Elago (Kabataan), Rep. France Castro (ACT Teachers) and Rep. Ariel Casilao (Anakpawis).
Bayan Muna, Facebook
Party-list race sees decline in votes for activist groups
(Philstar.com) - May 15, 2019 - 11:36am
MANILA, Philippines — The organization backed by Tulfo brothers Erwin and Raffy is leading the 2019 midterm elections party-list race which also saw a huge decline for support for groups with track records of serving the marginalized and underrepresented.
Anti-Crime and Terrorism through Community Involvement and Support, which last won a House seat in the 2013 polls, took the lead in the party-list race with 2,571,693 votes, according to the partial and unofficial count early Wednesday morning. This represents 96.2% of election returns processed.
Partial and unofficial results of the party-list race also showed that votes for incumbent progressive party-list drastically dwindled this year compared to the 2016 elections—except for Bayan Muna.
Votes for Bayan Muna nearly doubled in 2019 at 1,093,921 from only 604,566 in the previous polls.
Other party-lists that also suffered significant declines so far this year were:
Gabriela – from 1,367,795 votes in 2016 to only 440,172
ACT Teachers – from 1,180,752 votes in 2016 to only 387,318 votes in 2019
Kabataan – from 300,420 votes in 2016 to only 192,705 votes in 2019
Anakpawis – from 367,376 votes in 2016 to only 143,578 votes in 2019
Bayan Muna can secure at least two seats available in the House of Representatives. ACT Teachers, Kabataan could get one seat each, while Anakpawis—a party-list of the marginalized sectors of peasants and workers—will not get a seat at all.
Currently, there are two representatives of Gabriela and ACT Teachers each in the 17th Congress. Bayan Muna, Kabataan and Anakpawis each have one representative in the lower house.
Incumbent representatives of Bayan Muna, ACT Teachers, Gabriela, Kabataan and Anakpawis comprise the so-called Makabayan bloc, which has opposed several policies of the Duterte administration such as the tax reform law, campaign against illegal drugs and softened stance on the country's waters.
Akbayan, which is not allied with the Makabayan bloc, called on the Commission on Elections on Tuesday to investigate and disqualify party-list groups who have reportedly practiced vote-buying in some precincts. It, however, did not identify the groups involved.
Akbayan as well as the party-lists in the Makabayan bloc have historically been consistent winners in the party-list elections because of support from their grassroots organizations.
RELATED: Cops allegedly giving flyers red-tagging groups caught on cam
Red-tagging of progressive party-lists
Party-lists belonging to the Makabayan bloc are no stranger to red-tagging or the act of labelling, branding, naming and accusing individuals and/or organizations of being left-leaning, subversives, communists or terrorists (used as) a strategy... by State agents, particularly law enforcement agencies and the military, against those perceived to be 'threats' or 'enemies of the State.'"
On election day, watchdog Kontra Daya reported that "black propaganda" materials against progressive candidates were posted in various communities across the country or distributed near poll precincts.
It also caught some police officers in Manila distributing tabloids that contained "malicious" report about Makabayan coalition Senate bet Neri Colmenares and other progressive party-list groups.
'Dubious' party-list groups
Two days before the May 13 elections, Kontra Daya issued a statement condemning party-list groups that "do not represent the marginalized and underrepresented."
These according to them include the frontrunner ACT-CIS, regional group Ako Bicol, 1PACMAN, MAGSASAKA, PROBINSYANO AKO, TINGOG SINIRANGAN, ABAMIN, BUHAY, KALINGA, BHW, A TEACHER, PBA, CWS, LPGMA, KABAYAN, AMIN, MANILA TEACHERS, ABANG LINGKOD, ABONO, AGAP, APEC, 1-ANG EDUKASYON, KONTRA BROWNOUT, DUTERTE YOUTH, BH (BAGONG HENERASYON), MAYPAGASA, OFW FAMILY, ALING ENTREP, DUMPER PTDA and RECOBODA.
"These dubious party-list groups are making a mockery of the party-list system. They perpetuate the dominance of the rich and powerful in the House of Representatives," Danilo Arao, Kontra Daya convenor, said.
The leader in party-list race will get three seats in the House. The seats of the winning party-lists will range from one to two depending on the voter turnout for the race and the votes garnered by the groups. — Gaea Katreena Cabico