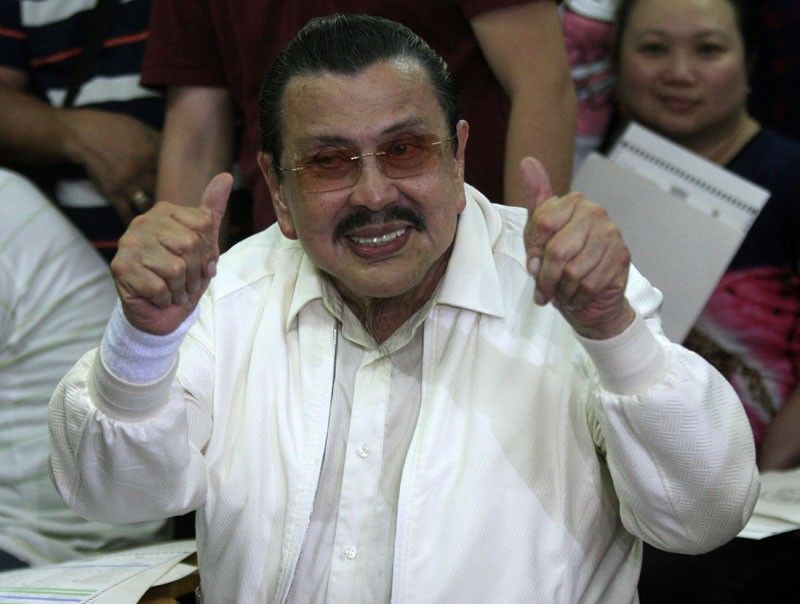 Former president and incumbent Mayor Joseph Estrada lost by a wide margin to his former ally, Francisco Domagoso, more popularly known as Isko Moreno, in the mayoral race.
Edd Gumban
Political dynasties crumble; Estrada clan shut out
MANILA, Philippines — This year's midterm elections saw the downfall of some political clans in Metro Manila after they were toppled in their quest for top posts in different cities.
The decades-long reign of the Estradas ended after they were unseated in both Manila and San Juan.
Former president and incumbent Mayor Joseph Estrada lost by a wide margin to his former ally, Francisco Domagoso, more popularly known as Isko Moreno, in the mayoral race.
The Commission on Elections yesterday proclaimed Domagoso, a former scavenger from Tondo, as the 27th elected mayor of Manila at the San Andres Sports Complex.
Domagoso received 357,925 votes against Estrada's 210,605. Alfredo Lim ranked third with 138,923 votes.
Domagoso's runningmate, incumbent Vice Mayor Honey Lacuna, also won with 394,766 votes. Her opponent, Amado Bagatsing, got 267,286 votes.
"I thank God and every Manileño who participated in this democratic process. We have received the mandate of the people and we are faced with a great challenge to uplift the lives of the people of Manila," Moreno told The STAR.
Estrada could hardly believe the results of the elections after he lost even in his own barangay.
Poll results from precinct 2591-B at the P. Burgos Elementary School in Barangay Sta. Mesa where Estrada voted showed that he received 451 votes while Moreno got 515.
Zamora defeats Ejercito
In San Juan, Estrada's granddaughter, incumbent Vice Mayor Janella Ejercito, was defeated by Francis Zamora in the mayoralty race.
Zamora ended the five-decade rule of the Estrada-Ejercito clan in San Juan.
Zamora garnered 35,060 while Ejercito got 24,813 votes.
Estrada started the family's rule of San Juan in 1969.
Ejercito's bid was an attempt to continue the grip on power in San Juan from outgoing Mayor Guia Gomez.
Ejercito is the eldest daughter of former senator Jinggoy Estrada, who is trailing in the senatorial race.
The former president's daughter, Jerica Ejercito, who ran for councilor in Manila, also suffered defeat.
Estrada's nephew, ER Ejercito, lost in the gubernatorial race in Laguna.
Only Jana Ejercito, Estrada's niece, won and topped the race for councilors in the Second District of San Juan.
"We have done our best. We have to accept it. The voice of the people is the voice of God. I hope it is really the voice of the people," the former president told his supporters.
Estrada refused to concede to Moreno.
"Why should I concede? I was the target of a project. All surveys from the start showed I was winning, and now all of a sudden Isko?" he said. "The numbers could have been manipulated."
Sotto topples Eusebio
A son of a showbiz couple ended the 29-year reign of the Eusebio political clan in Pasig City.
Victor Marie "Vico" Sotto won by a landslide as he registered 204,611 votes. Incumbent Mayor Bobby Eusebio got 118,571 votes.
Sotto is the son of comedian Vic Sotto and actress Connie Reyes.
Eusebio's brother, incumbent Rep. Ricky Eusebio, was defeated by Roman Romulo.
Sotto said he would establish a new kind of leadership as soon as he assumes office on July 1.
"All transactions at the city hall would be transparent as I promised during the campaign period," he said.
The Eusebio patriarch, Vicente, won as Pasig mayor in 1992.
No sweep for Binays
In Makati, former vice president Jejomar Binay lost to rival Kid Peña in the race for first district congressman. Peña got 71,035 votes against Binay's 65,229.
Even Peña was surprised at his victory, calling Binay an institution in Makati politics.
Binay's daughter Abby won the mayoralty race over brother Junjun. Her husband Luis Campos took the second district congressional race. – With Non Alquitran, Robertson Ramirez