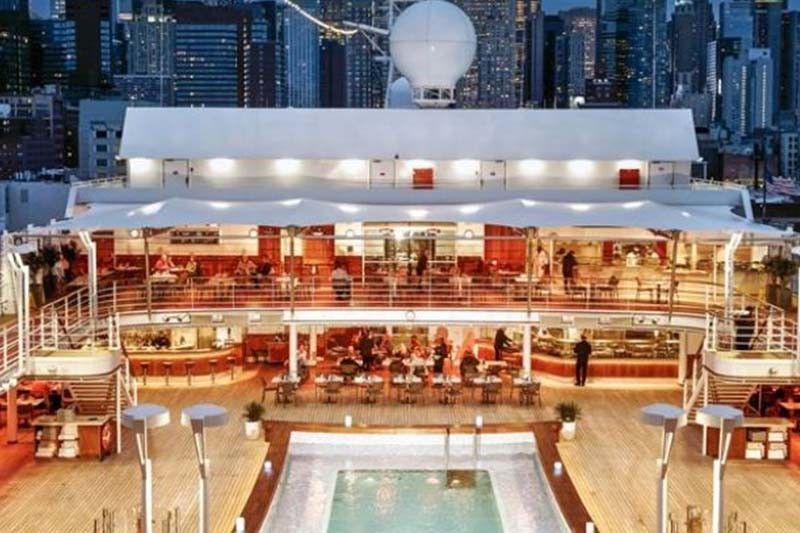 This photo shows the pool deck and jacuzzi area of a Silversea vessel.
Silversea website
Filipina charged for stealing $3.5M from cruise company
(Philstar.com) - May 6, 2019 - 7:21pm
MANILA, Philippines — A Filipina accountant working for a luxury cruise company in Sydney, Australia was charged with 98 fraud offenses for allegedly stealing $3.5 million from her employer.
Sydney Morning Herald reported Monday that Mary Ann Abellanoza was accused of stealing millions from Silversea Cruises in an allegedly "deliberate and calculated fraud" believed to have been perpetrated over four years in the cruise company's Sydney office.
According to the same report, there were two separate legal cases against Abellanoza, a 53-year-old mother from Plumpton in New South Wales: a criminal case before the Downing Center Local Court and a civil case filed by the cruise company before the New South Wales Supreme Court.
NSW Supreme Court heard that Abellanoza, while she was branch accounting supervisor, transferred $3.5 million into seven accounts into seven bank accounts under her control and used a downloadable generator to create fake invoices.
"Ms. Abellanoza fell under suspicion in February 2018, when she told a senior executive she had fallen victim to an online scam and offered to reimburse the company," Sydney Morning Herald said.
It added: "An investigation by a forensic accountant uncovered the alleged discrepancies, an expert telling the court that the size and frequency of the transactions was 'indicative of a deliberate and calculated fraud.'"
Sydney Morning Herald also reported that Abellanoza received a free voyage each year on of the cruise company's vessels as part of her $88,000 employment package.
No charges vs husband
While the court said that Silversea could pursue whatever means appropriate to recoup from Abellanoza the $3.5 million allegedly taken, it ruled the company could only recover $1,829 from Abellanoza's husband, Perven. He allegedly received $811,565.
"Justice [John] Sackar accepted Mr. Abellanoza's version of events: that he believed his wife's newfound wealth was 'pure luck' after she developed a seven-days-a-week gambling habit," Sydney Morning Herald said.
It added: "Mr. Abellanoza, who worked in refrigeration, is not facing any criminal charges. He told the court his wife had full control of the household finances, he was 'hopeless with technology' and did 'not know how to use an ATM.' He was never allowed to gamble beside his wife because that was 'bad luck.'"
Silversea is appealing the decision, saying that Perven had "wilfully shut his eyes to the obvious" or "recklessly failed to make such inquiries as an honest and reasonable person."
The couple, who have two children, migrated from the Philippines. They returned here up to 10 times since 2014.
Surfers Paradise, Cairnes, Darwin, Hawaii, Las Vegas, Singapore, Fiji, Taiwan, Brisbane and Melbourne were also included in their travel itinerary.