Duterte: Roxas wasted lives of 44 SAF commandos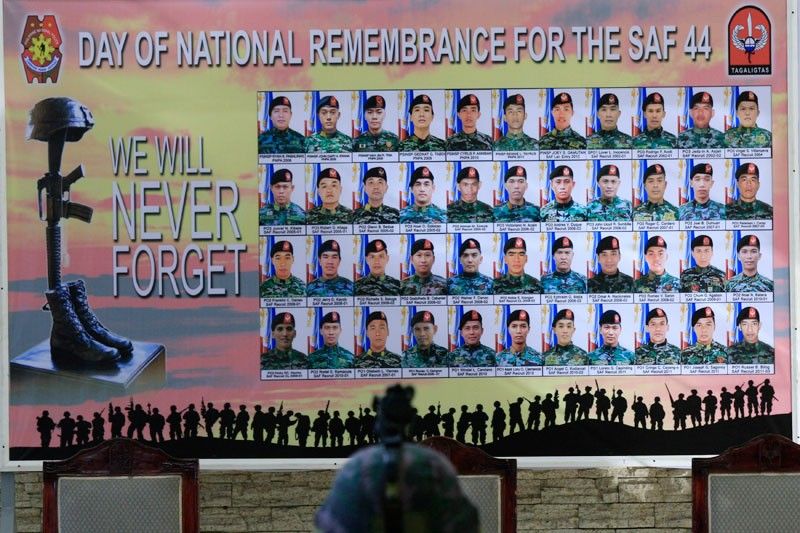 MANILA, Philippines — President Duterte has accused opposition senatorial candidate Manuel "Mar" Roxas II of wasting the lives of the 44 police commandos who died in the Mamasapano clash four years ago.
Duterte said Roxas, who was interior secretary when the bloody encounter happened, could not explain why members of the Special Action Force (SAF) were deployed in the operation against high-profile terrorists.
He said SAF troopers were trained in urban warfare and were not familiar with the topography of Maguindanao.
"(Roxas) wasted 44 lives for nothing. They could not even explain... why it was the police who went there who were totally ignorant of the topography and the physical arrangement of the area," Duterte said during a campaign rally in Cagayan last Tuesday.
"Until now, he has not answered it. The 44 souls, most of them are Ilocanos... I want to ask him that question. Why deploy the policemen and why did you not let the Army given that the clash lasted for a day? Why was there no air support?" he added.
Duterte said voters should put Roxas on the top of their list of senatorial candidates if they could come up with a good answer to his questions.
"Ako na mismo nagsasabi sa inyo ilagay ninyo itong p***** i** na 'to (I myself would ask you to vote for this son of a b****)," the President said.
Forty-four SAF troopers were killed in an encounter against extremists and Moro Islamic Liberation Front (MILF) members in Mamasapano, Maguindanao on Jan. 25, 2015.
The police commandos entered the MILF bailiwick to arrest wanted terrorists Zulkifli bin Hir, alias Marwan, and his Filipino lieutenant Basit Usman.
Marwan was killed during the operation while Usman was killed in a separate clash four months later.
The operation turned into a tragedy after 44 SAF troopers were killed in a fierce encounter with extremists that former officials have blamed on lack of coordination between government forces and the MILF.
Roxas and then police chief Leonardo Espina later on claimed they were not aware of the SAF's plan to conduct an operation in the MILF lair.
The Mamasapano encounter was one of the issues that confronted Roxas during his unsuccessful presidential bid in 2016.
Even Roxas' former boss, former president Benigno Aquino III, was not spared from Duterte's tirades.
The President claimed that Aquino had asked stupid questions during a command conference in Zamboanga while the Mamasapano clash was ongoing.
Duterte said he was present during the command conference, which was also attended by Roxas and security officials.
"The two, Roxas pati Aquino, kept on standing behind the stage. We were waiting. This is true. Ask the military. They kept on talking," Duterte said.