Voting for 1.8 million overseas Filipinos starts April 13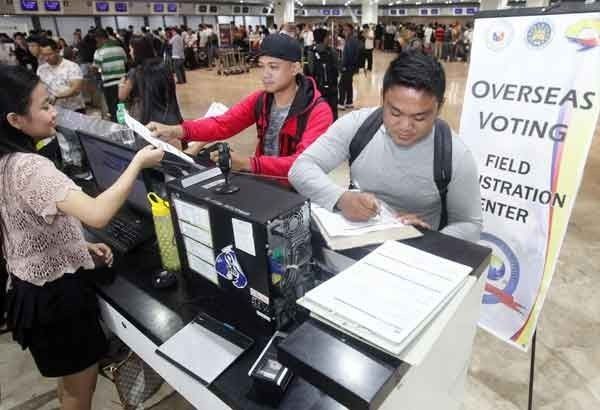 MANILA, Philippines — The one-month overseas absentee voting (OAV) starts on Saturday with 1.8 million Filipinos, working or living abroad, who are registered voters expected to cast their ballots.
The lone representative of overseas Filipino workers (OFWs) in Congress yesterday urged Filipinos abroad to exercise their right of suffrage and vote for candidates who "could best represent and work for their interest and welfare."
"We are appealing to our compatriots, especially OFWs who comprise the bulk of Filipinos stationed abroad, to take advantage of this opportunity and to choose the right leaders for our country," Rep. John Bertiz of party-list ACTS-OFW said.
He hopes that all the 1.8 million registered Filipino voters in other countries could find time within the one-month period to go to the nearest embassy, consulate or other voting centers designed by the Commission on Elections (Comelec) to cast their ballots.
"The effort and time it took them to register would be put to naught if they fail to vote. If all the 1.8 million registered Filipino voters abroad exercise their right of suffrage, they could influence the result of voting for senatorial candidates and party-list groups," he said.
If they could not personally vote, the law allows them to send their ballots through the postal service, he added.
At the same time, Bertiz urged OFWs to vote for party-list groups that could truly work for their welfare and that of their families, push for their advocacies and protect their rights.
"There are some people who just want to get elected, but actually have no concrete plans or proven track-record in helping our migrant workers. Let us choose candidates who genuinely care for OFWs and their families, those who truly understand their struggles and dreams," said the former OFW in Saudi Arabia.
He urged his constituents "to use our power to elect leaders who embody our ideals and who will push for the betterment of our lives."?The OAV voting will end on May 13, the day the nation votes for its next set of lawmakers and local officials.
Most of the 1.8 million Filipinos abroad who are registered voters are living or working in Saudi Arabia, United States, Singapore and Hong Kong.
Participation by overseas Filipinos in national elections has been improving since the OAV law was enacted in 2003.
This has prompted candidates to include countries hosting large numbers of Filipinos in their campaign sorties. Administration and opposition senatorial candidates separately campaigned recently in Hong Kong.
The Comelec also yesterday called on national and local candidates to have more consideration when holding motorcades, especially on narrow roads.
"We appeal to candidates not to bring their caravans to narrow streets. If they must, please consider not making any stops or else you'll become a big blockade," Comelec spokesman James Jimenez said.
He added that the streets in Metro Manila are already narrow so they should avoid causing traffic congestion.
Jimenez also urged candidates to tone down their noise so as not to cause discomfort and annoyance to the public.
"It is inconsiderate of the community and it is disruptive of life in the locality. Candidates need to be more considerate," he said.
Although the Comelec does not have a policy on the closure of roads to give way to campaign activities, he urged candidates to refrain from doing this.
Meanwhile, Sen. Aquilino Pimentel III is seeking to amend Section 6 of the Fair Elections Act to ensure equitable media access for all electoral candidates and political parties.
His amendment states that whenever two or more candidates or political parties are mentioned or played together in an election advertisement, the length of their appearance will be deducted from their individual airtime limits.
"By clearly defining limits on a candidate's time in broadcast media, all those who are aspiring for an elective post will be given equitable access to use broadcast media for their campaign platforms," Pimentel said. – With Sheila Crisostomo, Cecille Suerte Felipe