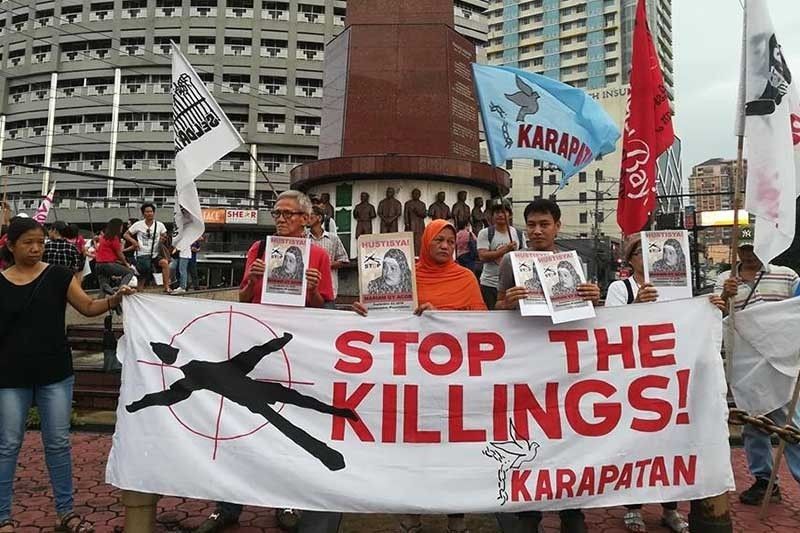 In this September 25, 2018 photo, members of local rights group Karapatan condemn the killing of human rights defender Mariam Uy Acob.
Facebook/Karapatan, released
Karapatan welcomes EU review of human rights work
MANILA, Philippines — The rights watchdog tagged by the Philippine government as a front organization of communist rebels said it is open to an "impartial and participative audit" by the European Union and the Belgian government of its work.
"We, as rights-holders and human rights defenders, are receptive to such queries, in the spirit of meaningful dialogue, transparency and accountability," Karapatan said in a statement Monday.
It added: "We are confident with what we are, and we are ready to face any question on our work, that is in accordance to international and local human rights standards."
The human rights group made the statement days after the European Union said it would investigate the claims that the regional bloc's aid funds were being diverted to the Communist Party of the Philippines and its armed wing, the New People's Army. A financial audit by an external company will be conducted this month, the EU said.
The Philippine government formally requested the probe in March but had also raised the issue in January.
Karapatan said a government risk assessment report on non-profit organizations in October 2018 noted that the participation of these organizations in terrorist funding activities is "unconfirmed and based solely on intelligence information with no sufficient data or evidence to directly link these NPOs to threat groups or terrorist groups."
"Our work of documenting and monitoring human rights violations, public advocacy and campaigns and service to victims of human rights violations are all out in the open. The funds we receive are duly audited and our work is properly documented," Karapatan said.
'Malicious, false claims by Duterte admin'
Karapatan, moreover, condemned what it called the "malicious and false accusations" by the Duterte government against the rights group.
"We reiterate and maintain that these are mere frantic, outrageous and desperate attempts to gloss over its horrendous human rights record, to deflect state accountability on the numerous extrajudicial killings and other gross human rights violations and to undermine the work of human rights defenders in the Philippines," it said.
Karapatan also stressed that human rights work is not an act of terrorism.
"We are not terrorists. We do not support terrorist activities through our project and work—all of which are well-documented, accounted for and independently audited," the human rights group said.
Karapatan said that despite the increasingly dangerous situation for human rights advocates in the country, it will not be cowed and will continue its human rights work.
RELATED: PNP warns members of Alliance of Concerned Teachers supporting communist rebels
In a separate statement, the Alliance of Concerned Teachers, which the government has also claimed is a front organization for rebels, called the allegation "part of the militaristic Duterte regime's bogus counterinsurgency program, which in reality is a crackdown and vilification campaign against groups critical of its anti-people and fascist policies."
ACT national chairperson Joselyn Martinez said the government is "carrying out a crusade to impede the international community from assisting local peoples' organizations efforts to better the lives of the people."
The teachers' union, which has asked a court to stop the police from what it said is profiling of its members, said "the very move to brand us as CPP-NPA fronts in their recent visit and correspondence with EU is testament to the persecution suffered by people's organizations who forward just demands to the government, which adds to their growing and intensifying attacks in the form of imprisonment and downright killing of farmers, unionists, and 'drug suspects'."
Also on Monday, Solidagro, one of the Belgian NGOs alleged to have "indirectly and unwittingly partnered" with supposed communist front groups, said that the funding for the Alternative Learning Center for Agricultural and Livelihood Development in Lianga, Surigao del Sur goes to a program that teaches sustainable agriculture. Solidargo also said it has mechanisms in place to check that this is so.
READ: Belgian NGO: ALCADEV funding for growing greens, not raising Reds