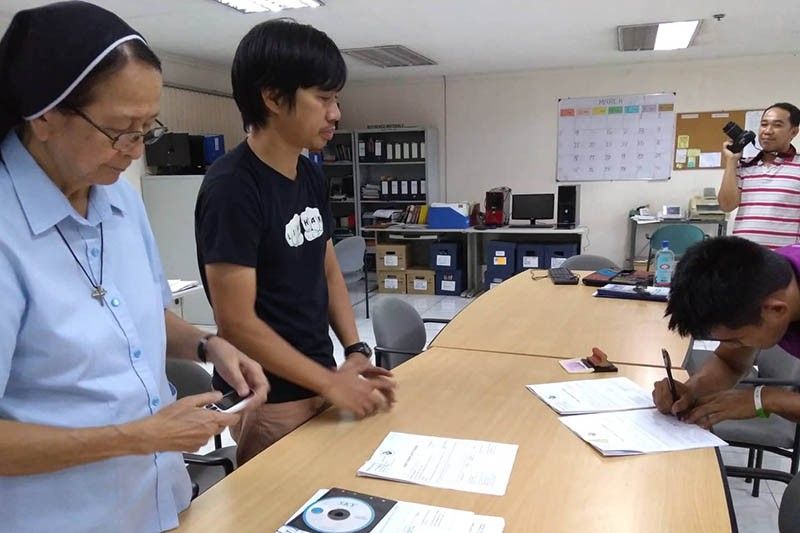 A representative from the country's Joint Monitoring Committee received the complaints filed by Karapatan and Rural Missionaries of the Philippines.
Karapatan, Handout
Groups file red-tagging complaints to Joint Monitoring Committee
(Philstar.com) - March 15, 2019 - 4:37pm
MANILA, Philippines — Rights watchdog Karapatan and church group Rural Missionaries of the Philippines filed complaints before the country's Joint Monitoring Committee over incidents of red-tagging and terrorist-labeling of their members.
The two organizations filed complaints at the JMC—the body tasked to monitor and investigate human rights abuses of security forces and communist rebels—Friday. The filing came days after Karapatan and RMP along with Kabataan party-list filed separate complaints at the Commission on Human Rights over the red-tagging and terrorist-labeling of these organizations.
"We are here to highlight the government's non-implementation of the Comprehensive Agreement on the Respect for Human Rights and International Humanitarian Law and its active campaigns and policies that are directly inimical to human rights," Roneo Clamor, Karapatan deputy secretary general, said.
CARHRIHL, an agreement between the Philippine government and the National Democratic Front of the Philippines, outlines obligations of both parties on human rights and international humanitarian law and sets forward a mechanism for exacting accountability.
Clamor said that Karapatan has become "consistent targets" of the Duterte government's red-tagging and terror-labeling maneuvers in an "effort to silence and threaten the organization and its advocates."
Brig. Gen. Antonio Parlade, Armed deputy chief of staff for civil military operations, on Wednesday said the European Union was supposed to release about two million euros this year to the RMP.
Parlade also claimed that Belgium has also provided funds to seven Philippine organizations. Among these are Karapatan and IBON Foundation.
These groups have been tagged by the Philippine government as front organizations of the Communist Party of the Philippines and its armed wing, the New People's Army.
READ: Why is red-tagging of activist dangerous?
"Under the Duterte administration, human rights violations persist and continue to worsen. No less than the commander in chief President Rodrigo Duterte goaded his military men and his newly-form National Task Force to ignore and deliberately violate the CARHRIHL," Clamor said.
The Karapatan official added: "Instead of addressing the root causes of the armed conflict and working toward fundamental and substantial change by pursuing the peace negotiations, the Duterte government has instead chosen a militarist path."