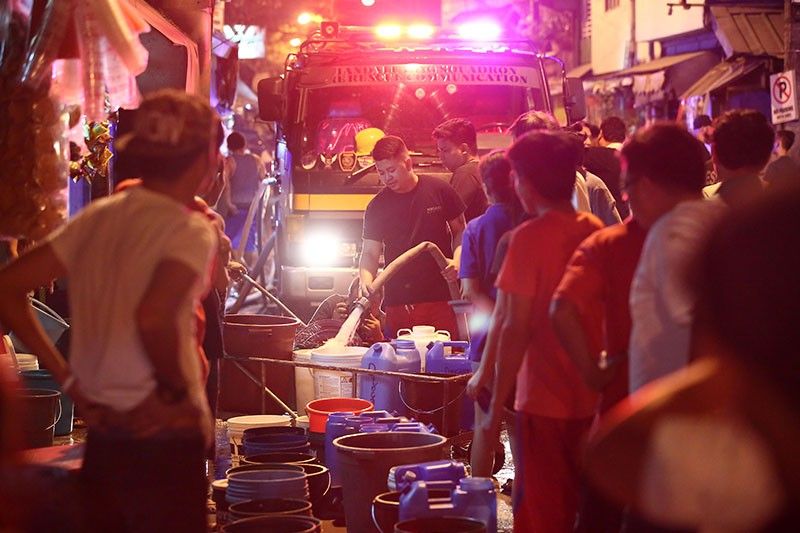 Residents of Mandaluyong City lineup for water rations from firetrucks as Manila Water continues to implement "operational adjustments."
The STAR/Miguel de Guzman
Government is partly to blame for water crisis, says MWSS
MANILA, Philippines — The Metropolitan Waterworks and Sewerage System (MWSS) admitted that the government is partly to blame for the ongoing water crisis in Metro Manila and Rizal province.
MWSS chief regulator Patrick Ty said the government and water service concessionaires already forecasted water supply problem and have formulated solutions, which have been delayed.
"It's our fault. It's the government because the Kaliwa Dam, Laiban Dam has been proposed since the Marcos time and due to lot of oppositions and accommodations for the IPs, from the informal settlers, from this leftist group, church group, these projects keep on getting moved," Ty told ANC's "Headstart" Thursday morning.
Ty addded that the proposed Laiban Dam, which will get water from Kaliwa River in Tanay, Rizal, would supply more than 2,000 million liters per day (MLD).
Kaliwa Dam, on the other hand, is a smaller source as it would only serve 600 MLD.
"An immediate solution for probably the next 20 years is the Kaliwa Dam. Further than that, we need the Laiban Dam. Let's say we're talking about a 50-year plan we need a bigger water source than Kaliwa," Ty said.
Opposition from residents in the area have been the problem of the construction of Laiban Dam as it would displace IPs and informal settlers.
The MWSS chief also noted that they have been rushing the construction of the Kaliwa Dam during the Aquino administration but oppositions have derailed the project.
Under the Aquino administration, the Kaliwa Dam project was approved as public-private partnership but the Duterte administration decided to make it an official development project, which means that it would be funded by a foreign country.
The Kaliwa Dam project had been identified as one of the government infrastructure projects that would be financed by China through a bilateral loan agreement.
"Are you saying it's our fault? Yes, it's our fault. It's everyone's fault because we've been delaying all these projects," the MWSS chief said.
"I would say it's everyone's fault including us because we're not conserving water... These NGOs blocking all these alternative water sources, the government — we should have pushed ot more," Ty added.
Ty stressed that Metro Manila cannot solely rely on Angat Dam and needs an alternative water source.
He also noted that both Manila Water and Maynilad have been pushing for alternative water sources as early as 2007.
"Manila Water has been raising that issue since I took over in 2017 so all this is our problem and we need to fix it," Ty said, adding that if the Kaliwa Dam is not finished by 2023, the water shortage would be worse than what Metro Manila is currently experiencing.
As It Happens
LATEST UPDATE: June 17, 2019 - 2:31pm
An environmental watch group advises the public to conserve water all the more as parts of the country grapple with the effects of drought brought by the onset of El Niño.
In a statement, the EcoWaste Coalition calls on Metro Manila households to take water conservation more seriously while also calling on establishments to intensify water conservation measures.
"We join our water authorities in asking household, businesses and government institutions in Metro Manila to use water more wisely amid the declining water level in Angat, Ipo and La Mesa Dams," Aileen Lucero, EcoWaste national coordinator, says.

She adds: "Let us all aim for zero water waste to reduce the impacts of low water supply during the summer months to the people, especially the poor, and the environment."
The water level in La Mesa Dam is now below critical level at 68.93 meters due to the summer season and the El Niño phenomenon.
June 17, 2019 - 2:31pm
Manila Water is now operating an additional 34 deep wells in its concession area to help meet the demand of customers while the new water sources are being completed.
As of June 9, 2019, 43.42 million liters of water per day have been drawn from these deep wells and is seen to bring more water supply upon full operation of more deep wells in the coming months.
"The operation of these deep wells is vital to recovering our service towards 24/7 supply at 7 psi or pressure up to the ground level as one of the means of augmenting the water supply deficit," Manila Water Corporate Strategic Affairs Group Head Jeric Sevilla says.
April 24, 2019 - 8:49pm
Manila Water President Ferdinand dela Cruz says in a statement that he will abide by the decision of the Metropolitan Waterworks and Sewerage System to pay a financial penalty upon over its momentary inability to meet its service obligations to provide round-the-clock water supply to consumers.
The MWSS board has sanctioned Manila Water Company Inc. with a total of P1.134 billion fine and an additional P600 million fund for development of a new water supply source following the water shortage last month that affected parts of Metro Manila and neighboring towns.
April 24, 2019 - 8:39am
The imposition of penalties on Manila Water was due to its failure to comply with Article 10.4 of the concession agreement or the 24-hour available supply in its service areas.
April 24, 2019 - 8:34am
The MWSS Board sanctions Ayala-led Manila Water with P1.15 billion in fines following the supply mess last month.
— The STAR/Maureen Simeon
April 16, 2019 - 11:34am
Manila Water says it accepted the resignation of Chief Operating Officer for Operations Geodino Carpio amid the water shortage that recently hit parts of Manila and Rizal.
The firm has appointed Abelardo Basilio as acting COO for Manila Water Operations.