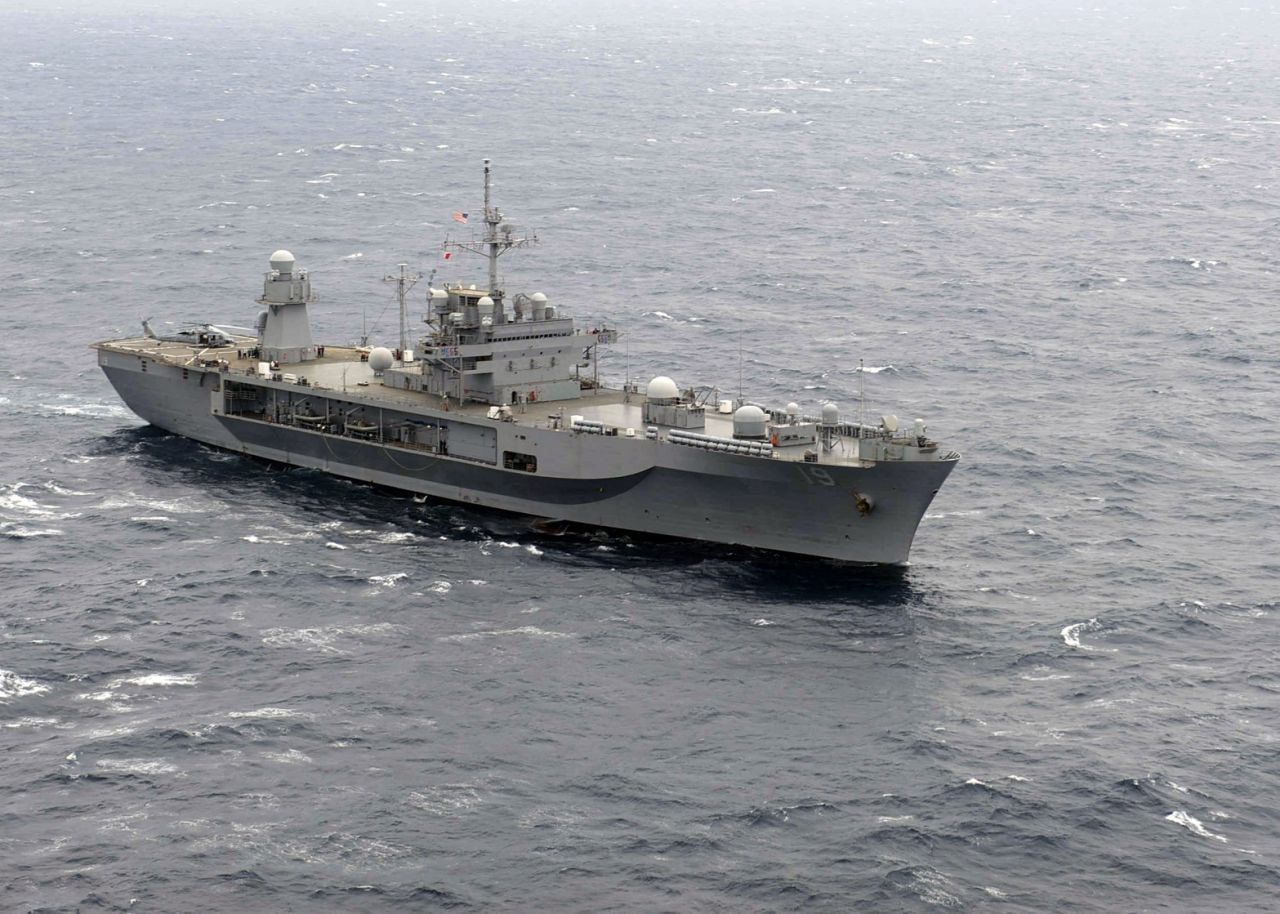 US 7th Fleet flagship USS Blue Ridge (LCC 19) transits in the South China Sea in 2014.
US Navy/Mass Communication Specialist 2nd Class Phillip Pavlovich
US Navy flagship in Manila for first port call in 3 years
MANILA, Philippines — One of the United States Navy's command ships docked in Manila last Wednesday for its first port visit in the country in three years.
US 7th Fleet flagship USS Blue Ridge arrived in the country's capital to reconnect with the Philippines as its last port visit was in 2016.
While in Manila, the US Navy personnel will participate in community service and cultural exchange events, including 7th Fleet band engagements, the US Embassy said.
"Our visit to Manila strengthens the bonds between our navies and our shared commitment to a free and open Indo-Pacific," US 7th Fleet commander Vice Adm. Philip Sawyer said in a statement.
Capt. Eric Anduze, commanding officer of the Blue Ridge, will meet with Philippine Navy officials to give them a tour of the ship and to explain its mission and goals.
Officials from both navies will participate in talks aboard the Blue Ridge to expand interoperability between Filipino and American forces.
Anduze said his team is "very proud" to be back in the country after a long absence.
"The Philippines has been an ally of our country for many years and being able to show our appreciation for that friendship is something we always look forward to. Continuing to foster and maintain our deep relationships here is paramount to what we do in the 7th Fleet," Anduze saud.
More than 30 sailors from the 7th Fleet-Blue Ridge team will visit Filipino veterans at the Veterens Memorial Medical Center in Quezon City.
They will also play a friendly basketball game with a local college and read to children in local neighborhoods in Manila during their visit.
"It is always a great opportunity to participate in community events with children in other nations," chief Religious Program Specialist Ana Douglas said.
The Blue Ridge is currently deployed under Commander, Expeditionary Strike Group 7, Task Force 76, which is the lone forward-deployed amphibious force of the US Navy.
"The Blue Ridge recently completed a nearly two-year extended dry-dock selected restricted availability period and numerous certifications, to ensure she remains ready to provide security in the Indo-Pacific region," the US Embassy said.
The US and the Philippines have been allies for almost decades after signing the 1951 Mutual Defense Treaty. Washington has been increasing its presence in the region amid Beijing's expansive claims in the South China Sea, wherein Manila is also a claimant.
China has been ignoring the 2016 ruling of a United Nations-backed tribunal, which concluded that it violated its commitment under the UN Convention on the Law of the Sea upon constructing artificial islands in the Philippines' excliusive economic zone.
The US Indo-Pacific Command had declared that allies and partners will be included in future freedom of navigation operations in the disputed South China Sea to counter China's bid of expanding its "form of ideology" through fear and coercion.
"We've had allies and partners in the region — the UK, Japan, Australia, New Zealand, Canada, France, all in one form or another step up their operations in the South China Sea and I think that shows the international community's willingness to push back," Indo-Pacific Command commander Adm. Philip Davidson told the US Senate earlier this year.