Allies, partners to join future US operations in South China Sea
February 14, 2019 | 1:11pm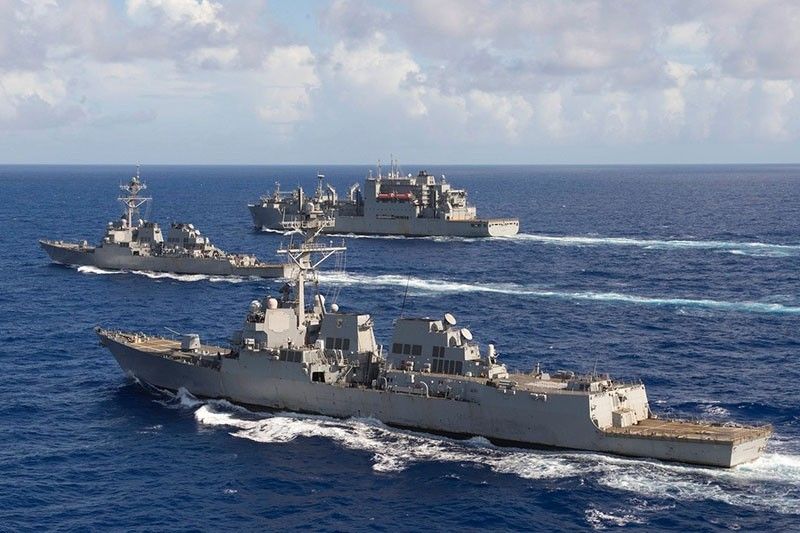 MANILA, Philippines — As the United States steps up its presence in the disputed South China Sea, the US Indo-Pacific Command confirmed that allies and partners will be included in future operations.
Speaking before the US Senate earlier this week, Indo-Pacific Command commander Adm. Philip Davidson noted how other countries have started stepping up its freedom of navigation operations in the contested waterway, according to a report from USNI News.
"We've had allies and partners in the region — the UK, Japan, Australia, New Zealand, Canada, France, all in one form or another step up their operations in the South China Sea and I think that shows the international community's willingness to push back," Davidson told the US Senate Armed Services Committee.
The Indo-Pacific Command chief warned that Beijing has been working to expand its "form of ideology" through fear and coercion, breaking existing rules-based international order.
China has installed weapons and military facilities on its artificial islands in the South China Sea, where several other Southeast Asian nations, including the Philippines, also have claims.
"In its place, Beijing seeks to create a new order, one with Chinese characteristics, led by China, an outcome that displaces the stability and peace in the Indo-Pacific that has endured for over 70 years," Davidson said.
Davidson also reported that Chinese Coast Guard vessels have been regularly harassing and intimidating Filipino fishing vessels operation near Scarborough Shoal, as well as fishing fleets from other neighboring countries.
In his statement before the Senate panel, Davidson stressed that he is focused on working with Southeast Asian allies Thailand and the Philippines, as well as partners Singapore and Vietnam, "to stand up to the malign influence of state and non-state actors, especially in the South China Sea."
He noted that despite not being a formal ally, Singapore has provided access to the entrance of the South China Sea and has supported US presence in the region.
Davidson commended Vietnam for sharing some of the US principles on international rule of law and freedom of navigation and for having "one of the loudest voices" on the maritime dispute.
The admiral also took note of increased French and British activity in the South China Sea.
"The recently concluded cooperative deployment with the HMS Argyll and USS McCampbell in the South China Sea highlights the value of multinational operations and, more importantly, the international message to those who seek to infringe on the ability to fly, sail, and operate wherever international law allows," Davidson said, referring to the recently concluded joint drills between the UK and US navies.
British Defense Minister Gavin Williamson earlier confirmed that the Royal Navy would sail HMS Queen Elizabeth in the South China Sea.
The British navy's largest warship would carry two squadrons of F-35 jets from the UK and the US. Williamson, however, did not disclose when the warship will be deployed.